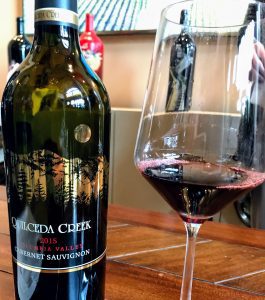 If you ask Washington wine lovers what are the "cult wines" of Washington–the Screaming Eagles, the Harlans or the Grace Family Vineyards of the state–one name that would be unanimously mentioned is Quilceda Creek.
With the mailing list long since closed, and a healthy waiting list to boot, my wife and I were lucky to get on the members list back in 2009. Each year we look forward to the release of the Columbia Valley Cabernet Sauvignon. Below are some of my thoughts from this year's release party.
But first, some geeking.
The Background
Quilceda Creek was founded in 1978 by Alex and Jeannette Golitzin. Alex's maternal uncle was the legendary André Tchelistcheff who helped Golitzin secure vineyard sources and provided barrels from Beaulieu Vineyards. At the time of Quilceda's founding, there were only around 12 wineries operating in Washington. In 1992, their son Paul joined the winery and today manages both vineyard operations and winemaking.
In addition to Tchelistcheff, the Golitzins can also count Prince Lev Sergeyevich (1845-1915/16) of the House of Golitsyn as another winemaking ancestor. Sergeyevich was the official winemaker to Czar Nicholas II with the sparkling wines produced at his Crimean winery, Novyi Svit, served at the Czar's 1896 coronation. It is believed that Sergeyevich's sparkling wines were the first "Champagne method" bubbles produced in Russia.
Quilceda Creek has received six perfect 100 point scores from Robert Parker's Wine Advocate–for the 2002, 2003, 2005, 2007 and 2014 Columbia Valley Cabernet Sauvignon and the 2014 Galitzine Vineyard Cabernet Sauvignon from Red Mountain. In 2011, the 2005 Columbia Valley Cabernet Sauvignon was served by the White House for a state dinner with Chinese president Hu Jintao.
The winery has been featured several times on Wine Spectator's Top 100 list, including twice being named #2 wine–in 2006 for the 2003 Columbia Valley Cabernet Sauvignon and in 2015 for the 2012 edition of that wine.
The Vineyards
Paul Gregutt, in
Washington Wines
, notes that in the early years of Quilceda Creek,
Otis Vineyard
in the Yakima Valley was the primary source of fruit.
In the 1980s, the focus moved to Red Mountain with Kiona Vineyards providing the fruit for several highly acclaimed vintages. Eventually Klipsun, Ciel du Cheval and Mercer Ranch (now Champoux) were added to the stable.
Today, Quilceda Creek focuses almost exclusively on estate-own fruit, making four wines that are sourced from five vineyards.
In 1997, Quilceda Creek joined Chris Camarda of Andrew Will, Rick Small of Woodward Canyon and Bill Powers of Powers Winery/Badger Mountain to become partners in Champoux Vineyard in the Horse Heaven Hills AVA. First planted by the Mercer family in the 1970s, fruit from Champoux Vineyard has formed the backbone for nearly all of Quilceda Creek's 100 pt wines. In 2014, when Paul and Judy Champoux decided to retire, the Golitzins purchased their interests in the vineyard.
In 2006, they acquired a 4.5 acre parcel next to Champoux which they named Palengat after Jeannette Golitzin's side of the family. Located on the south slope of Phinny Hill, the vineyard was planted between 1997-2002.
In 2001, the Golitzins partnered with Jim Holmes of Ciel du Cheval Vineyard to plant a 17 acre estate vineyard, the Galitzine Vineyard, on Red Mountain next to Ciel du Cheval. The vineyard takes its name from an old spelling of the family's surname and is planted exclusively to clone 8 Cabernet Sauvignon. Originally derived from 1893 cuttings taken from Chateau Margaux in Bordeaux, clone 8 is highly favored by acclaimed Cabernet Sauvignon producers.
Planted in 2010, Lake Wallula Vineyards in the Horse Heaven Hills is 33 acres planted exclusively to Cabernet Sauvignon on a plateau overlooking the Columbia River.
The Wallula Vineyard near Kennewick was developed by the Den Hoed family in 1997 in partnership with Allen Shoup (now with Long Shadows Vintners).
The Wines
In addition to tasting and releasing the 2015 Columbia Valley Cabernet Sauvignon, the 2015 Columbia Valley Red blend was also tasted.
2015 Columbia Valley Red Blend is a blend of 81% Cabernet Sauvignon, 11% Merlot, 4% Cabernet Franc, and 4% Petit Verdot that was sourced from the Champoux, Galitzine, Palengat and Wallula vineyards. Essentially a "baby brother" to the flagship Cab and vineyard designated Galitzine and Palengat, the CVR is selected from declassified lots that have been aged in 100% new French oak 18-21 months.
Medium intensity nose. Surprisingly shy as this wine is usually raring to go. Some dark fruits–blackberry and cassis–and noticeable oak spice.
On the palate, those dark fruits carry through but become even less define than they were on the nose. Medium acidity and a bit of back-end alcohol heat contribute to the disjointed feeling with this wine. The medium-plus tannins are firm but do have a soft edge that adds some texture and pleasure to the mouthfeel. Moderate length finish of mostly heat and oak.
2015 Columbia Valley Cabernet Sauvignon is 100% Cab sourced from the Champoux, Lake Wallula, Palengat and Wallula vineyards. The wine was aged 20 months in 100% new French oak.
Medium-plus intensity nose. Rich dark fruits with razor sharp precision–black plums, blackberries and even blueberries. There is also a woodsy forest element that compliments the noticeable oak spice.
On the palate, a lot more of the vanilla and oak baking spice notes carry through–particularly cinnamon–that adds a "pie-filling" richness to the wine. However, the medium-plus acidity balances this hefty fruit exceptionally well to add elegance and freshness. High tannins are present but like the CVR have a soft edge that makes this very young Quilceda Cab surprisingly approachable now. You can very much feel the full bodied weight of its 15.2% alcohol but, unlike the CVR, there is no back-end heat tickling the throat. Still only a moderate length finish at this point but the lasting impression is the juicy, rich fruit.
The Verdict
This tasting was a complete role reversal of the CVR and Columbia Valley Cabernet Sauvignon. Usually it is very consistent that the CVR is happily ready to be consumed young while the Cab needs some cellar time to fully integrate and shed the baby fat of oak.
Though that "baby fat" of new oak is still present in the 2015 Columbia Cabernet Sauvignon, the precision of the fruit and elegance is striking right now. This is, by far, one of the best tasting new releases of the Columbia Valley Cab that I've had. While I'm still concerned with the high alcohol level, I'm very optimistic about how this wine will age and develop in the bottle.
While I was able to get this for the member's price of $140, the Wine Searcher average for the 2015 is now $218. Putting this in context of similar priced Napa Valley wines like Opus One, Caymus Special Select, Pahlmeyer Proprietary, Joseph Phelps Insignia, Stag's Leap Cask 23, Mondavi To Kalon and Dominus—there is no doubt that the Quilceda Creek Columbia Valley Cabernet Sauvignon belongs in that league and should probably be batting clean-up in that line-up.
The CVR was $42 for members ($65 on Wine Searcher) and is usually one of the most screaming deals in wine. I would compare previous vintages of the CVR to $70-100 Napa wines like Silver Oak, Frank Family, Groth, Cakebread and Caymus and watch the Quilceda Creek Columbia Valley Red blend blow them out of the water.
But this 2015 vintage…I don't know. It's very possible that I got an awkward bottle or that the wine, itself, is just in an awkward phase of its development. It's worth keeping an eye on but till then I would recommend the almost ironic advice of enjoying your 2015 Quilceda Creek Columbia Valley Cabernet Sauvignon now while waiting for the "baby brother" 2015 CVR to age.
Subscribe to Spitbucket