Update: If you want even more Malbec Geekery, check out my post for this year's Malbec World Day.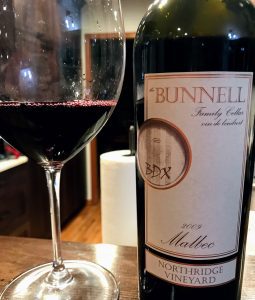 Going to need more than 60 Seconds to geek out about this 2009 Bunnell Family Cellars Malbec from the Northridge Vineyard on the Wahluke Slope.
The Background
Ron and Susan Bunnell started Bunnell Family Cellars in 2004. A botanist by training, Ron's interest in wine led him to UC-Davis to study for a masters in viticulture.
From Davis, Bunnell went to work at some of California's oldest wineries such as Charles Krug and then Beringer. Here he was mentored by Patrick Leon (of Mouton Rothschild and Opus One fame) and Jean-Louis Mandrau (of Ch. Latour fame) who were consultants for Beringer along with emeritus winemaker Ed Sbragia.
The Move To Washington State
He was working at Kendall-Jackson with Randy Ullom when he got the opportunity to move to Washington State to take over the red winemaking program for Chateau Ste. Michelle in 1999. In this position, he followed in the footsteps of Mike Januik and Charlie Hoppes who left to work on their own projects. Here Bunnell worked closely with Renzo Cotarella of Antinori for Col Solare.
Leaving Chateau Ste Michelle in 2005, the inaugural 2004 vintage release of Bunnell Family Cellars was quick to earn accolades in the Washington wine industry.
Apart from Bunnell's great wines, every Washington wine insider knows that if you are in wine county in Eastern Washington, one absolute must-stop is always Susan Bunnell's Wine O'Clock Wine Bar and Bistro in Prosser. Fabulous food, wine and ambiance that I would put against any bistro in Seattle, Walla Walla or the Bay Area. Truly a gem.
In addition to their Bunnell Family Cellars (BFC) line, the Bunnells also produce a dedicated label for their Wine O'Clock bistro and a RiverAerie line named after their homestead overlooking the Yakima River. With Steve Newhouse, owner of Upland Vineyard on Snipes Mountain, the Bunnels make Newhouse Family Vineyards.
The Vineyard
This 2009 Northridge Malbec is from the Bunnell's Vins de l'endroit series or "wines of a place" aiming to highlight some of the unique terroirs of Washington–in this case the Northridge Vineyard owned by the Milbrandt family.
On the western edge of the Saddle Mountains in the hot Wahluke Slope AVA, the vineyard was first planted by Butch and Jerry Milbrandt in 2003. Situated above the flood plain, the shallow soils of Northridge are an ancient mix of sedimentary caliche and basalt. The high elevation promotes a wide diurnal temperature variation of 40-50 degrees from daytime highs in the summer to nighttime lows. This allows the grapes to maintain acidity and freshness as they develop ripe tannins and dark fruit flavors.
Below is a very cool video (3:16) from the Milbrandt's YouTube channel that features a tour of the Northridge Vineyard with their viticulturist Lacey Lybeck and Milbrandt's winemaker Josh Maloney.
The Wine
Medium-plus intensity nose with a mix of black fruits–blackberries and black cherries–with red fruits like pomegranate. Surrounding the fruit is savory black pepper spice and bacon fat that gets your mouth watering before you even take a sip. Underneath some tertiary tobacco spice notes are wanting to peak out but, overall, this is still a primary fruit driven bouquet for an 8+-year-old wine.
On the palate, the rich darker fruits carry through but still taste quite fresh with the medium-plus acidity. The black cherries, in particular, have that ripe, plucked-off-the-bush juiciness to them. Again, surprisingly young tasting for a Washington Malbec. Usually, I find these wines starting to taste faded after 6-7 years. The maturity of the wine reveals itself with medium tannins that are very velvety and quite hedonistic. Once you get past the textural hedonism, the intellectual hedonism kicks in on the long finish that carries the savory bacon note with just a tinge of smoke.
Around 166 cases of the 2009 Bunnell Northridge Malbec were made.
The Verdict
This 2009 Bunnell Northridge Malbec tastes like a Washington Bordeaux blend had a baby with Rhone Syrah from Côte-Rôtie. A very delicious combination of rich fruit, mouthwatering structure and savory complexity.
I usually feel that wine drinkers pay a premium for Washington Malbec. Often this is because of their novelty and limited acreage.  Rarely do they seem to match the value you get from Argentina. That is definitely not the case with this 2009 Bunnell Malbec. At around $35-40, it is worth every penny and well worth the hunt to find.
Subscribe to Spitbucket