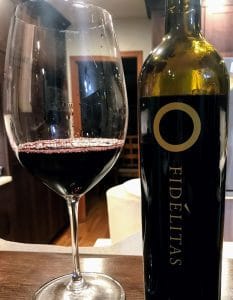 A few quick thoughts on the 2009 Fidelitas Optu from the Columbia Valley.
The Geekery
Fidelitas was founded in 2000 by Charlie Hoppes, a 30 year veteran in the Washington wine industry. A graduate of UC-Davis, Hoppes started out working with Mike Januik at the Snoqualmie/Langguth winery before moving onto Waterbrook. He returned to Chateau Ste. Michelle where he worked with Januik and Bob Betz, eventually rising to be in charge of red wine production.
While at Chateau Ste Michelle, he worked with the Antinori family for the inaugural 3 releases of their joint Red Mountain project, Col Solare. In 1999, he left Chateau Ste. Michelle to help launch Three Rivers Winery in Walla Walla and to work on his own project with Fidelitas.
Known as the "Wine Boss" of Washington, Hoppes also runs a consulting firm where he has worked with numerous small wineries such as Gamache, Market Vineyards, Ryan Patrick and Goose Ridge.
The 2009 Optu is a blend of 70% Cabernet Sauvignon, 20% Merlot, 5% Malbec and 5% Cabernet Franc. The wine was sourced from Champoux Vineyard in the Horse Heaven Hills, Red Mountain Vineyard located near Hedges Estate, Milbrandt's Northridge Vineyard and Weinbau on the Wahluke Slope with around 240 cases made.
The Wine
Medium-minus intensity nose. Some dark fruits but they seem pretty dried and faded at this point. Little tobacco spice around the edges.
On the palate, those dried dark fruits carry through and get some definition as black plums and currants. The tobacco spice is more pronounced and also brings an autumn forest sort of woodsiness. Medium acidity and very soft medium tannins keep good balance with what is left of the fruit. Moderate length finish.
The Verdict
It's clear that this wine is on the waning curve of its life but it still has some pleasure to give, especially if it can be paired with food that can compliment its soft elegance.
At around $50 for a bottle, it's holding decent value for an 8+ year old wine.
Subscribe to Spitbucket