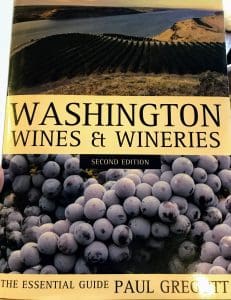 A few thoughts on Washington Wines and Wineries: The Essential Guide by Paul Gregutt.
Overview
The Washington wine industry is the second largest producer of premium wine in the United States behind California with more than 900 wineries and over 350 vineyards.
Top 100 lists from publications like Wine Spectator and Wine Enthusiast are frequently dotted by Washington wines including the 2005 Columbia Crest Reserve Cabernet Sauvignon that was named the #1 wine on Wine Spectator's 2009 list. Numerous Washington wines from Quilceda Creek, Cayuse and Leonetti have earned perfect 100 point scores from Robert Parker's Wine Advocate.
In 2014, the 2011 L'Ecole Ferguson won Best Bordeaux Blend in the World at the Decanter World Wine awards.
Yet, while you can easily find literally hundreds of books to learn about California wine, the pickings on the people, places and wines of Washington are much more slim.
Thankfully, Paul Gregutt, a former columnist for The Seattle Times and Wine Enthusiast, has helped fill that gaping hole with the best reference standard to date about the Washington wine industry.
With the first edition released in 2007 and an updated, expanded 2nd edition released in 2010, Gregutt's work is broken into two parts.
Part one includes a brief history of the Washington wine industry from Walla Walla's first plantings in the 1860s, W.B. Bridgman's 1917 plantings of Vitis vinifera on Snipes Mountain, to the rise of Associated Vintners and the birth of the modern Washington wine industry in the 1970s & 1980s. In the first edition, Gregutt also discusses the 1825 plantings at Fort Vancouver.
Gregutt then moves into a chapter exploring the (then) 11 AVAs of Washington. Since 2010, the number has grown to 14 AVAs with Naches Heights (2011), Ancient Lakes (2012) and Lewis-Clark Valley (2016) joining the ranks with The Burn likely to soon follow.
The third chapter goes into the major grape varieties grown in Washington State, profiling the wine regions, flavor characteristics and top producers for many of the nearly 70 different grape varieties grown in Washington. Gregutt hits not only the big varieties like Cabernet Sauvignon, Chardonnay and Merlot but also touches on the history and importance of Riesling in the Washington wine industry as well as some of the more obscure but notable varieties grown such as Chenin blanc, Roussanne, Viognier, Barbera, Counoise, Petite Verdot, Tempranillo and Zinfandel.
The final chapter in Part 1 examines 20 of Washington's most important vineyards, including many that would be considered the "Grand Crus" of the state such as Boushey Vineyards, Champoux and Ciel du Cheval. In each profile, Gregutt talks not only about the history and terroir of the vineyards but also notes which grape varieties and wineries tend to showcase each vineyard's unique qualities.
In Part 2, Gregutt profiles over 200 different Washington wineries–breaking them into categories like Five Star wineries (such as Betz, Cadence, L'Ecole, Quilceda Creek and Woodward Canyon), Four Star wineries (like Boudreaux Cellars, Gordon Brothers, Hedges and Sheridan Vineyard), Three Star wineries (like àMaurice, Apex, Camaraderie Cellars, Chinook, Gamache, Kiona, Otis Kenyon and Tagaris) and then finally Rising Stars (like Efeste, Hestia, Lost River, Doubleback and Whidbey Island Winery).
Some Things I Learned
In the history chapter, I was particularly fascinated with the era following Prohibition where liquor laws that still severely restricted access to hard alcohol and cocktails discouraged the nascent Washington wine industry from focusing on dry European-style wines in lieu of producing sweet, fortified wines.
The rise of Merlot in the 1990s was also an interesting read, especially hearing that Jed Steele, while consulting winemaking for Northstar Winery, was promoting the Walla Walla winery as "Washington's answer to Ch. Petrus." I enjoy Northstar quite a bit but I think we should forgive Steele of the hyperbole.
In the AVA chapter, I developed more of an appreciation for the "workhorse wine regions" of the Wahluke Slope and Horse Heaven Hills that often get overlooked in favor of the "Sexier AVAs" of Red Mountain and Walla Walla. With more than 80,000 acres, the Wahluke Slope is responsible for around 15% of all the wines produced in Washington while the Horse Heaven Hills is responsible for 25%–and was also home to the state's first 100 point wines from Quilceda Creek's Champoux Vineyard Cabernet Sauvignon.
In Chapter 3, Gregutt does an outstanding job explaining the typicity and unique characteristic of grape varieties grown in Washington soils which are invaluable for folks studying how to blind taste. I know now to look for things like the blueberry and light-olive notes of Cabernet Franc, the distinctive "streak of lemon-lime zest" in Washington Syrahs and the mix of Japanese pears and green apple flavors that tend to show up in the state's Pinot gris wines.
Wines I Want to Try Because of This Book
Throughout Washington Wines, Gregutt name drops many intriguing wines (particularly in the grape variety and wineries chapters). But after reading Gregutt's book, I think I'm most interested in doing comparative tastings of Washington terroir.
One tasting that particularly intrigues me is investigating the 10 different Wahluke Slope Vineyards manage by the Milbrandt family–including Northridge, Sundance, Clifton Hill, Pheasant, Katherine Leone and Talcott Vineyards. Ideally I'd want to compare with the same variety (like Merlot or Syrah) and find as many vineyard designated examples from the same winery as I can. Looking on Wine Searcher, I see that Bunnell Family Cellar and Charles Smith's K Vintners have some individual bottlings from these vineyards.
The history geek in me would also love to try a Muscat of Alexandria from the 1917 W.B. Bridgman plantings in what is now Upland Vineyard on Snipes Mountain.
New Reading Recommendations I Got From This Book
Because Gregutt was blazing new trails in this in-depth overview of the Washington wine industry, there wasn't a lot of other source material that he could point uber-geeks like me to.
From a historical perspective, it's worth seeking out Leon Adams' Wines of America which included the first critical acclaim of a Washington wine–a 1966 rosé of Grenache made by Associated Vintners.
One book that Gregutt does cite is The Wine Project: Washington State's Winemaking History by Ron Irvine and Walter Clore ("The Father of Washington Wine"). This was actually a required text book during my time at the Northwest Wine Academy when I was earning my wine production degree. Prior to the 2007 release of Gregutt's Washington Wines, this was virtually the only book that seriously looked at the Washington wine industry.
Final Thoughts
In the very first chapter, Gregutt recounts a story from Master of Wine Bob Betz about promoting Washington wine on the East Coast of the United States. One time after a long presentation about the history of the state, the many AVAs and grape varieties grown in Washington, Betz opened the session up for questions from the audience. The first query he got was someone wondering on what side of the Potomac were Washington's wine grapes grown.
That anecdotal story encapsulate very well the issues that the Washington wine industry has in distinguishing itself–not only on the world's stage but also at home in the United States where California casts a very long shadow. Throughout Washington Wines and Wineries: The Essential Guide, Paul Gregutt does an outstanding job highlighting the terroirs, wineries and people that make Washington unique.
It is not only a must-read for people who want to learn more about the 2nd largest producer of American wines but also for folks who have already discovered and fallen in love with the bounty of wines that Washington offers.
Subscribe to Spitbucket