Washington State is ridiculously spoiled with talented winemakers.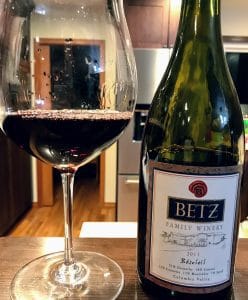 Alex Golitzin of Quilceda Creek
Christophe Baron of Cayuse
Chris Figgins of Leonetti
Rick Small of Woodward Canyon
Scott Greer of Sheridan
Anna Shafer of àMaurice
Greg Harrington of Gramercy
Kay Simon of Chinook
Charlie Hoppes of Fidelitas
Chris Upchurch of DeLille/Upchurch Vineyard
Ben Smith of Cadence
Chris Camarda of Andrew Will
Rob Newsom of Boudreaux
Kerry Shiels of Côte Bonneville
Chris Peterson of Avennia/Passing Time, etc.
And that is only a small sliver of the immense talent in this state.
But if you asked me to give you just one expression of winemaking talent that exhibits the best of Washington, I would answer without any hesitation that it is Bob Betz.
From Chicago to the Chateau
A Chicago native, Bob Betz moved to the Pacific Northwest in 1954. He attended the University of Washington with the goal of entering med school but, when those plans didn't work out, he spent a year in Europe with his wife, Cathy, where he discovered a passion for wine.
After working at a wine shop for a year, he was hired by Charles Finkel (now of Pike Brewing Company) to work at Chateau Ste. Michelle back when the Washington powerhouse was a small winery operating on East Marginal Way in Seattle. There he was mentored by the famed consultant André Tchelistcheff of Beaulieu Vineyard fame.
He started in communications with the estate. As Chateau Ste. Michelle moved to Woodinville and grew into Washington's largest winery, Betz worked his way up to Vice President of Winemaking Research. Here worked closely with an All-Star roster of winemaking talent such Mike Januik (Novelty Hill/Januik Winery), Cheryl Barber-Jones (Sozo Friends), Kay Simon (Chinook Wines), Joy Anderson (Snoqualmie Vineyards), Erik Olsen (Clos du Bois/Constellation Brands) and Charlie Hoppes (Fidelitas). During this time, his passion for winemaking and starting his own label developed.
In the mid-1990s, he embarked on completing the Wine & Spirit Education Trust (WSET) program, earning his Master of Wine (MW) in 1998. To this day, he is one of the few MWs who are practicing winemakers (Billo Naravane at Rasa/Sinclair Estate is another). The vast majority of individuals who hold that title are often writers, educators, wholesalers and retailers.
In earning his MW, Betz won the Villa Maria Award for the highest scores on the viticultural exam as well as the Robert Mondavi Award for the highest overall scores in all theory exams.
Betz Family Winery
In 1997, Greg Lill of DeLille Cellars offered space in his winery for Betz to make six barrels of his first vintage. Sourcing fruit from Klipsun vineyard on Red Mountain, Harrison Hill on Snipes Mountain and Portteus vineyard in the Rattlesnake Hills AVA, it wasn't long before the accolades came in with Betz having numerous wines featured on Best of Washington lists by the Seattle Times and Seattle Met as well as earning Winemaker of the Year from Sunset Magazine in 2007. Moving from DeLille, he was one of the first wineries in the now-famous "Warehouse District" of Woodinville before building his own winery.
Just as he was mentored by Tchelistcheff and others, Betz has mentored other budding talents such as Kathryn House (House of Wine), Tyson Schiffner (brewmaster at Sumerian Brewing), Ross Mickel (Ross Andrews), Chris Dickson (Twill Cellars), Casey Cobble (Robert Ramsay) and his eventual successor as head winemaker at Betz, Louis Skinner.
In 2011, with Bob & Cathy Betz's daughters expressing no interest in taking over the winery, Betz worked out an agreement to sell the winery to South African entrepreneurs Steve and Bridgit Griessel.  Following the sale, Betz agreed to stay on with the winery for five more years. A succession plan was worked out with Louis Skinner, a South Seattle Northwest Wine Academy alum and former assistant at DeLille Cellars, taking over the winemaking duties at Betz Family Winery in 2016. Even after the transition, Betz still is involved as a consultant.
In 2017, Bob Betz returned to Chateau Ste. Michelle as a consultant for Col Solare, a joint project with the Antinori family located on Red Mountain. Here Betz will be working with Darel Allwine and Antinori's head enologist Renzo Cotarella.
Tasting the Best of Washington
While the future of Betz Family Winery looks strong with the Griessels and Louis Skinner, there is something magical about "Bob's vintages" of Betz that are worth savoring. Paul Gregutt, in Washington Wines, describes Betz Family Winery as one of the "Five Star Wineries" in Washington and ascribes their success to Betz's "painstaking planning and attention to detail", noting that if even a single barrel of wine didn't meet his standards then it would be sold off rather than used in the wines.
The list of vineyards that Bob Betz has worked with includes some of the "Grand Crus" of Washington like Boushey Vineyard and Red Willow in Yakima; Ciel du Cheval, Kiona and Klipsun on Red Mountain; Harrison Hill and Upland Vineyard on Snipes Mountain.
2010 La Serenne Syrah
100% Syrah sourced from Boushey Vineyard. This cool-climate site north of Grandview, Washington is often harvested more than a month after the Syrahs that go into La Côte Rousse from Red Mountain are picked. Around 535 cases were made.
High-intensity nose with a mixture of dark fruit–black plums and blackberries–smoke and spice.
On the palate, those dark fruits come through. But it is the savory, smokey, meatiness that is the star of the show. Medium-plus acidity keeps it fresh and juicy while the medium-plus tannins have a velvety feel at this point. The long savory finish on this wine would make any Côte-Rôtie lover weak in the knees. Stunningly beautiful and well worth the $70-75.
2011 La Côte Rousse
100% Syrah sourced from Ciel du Cheval and The Ranch At The End of The Road Vineyard in Red Mountain. The parcels from Ciel du Cheval include some of the oldest plantings of Syrah on Red Mountain. The wine was aged in 45% new oak barrels. Around 559 cases were made.
Medium-intensity nose. A bit more oak driven with the baking spice. Underneath there is a core of dark fruit, but it is not as defined.
On the palate, the fruit is still struggling to be defined. It seems to be a mix of black cherries with a little red pomegranate. Medium acidity and soft medium tannins add lushness to the mouthfeel. The oak is still reasonably noticeable with a sweet vanilla edge and creamy dark chocolate note that lingers through to the moderate finish. A more "New World" style that reminds me of a less sweet Mollydooker. Not my style but at $70-75, it is well in line with Mollydooker's Carnival of Love and Enchanted Path for those who enjoy those bold, lush wines.
2011 Bésoleil
A blend of 54% Grenache, 15% Cinsault, 12% Counoise, 12% Mourvedre and 7% Syrah. Sourced from vineyards in Yakima, Red Mountain and Snipes Mountains, this was the first vintage to include Counoise. Around 662 cases were made.
Medium-plus intensity nose. A very evocative mix of blue flowers–violets and irises–with spicy black pepper, anise and Asian spices. This wine smells like you walked into a fantastic Indian restaurant.
On the palate, a mix of dark and red fruits come out. But the spices get even more mouthwatering with the medium-plus acidity. The medium tannins are very silky at this point, helping the fruit to wrap around your tongue and linger for a long finish. Still fairly New World in style but at $50-55, this is distinctively charming and complex enough to entice a Châteauneuf-du-Pape fan.
2011 Clos de Betz
A blend of 67% Merlot, 28% Cabernet Sauvignon and 5% Petit Verdot. Often features fruit from Ciel du Cheval and Kiona on Red Mountain, Red Willow and Dubrul in the Yakima Valley and Alder Ridge in the Horse Heaven Hills. The wine was aged in 45% new oak. Around 1186 cases were made.
Medium intensity nose–a mix of red and black currants with a floral element that is not very defined. With some air, tertiary notes of tobacco spice emerge as well as an intriguing graphite pencil lead that would have me thinking Cabernet Franc is in this blend even though it's not.
On the palate, the tide tilts more towards the red fruits dominating with the medium-plus acidity adding a sense of freshness to the wine. The graphite pencil notes disappear, being replaced with an espresso chocolately note that plays off the tobacco spice that carried through. Medium tannins are well integrated and velvet–showing that this wine is probably at its peak drinking window now. Moderate length finish brings back the floral notes though I still can't quite pinpoint them.
At $65-70, you won't confuse this for a St. Emilion or Pomerol. But this wine amply demonstrates how wonderful Bordeaux varieties–particularly Merlot–do in Washington State.
Subscribe to Spitbucket