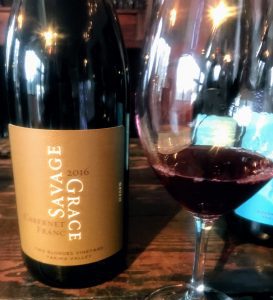 I make no effort to hide my enthusiasm for Washington State Cabernet Franc. As I noted in my Walla Walla musings, Washington Cabernet Francs have the structure and depth of our best Cabernet Sauvignon and Merlot wines but with an intoxicatingly gorgeous bouquet that can range from perfumed and floral to savory fresh forest floor and coffee nuances.
It truly is a grape variety that every Washington wine lover should explore. For wine drinkers outside the state, these wines may be hard to come by but they are worth the hunt. Simply put, if you see a Washington Cab Franc on a restaurant list or wine shop shelf, try it!
I suspect that Michael Savage of Savage Grace Wines shares a similar love affair for Cabernet Franc because he makes two fantastic examples of the variety–one from Two Blondes Vineyard and the other from Copeland Vineyard in the Rattlesnake Hills. He also makes a Cabernet Franc rosé from grapes sourced from Red Willow Vineyard in the Yakima Valley.
The Backstory
Full disclosure, I was in the same wine production class as Michael Savage at the Northwest Wine Academy so I got to see the nascent beginnings of his winemaking career. He started his winery in 2011, combining his and his wife's names, with his very first release being a Cabernet Franc from the Columbia Valley.
Inspired by the wines of Oregon producers J. Christopher and Cameron Winery, Savage makes his wines in a distinctly "Old World style", using native fermentation and a light touch of oak. The wines rarely go above 13.5% alcohol with a yearly production around 2400 cases.
The Grape
Paul Gregutt, in
Washington Wines
, notes that Washington State University planted the first experimental blocks of Cabernet Franc vines in the 1970s with Red Willow Vineyard following suit in 1985. From these Red Willow plantings, David Lake of Columbia Winery released the first varietal Washington Cabernet Franc in 1991. From the 1998 vintage, Kay Simon of Chinook Wines
released the first varietal Cab Franc rosé
that today has a cult-following among Washington wine lovers.
As in Bordeaux, the grape is prized in Washington for adding color, aroma and acidity to Cabernet Sauvignon and Merlot based blends. As a varietal, Washington Cabernet Franc is trademark by its vibrant berry fruit that can range from red raspberry to blueberry, floral perfume (particularly violets), juicy acidity and savory nuances like freshly ground coffee, olive tapenade and forest floor. With oak, often chocolate and tobacco spice can emerge.
In Washington vineyards, Cabernet Franc is valued for ripening earlier than Cabernet Sauvignon but also being more winter-hardy than Merlot. Despite this, acreage of the variety has been steadily dropping from a high point of 1157 acres in 2006 to 685 acres in 2017. It is still the 4th most widely planted red grape variety in Washington–behind Cabernet Sauvignon, Merlot and Syrah.
Other producers making great Cabernet Franc include Sheridan Vineyard's Boss Block, Convergence Zone Cellars' Downburst, Camaraderie Cellars, Owen Roe's Rosa Mystica, Hestia Cellars, Spring Valley Vineyards' Katherine Corkrum, Gamache, Lagana Cellars and Cadence's Bel Canto.
The Vineyards
Copeland Vineyard was planted in 2000 in the Rattlesnake Hills AVA of Yakima Valley. Owned by the Rawn brothers of Two Mountain Winery, the vineyard was converted from an orchard planted by their grandfather in 1951.
Covering 26 acres on a sandy, rock strewn slope in the rain shadow of the Cascade Mountains, this warm-climate site averages 2980 degree days. In addition to Cabernet Franc, Copeland also produces Cabernet Sauvignon, Chardonnay, Lemberger, Merlot, Riesling, Syrah and the Portuguese grape variety Touriga Nacional.
Two Blondes Vineyard was planted in 2000 by Chris Camarda of Andrew Will with Bill Fleckenstein. The vineyard was named after both gentlemen's wives. Located next door to Sheridan Vineyard, the 30 acre vineyard is planted on a mix of silty loams. A bit cooler than Copeland, Two Blondes averages around 2200 degree days.
The vineyard is managed by Chris Hoon, a 3rd generation farmer who also manages the cellars for Sheridan Vineyard. In addition to Cabernet Franc, the vineyard is planted to Cabernet Sauvignon, Merlot and Malbec.
The Wines

The 2016 Copeland Cabernet Franc from the Rattlesnake Hills AVA was aged 6-7 months in neutral oak barrels with around 260 cases made. Inspired by the Loire Valley Cabernet Francs of Chinon, Saumur-Champigny and Bourgueil, this young Cab Franc has high intensity aromatics of raspberry and rhubarb pie as well as blue floral notes. There is also a little herbal aromatics that add complexity but not enough to describe it as green.
On the palate, those raspberry and rhubarb notes come through and are heighten by the juicy, medium-plus acidity. The wine feels heavier in the mouth than what it 12.5% ABV would suggest with grippy but approachable medium-plus tannins. Some of the rhubarb "pie spice" notes come out on the palate like cinnamon and nutmeg. Long, mouthwatering finish.
2016 was the first release of the Two Blondes Vineyard Cabernet Franc and this wine couldn't be more different than the Copeland. High intensity aromatics as well with similar blue floral notes but this wine uniquely has savory pink peppercorn spiciness and olive tapenade that gets your mouth watering before even taking a sip. There is also fruit in the bouquet but it's more blueberry than raspberry. It doesn't have the freshly ground coffee notes yet but I can see that emerging in this wine with more bottle age.
On the palate that tapenade savoriness takes on a meaty element that would have me thinking in a blind tasting of a lighter style Côtes du Rhône until the minerally graphite pencil lead note emerged. The pink peppercorn spice carries through as well with the medium-plus acidity keeping the mouthwatering action going. The medium tannins are very soft for such a young wine and almost velvety. Like the Copeland, the Two Blondes Cab Franc has a long finish but, paradoxically, it is the blueberry fruit that lingers the longest.
The Verdict
Both the 2016 Savage Grace Copeland Cabernet Franc and 2016 Two Blondes Cabernet Franc are outstanding bottles that exhibits two shades of this grape variety's personality in Washington State. Very food friendly and very approachable now, I can see these wines continuing to develop and give pleasure over the next few years.
At $28-32, they are both very solid wines for the price point but I would give the nod to the Two Blondes as being the most complex and layered. There is so much nuance and character in this wine that it is worth getting multiple bottles to savor as they develop over the years.
Subscribe to Spitbucket