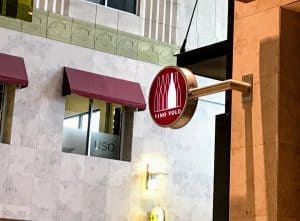 It seems only fitting as I sit at the airport getting ready to board a flight for my trip to the Pinot noir homeland of Burgundy that I indulge in a little Oregon Pinot action at one of my favorite travel haunts–Vino Volo.
While the small bites and wine are a bit overpriced (even by airport standards), there is no better selection of by the glass wines and tasting flight at the airport. Plus with comfy chairs and plenty of plugs to charge the phone, it's a must stop for me on every trip.
Today I found the SeaTac location offering a "Northwest Noirs" flight of 3 Willamette Valley Pinot noirs for $19. On the menu, the 2015 J. Christopher Volcanique ($18 glass pour/ $30 Wine Searcher Average) was listed but when the flight was brought out, I discovered that instead I was given the 2014 Ken Wright Cellars Willamette Valley. While I enjoy Ken Wright's wines, I must confessed that I was slightly disappointed not to have a chance to geek out comparing the volcanic soil grown J. Christopher with the marine sediment grown Andrew Rich. But c'est la vie.
The Wines
2015 Stoller Family Estate Reserve Pinot noir, Dundee Hills ($20 glass pour, $56 a bottle at Vino Volo/ $36 Wine Searcher Average)
The Geekery
Stoller was founded in 2001 by Bill Stoller on property that he purchased from his cousin in the Dundee Hills in 1993. Stoller, who was already co-owner in Chehalem Winery with Harry Peterson-Nedry, was born on the property and began converting his childhood home from a turkey farm to plantings of Pinot noir and Chardonnay.
The first vintage of Stoller was released in 2001 with the help of Peterson-Nedry and soon under the winemaking of Melissa Burr would earn critical acclaim–including being named Pacific Northwest Winery of the Year in 2014. Today with 190 acres planted, it is home to the largest contiguous vineyard in the Dundee Hills AVA.
In 2018, Stoller assumed complete control of Chehalem Winery but both estates will continue to be operated as separate entities.
Stoller practices sustainable viticulture on all its estate vineyards and was the world's first LEED Gold Certified winery in 2006.
The Wine
Medium-plus intensity nose. Very inviting black cherry and fresh rose petals. With some air, a little baking spice of cinnamon and allspice come out but the fruit and floral notes dominant.
On the palate, those cherries notes come through but seem more red and juicy than the black cherry notes on the nose. The ample medium-plus acidity is exceptionally well balanced with the fruit and ripe medium tannins. Very savory and mouthwatering with the spices coming out more for the long finish.
The Verdict
This is very well made and scrumptious Pinot noir that is showing well now but will only continue to develop layers and depth with some bottle age. It's well worth the $36 retail average but would still deliver plenty of pleasure to merit a $56 restaurant mark up price.
2014 Andrew Rich Marine Sedimentary Pinot noir Willamette Valley ($23 glass pour, $67 a bottle/ $42 Wine Searcher Average)
The Geekery
Andrew Rich was founded in 1994 when Andrew Rich, a protege of Randall Grahm at Bonny Doon, arrived in the Willamette Valley with the goal of producing cool-climate Rhone varieties. Finding limited supply, he drew on his experience studying viticulture in Burgundy to produce Pinot noir in his early vintages while sourcing Rhone fruit from Washington State.
Today he produces around 6000 cases a year (about 1/3 Pinot) at the Carlton Winemakers Studio.
Unfortunately his website doesn't include tech notes for the 2014 Marine Sedimentary but looking at notes from previous vintages of his Pinot noirs, he sources from several vineyards with this soil type including Beacon Hill in the Yamhill Carlton AVA and Greyhorse in McMinnville AVA.
The Wine
Medium-minus intensity nose. Faint red cherry and raspberry with a rosemary herbal element. Some air brings out a little more of the floral herbal element (akin to Provençal garrigue) but overall this is a rather shy nose.
There is a tad more life on the palate with the red fruit notes making their presence felt with medium-bodied weight and enough medium-plus acidity to be fresh without straying to tart. The Vino Volo tasting notes suggest blackberries and blackcurrants but there is no trace of dark fruit in this glass. Medium tannins are softer than the Stoller but overall contribute to the thin and light profile of this Pinot noir. Moderate finish lingers on the red fruits with the subtle floral herbs sadly fading.
The Verdict
I fret that this Pinot noir needed a better food pairing than the meat and cheese plate I was having it with. The acidity and herbal notes in particular have me wandering how well it would have done with a mushroom risotto. Though the lightness of the wine may have been overwhelmed by that hearty dish.
That said, it's hard to find this wine being a compelling value apart from its inclusion in a smashing food pairing. Especially compared to the Stoller and Ken Wright which regularly retail for less.
2014 Ken Wright Pinot noir Willamette Valley (No glass pour list, $47 a bottle at Vino Volo/ $28 Wine Searcher Average
The Geekery
Ken Wright is a native of Bourbon County, Kentucky who went to California to study winemaking and spent years working in Monterey County at wineries like Ventana, Chalone and Talbott Vineyards before moving to Oregon in 1986.
He founded Panther Creek winery that year before eventually selling the winery to Ron and Linda Kaplan in 1994 to open up his eponymous winery in Carlton, Oregon.
Ken Wright Cellars specializes in
vineyard-designated wines with the winery working with over 13 different vineyards. In 2006, Wright's work with highlighting the different terroirs of the Willamette Valley was influential in the establishment of several sub-AVAs including the Yamhill-Carlton District AVA.
The Willamette Valley Pinot is the "baby brother" of the family and is sourced from several of the vineyards that Ken Wright uses for their vineyard designated line-up which includes such notable names as the Abbott Claim Vineyard and Shea Vineyard in Yamhill-Carlton, Bryce Vineyard in the Ribbon Ridge AVA, Canary Hill Vineyard in the Eola-Amity Hills as well as the Freedom Hill and Guadalupe Vineyard in the greater Willamette Valley.
The Wine
Medium intensity nose. The Vino Volo notes did hit it right with strawberries. This wine does smell like a basket of strawberries with some cola spice.
On the palate those strawberry notes carry through but are joined by some rich tasting Rainier cherries. The cola spice is still present but has a black tea element that is highlighted by the wine's phenolic texture and slight bitterness. It's not off-putting in the slightest but has me wondering what percentage of stems and whole clusters were used in the fermentation. Medium acidity and medium-plus tannins give this wine a lot of weight on the palate, making it feel much heavier than the other two. Moderate finish lingers on the red fruits and black tea notes.
The Verdict
Considering that most of Ken Wright's vineyard-designated wines run in the $55-65 range, it's hard not to be impressed with the value of this wine at under $30 retail. While not as much of a complete package as the Stoller, it is still very well-made with lots of layers that would be worth savoring over a few glasses.
Subscribe to Spitbucket