A few quick thoughts on the 2016 Pedroncelli Sonoma Classico Red Blend from the Dry Creek Valley. Note: This wine was received as a sample.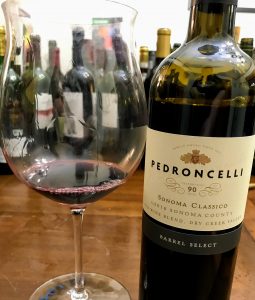 The Geekery
John Pedroncelli, Sr. started Pedroncelli Vineyards during the height of Prohibition, purchasing land in the Dry Creek Valley in 1927. He survived those years by selling grapes to home winemakers until he could legally produce wine in the 1930s.
Today, the winery remains family-owned with now the fourth generation joining the team. Many of the prominent stakeholders of Pedroncelli are women. This includes winemaker Montse Reece who joined the winery in 2007 after working at Gloria Ferrer, Rodney Strong and Ferrari-Carano.
The Sonoma Classico is a proprietary blend of Merlot, Zinfandel, Petit Sirah and Syrah sourced from throughout the Dry Creek Valley.
The Wine
Medium-plus intensity nose. Mix of red and dark fruit with blackberries and red currant. Lots of spice on the nose that ranges from pepper to coriander to star anise.
On the palate, the rich dark fruits carry through the most, giving the wine medium-plus bodied weight. Medium-plus acidity accentuates the spice but also brings out a savory black olive note that reminds me of old world Syrahs. The ripe medium tannins have a slight edge that adds structure. Moderate finish lingers on the spice.
The Verdict
There were several bottles in the Pedroncelli sampler set that impressed me including their 2017 Russian River Pinot noir and 2016 Mother Clone Zinfandel. But at $18-20, the Sonoma Classico struck me as the most criminally underpriced of them all.
This wine is loaded with character and could easily be priced in the $25-30 range without anyone blinking an eye. While exquisitely food friendly, the balance of rich fruit and tangy spice also plays well as a treat to enjoy on its own.
Smart sommeliers will certainly snatch this bottle for their wine lists. If you see it at a restaurant, it will be one of the best buys on the list and worth getting.
Subscribe to Spitbucket