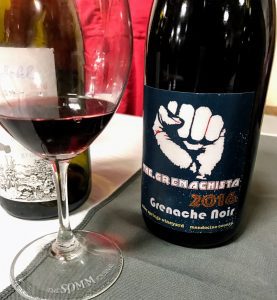 Today is International Grenache Day–according to someone.
I honestly have no idea who comes up with these things. Googling around, it looks Grenache Day hops all over the calendar a bit like Thanksgiving and Easter.
Which is kind of fitting since Grenache goes so well with turkey and rabbit. (Sorry kids)
But hey, I don't need much of an excuse to geek out about something. Plus, it's an excellent time for a flashback to this spring's Hospice du Rhône event to revisit the impressive wines of CR Graybehl, aka The Grenachista.
The Background
CR Graybehl was founded in 2013 and is named after founder and winemaker Casey Graybehl's grandfather, Cliff R. Graybehl, who inspired Casey to get into winemaking. The small operation is essentially a two-person show with just Graybehl and his wife.
Graybehl studied Fruit Sciences at California Polytechnic State University in San Luis Obispo when the school hadn't yet developed a viticulture program. He spent time working at wineries in the Central Coast and Bay Area before starting his winery in Sonoma.
In addition to his own wine project, Graybehl is a production manager for Obsidian Wine Co.–a custom crush facility and makers of Obsidian Ridge and Poseidon Vineyard.
The Grape – A Little Geeky History
While it is generally agreed that Grenache is an ancient grape variety, Jancis Robinson, Julia Harding and José Vouillamoz note in Wine Grapes that ampelographers debate the origins of the grape.
The stronger argument favors a Spanish origin where it believed that the grape was grown in Madrid under the synonym Aragones in 1513 by Gabriel Alonso de Herrea in his work, Argicultura general. The name Garnacha seems to have been established by the late 1600s when Estevan de Corbera describes the grape growing in Tarragona in his 1678 work, Cataluña illustrada.
A competing theory argues that the grape is a native of Sardinia, where it is known as Cannonau. Here the first mentioned appears in Caligari in 1549. The name Garnacha also shows up in Miguel de Cervantes' 1613 work El licenciado vidriera referencing an Italian white wine served in Genoa. The theory of a Sardinian orgin involves assuming that the Aragones grape of Madrid was not actually Grenache and that the grape was brought to Spain sometime after 1479 when Sardinia became part of the Spanish empire.
While Aragones is still a synonym used today for Garnacha it has also been used as a synonym for other grape varieties like Tempranillo.
Italian ampelographer Gianni Lovicu also argues that the Spanish name Garnacha is closely related to the Italian name Vernaccia derived from the Latin vernaculum meaning local. Documents in Catalunya dating back to 1348 describe a Vernaça grape that appears to have been introduced to the area from somewhere else. This would predate Sardinia's Spanish colonization and suggest perhaps a different Italian region as the grape's origins.
However, even today, Spain remains the loci of the most considerable mutation and clonal diversity of Grenache–strongly suggesting a far longer presence in the area than anywhere else. While Sardinia and the Colli Berici DOC of the Veneto have significant plantings of the dark skin Grenache noir, only Spain and southern France have a notable presence of the other color mutations (white and gris) as well as the downy leaved Garnacha Peluda.
Grenache in Modern Times
Today Grenache is the second most widely planted grape in France, after Merlot, with 94,240 ha (232,872 acres) planted as of 2009. The grape forms the backbone of many Southern Rhone blends such as Châteauneuf-du-Pape (around 70% of plantings), Gigondas and Vacqueryas as well as the rosé wines of Tavel and Lirac.
In Italy, it is the most widely planted grape on Sardinia–accounting for around 20% of the island's wine production–with 6288 ha (15,538 acres) planted by 2000.
After Tempranillo and Bobal, Garnacha is the third most widely planted red grape in Spain with 75,399 ha (186,315 acres) of vines covering 7% of the country's vineyards. The grape is widely planted in the Aragon region of northeastern Spain, where it accounts for 45% of production. It is also a popular planting in Castilla-La Mancha, Castilla y León, Catalunya, Priorat and the Rioja Baja region. In Navarra, it is an essential component in the region's rosé.
A Santa Clara wine grower, Charles Lefranc, likely introduced Grenache noir to California in the 1850s.
The grape became a significant planting in the Central Valley after Prohibition where it was used to make dessert wines and lightly sweetly rosés. Today, along with Grenache blanc, it is used to make dry varietal wines and Rhone-style blends.
In 2017, there were 306 acres of Grenache blanc and 4,287 acres of Grenache noir growing throughout the state from the Sierra Foothills and Sonoma down to Paso Robles and Santa Barbara.
Paul Gregutt notes in Washington Wines that Grenache was the first vinifera wine to earn critical acclaim in Washington when wine writer Leon Adams praised a dry Grenache rosé made by a home winemaker in the Yakima Valley in his 1966 book Wines of America.
As Gramercy Cellars' winemaker Greg Harrington noted in his interview on Levi Dalton's I'll Drink to That! podcast, severe freezes in Washington in the late 20th century nearly killed off all Grenache in the state.
However, the grape has seen a renaissance of interest in recent years thanks in part to winemakers like Master of Wine Bob Betz and the Rhone Rangers movement pioneered in Washington by Doug McCrea. As of 2017, there were 212 acres of Grenache noir in Washington.
Over the years, growers have used Grenache to breed several new grape varieties such as Caladoc (with Malbec), Carnelian (with F2-7, a Carignan/Cabernet Sauvignon crossing), Emerald Riesling (Grenache blanc with Muscadelle) and Marselan (with Cabernet Sauvignon).
The Wines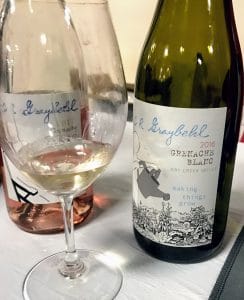 Below are my notes on the CR Graybehl's Grenache wines I tasted during the April Hospice du Rhône event updated with some production and winemaking details.
2017 Grenache Rosé Sonoma Valley ($24-25)
Sourced from Mathis Vineyard. Around 190 cases made. Medium intensity nose. Bright red fruits of cherry and strawberry mixed with some blood orange. Medium-minus body weight and juicy medium-plus acidity. Good patio sipper but not a great value compared to Grenache-based Rhone and Spanish Navarra rosés in the $10-15 range.
2016 Grenache blanc Dry Creek Valley ($19-24)
From the Mounts Family Vineyard. Around 245 cases made. Medium intensity nose. Tree fruits–pear and apples with noticeable baking spices of clove and nutmeg. Subtle herbalness. Medium body weight and medium acidity. Long finish ends on the tree fruits. Reminds me of a more refreshing Chardonnay.
2016 The Grenachista Alder Springs Mendocino County ($34)
High intensity nose. Dark fruits with wild berries like huckleberry, blackberry and boysenberry. Lots of blue floral notes and herbs de Provence giving this wine a lovely bouquet. Very full bodied but very ripe medium-plus tannins that are balanced by medium-plus acidity which highlights a peppery spice. Long finish.
2015 Grenache Mathis Vineyard Sonoma Valley ($34)
Around 273 cases made. Medium-plus intensity nose. Lots of dark fruit–blackberries and black cherries. By far the most fruit forward nose of the bunch. Some spices come out on the palate with medium-plus acidity giving the fruit a lip-smacking juiciness. Ripe medium-plus tannins and full body bodied fruit. Kind of feels like an old vine Aussie Grenache.
2015 Grenache Mounts Family Vineyard Dry Creek ($34)
Made from clones 362 and 513 sourced from the Southern Rhone and Languedoc. Wild fermented with 100% whole cluster. Around 273 cases made. High intensity with a lot of savory black pepper spice that has a smoked BBQ element. Mix of red and dark fruit flavors on the palate. Medium-plus body and medium-plus acidity with ripe medium tannins. Long mouthwatering finish ends on the savory notes.
The Verdict
Across the board I was enjoyed all of CR Graybehl's wines though I definitely think the best values lie with their reds. These wines shinned at a tasting that featured many more expensive bottlings. The whites are certainly well made and tasty but you are paying a little bit of a premium for their small production.
The vineyard designated Grenache noirs, however, could be priced closer to $45 and would still offer very compelling value. Each one has their own distinctive personality and character that more than merit exploring further.
Subscribe to Spitbucket