A few quick thoughts about the 2007 La Rioja Alta Gran Reserva 904.
The Geekery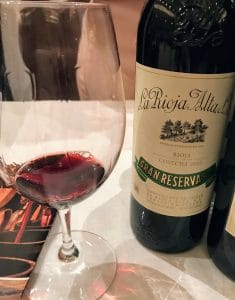 La Rioja Alta is one of the oldest wineries in Spain, founded in 1890 as Sociedad Vinícola de la Rioja Alta by five families in Rioja. The Gran Reserva 890 takes its name from this founding date. More than 125 years later, descendants of the original families are still involved in the winery.
The Gran Reserva 904 commemorates the year 1904 when Daniel Alfredo Ardanza y Sánchez merged his Ardanza winery with Sociedad Vinícola de la Rioja Alta. Very unusual for the period, the first president of the winery was a woman, Doña Saturnina García Cid y Gárate.
Along with López de Heredia, La Rioja Alta is considered one of the flag-bearers of classic, old-school Rioja with a style trademarked by extensive aging in American oak. It's located across the road from López de Heredia in the Barrio de la Estación (Station Quarter) of Haro–not far from CVNE and Muga.
The 2007 Gran Reserva 904 is 90% Tempranillo sourced from 60+ year old vines and 10% Graciano. The wine spent 4 years aging in 100% neutral American oak barrels with 12,500 cases made.
The Wine
Medium-plus intensity nose. Lots of fresh cigar tobacco with a dried minty edge. There are red fruit notes like cranberries and cherries as well. Maybe a little dill.
On the palate, the tobacco is still quite present but also brings a leathery component. High acidity is mouthwatering but makes the cherry notes taste fresh. Medium-plus tannins are ripe but pronounced. They hold up the medium-plus body of fruit very well. The most noticeable aspect of oak comes out on the long finish with lingering vanilla.
The Verdict
For wine students studying for blind tastings, there are few better bottles to be intimately familiar with than La Rioja Alta. It's textbook with structure and nuances that hit every note.
At $50-60, it's in a good spot now but has the legs to go on easily for another 10-15 years.
Subscribe to Spitbucket