A few quick thoughts on the 2012 Emmolo Sauvignon blanc from Napa Valley.
The Geekery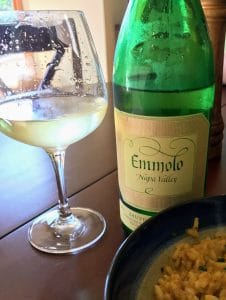 Emmolo is made by Jenny Wagner, daughter of Chuck Wagner of Caymus fame. The winery was founded by her mother, Cheryl Emmolo, in 1994 where she got the "pick of the litter" from her parent's vineyard on Mee Lane in Rutherford. For years the Emmolos sold most of this fruit to wineries like The Hess Collection, Robert Mondavi Winery and Villa Mt. Eden.
Emmolo's roots in Napa Valley date back to the 1920s when Salvatore Emmolo started a rootstock nursery in Rutherford. He built a winery on the property in 1934 which Jenny uses to make Emmolo wines today. The first vintages were made by Cheryl with the help of Ric Forman. Jenny took over in 2014, however, she had been working with her mother for several vintages so the 2011 Merlot and 2012 Sauvignon blanc are considered her first releases.
The Wine
Medium-plus intensity. A bit surprised at how fragrant it is for 5 year California Sauvignon blanc. A mix of floral and tree fruits like apple and peaches.
On the palate, those tree fruit notes come through, particularly the apple but you can tell the age as the fruit taste more rich than fresh. The wine has medium acidity with weight on the palate, almost like a Chardonnay that has spent time in a neutral oak barrel. Not quite creamy but heavy. On the finish some citrus notes like pomelo pop out.
The Verdict
It's clear that this Sauvignon blanc is on the wane of its life but it was still quite enjoyable. As noted in the review above, the aromatics are inviting and impressive.
At around $20, I'm quite satisfied with this Emmolo Sauvignon blanc and would certainly be open to trying newer vintages. If you have a bottle of the 2012, it's worth opening up and enjoying now but I probably wouldn't hold onto it for more than another year or two.
Subscribe to Spitbucket