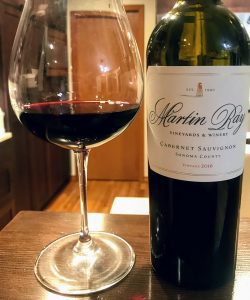 As California Wine Month comes to a close, I want to spend some time reflecting on the men and women who have made California what it is today.
Folks like Agoston Haraszthy, H.W. Crabb, Charles Krug, Josephine Tychson, Louis M. Martini and, in more modern history, people like Andre Tchelischeff, Robert Mondavi, Warren Winiarski, Robert Haas, Donn Chappellet, Fred and Eleanor McCrea and Dick Grace.
Truthfully, the list could go on ad infinitum because the history and story of California wine is truly a patch work quilt of individual dreams and efforts.
But I'm willing to bet that if you asked most wine lovers to list some of the influential figures in California wine history–only the truly old timers and the geekiest of wine students would mention Martin Ray.
Which is remarkable considering the modern legacy of all "the Martians" that came after Ray.
The Invasion of Quantity over Quality
In the link above, wine economist Mike Veseth highlights the dichotomy in thought of two post-Prohibition wine pioneers over what the "idea" of wine should be–a topic he greatly expands upon in his 2011 work Wine Wars: The Curse of the Blue Nun, the Miracle of Two Buck Chuck, and the Revenge of the Terroirists.
Philip Wagner, who founded the Maryland winery Boordy Vineyards, bequeathed the Wagnerian ideals of wine being an everyday commodity–much like any other food and beverage–that should be affordable and accessible. As Veseth notes, the existence of "Two Buck Chuck" is a very Wagnerian model. However, Wagner's idea of everyday affordability wasn't just limited to bottom of the barrel prices.
Martin Ray, on the other hand, thought that American wine should aim high and not settle for just being a commodity like milk and grains. Inspired by the great wines of Europe, the original "Martian" was convinced that California had the potential to reach similar heights.
Post-Prohibition Blues
As Thomas Pinney notes in A History of Wine in America, Volume 2: From Prohibition to the Present, the American wine industry was in a bit of a funky, cloudy haze in the years after the repeal of Prohibition–just like many of the wines of that period.
The goal of most post-Prohibition wineries was cheapness and quantity with quality being a distant third. In chapter 4 of his work, Pinney quotes UC-Davis professor Maynard Amerine's 1940 letter bemoaning the fact that many producers ignore their vineyards until late in the harvest season, letting the grapes go far past their ideal harvest time and producing wines that were "…heavy, lacking the essential fruit quality and frequently have an overripe grape or raisin taste." Beyond the poor condition of the fruit, Amerine noted, in the winery this often led to the presence of spoilage bacteria.
Amerine's letter (as quoted by Pinney) would go on to say:
Aside from [Martin] Ray you would be amazed at how few of our growers or vintners have the least conception of these facts. This is one of the recurring reasons for the lack of quality (or even drinkability) of California wines.

— Maynard Amerine's October 20th, 1940 letter to Julian Street as quoted in Thomas Pinney's A History of Wine in America, Volume 2
Martin Ray was different.
A protégé of Paul Masson, Ray grew up near Masson's vineyards in the Santa Cruz Mountains south of San Francisco.
While today his name is synonymous with low-quality jug wines made by Constellation Brands, Paul Masson was a pioneer in his own right aiming to make high-quality sparkling wines in the style of his homeland of France–even importing his own cuttings of Pinot noir and Chardonnay vines from Burgundy (likely from his friend Louis Latour's vineyards).
During the Great Depression, Martin Ray quit his career as a stock broker to join his neighbor Paul Masson at his winery. Falling in love with the industry, Ray bought the Paul Masson winery in 1936.
Seeing the poor quality that dominated the post-Prohibition wine industry, Ray made it his personal mission (a fanatical obsession as Pinney describes) to bring back the quality levels and standards that trademarked the industry in the Pre-Prohibition days of Haraszthy, Krug, Lily Langtry, Tychson, Jacob Schram, Gustave Niebaum and Georges de Latour.
The Best Of Intentions, The Poorest of Results
But he had an uphill battle with the legacy of bootlegging, speakeasies and moon-shining leaving American drinkers with a taste for things strong and sweet.
Many of the California wines that dominated the market were often fortified with brandy and sweetened up with the use of raisins or very late harvested grapes made from Muscat, Thompson Seedless and Sultana. Thomas Pinney notes those three grapes represented nearly half (44%) of the 1941 vintage alone.
The nature of the industry and a devastating winery fire were too much to overcome. In 1942, Ray accepted an offer from Seagram's for the Paul Masson brand and what was left of the winery.
The Sky's The Limit
However, rather than retire, Ray tried his hand again in his fanatical quest for quality. Purchasing land on the hilltop across from the old Paul Masson vineyards, Ray transferred many of those Burgundian cuttings of Pinot noir and Chardonnay to plant what is now known as Mount Eden Vineyards–2000 feet above the Santa Clara Valley. His widow Eleanor Ray and their daughter, Barbara Marinacci, detailed Ray's passion and goals in their book Vineyards in the Sky: The Life of Legendary Vintner Martin Ray which is a great read for folks wanting to know about this pivotal time in California's wine history.
Branded under his own name, Martin Ray spared no expense.
His goal was to make Pinot noir, Chardonnay and Cabernet Sauvignon that could compete with the best that Europe offered. In the vineyard, he focused on lowering yields and refused to irrigate–believing that excess water diluted the vine's potential to make great grapes.
After the grapes were harvested, he rushed to get them crushed and fermenting within an hour of leaving the vine in order to minimize the degradation of quality and exposure to spoilage bacteria.
The wines were barrel fermented and then pressed in a custom-built hand press that Ray designed himself to minimize extraction of harsh tannins. He then aged the wines in oak barrels before bottling them unfined and unfiltered. However, rather than releasing the wines soon after bottling, Ray kept the wines back and aged them further in the cellar. Not a single bottle was released until he felt that they were ready for the market. Sometimes this meant holding them back as long as ten years.
Recognition, at last?
Ray's efforts and dedication to quality allowed him to ask for and receive some of the highest prices in all of California at the time–$2 a bottle.  Martin Ray wines were even served at the White House for both Johnson and Nixon.
However, Ray still had the cards against him. Many American drinkers of dry wines were more apt to look eastward towards Europe than to the homegrown products of California. The costs and expenses of his quality-driven style–plus some bad business decisions with investors–caused Martin Ray to lose his winery in 1970. The new owners did allow him to spend his remaining years living in a house below the vineyard.
He passed away in 1976–the same year that the famous Judgement of Paris wine tasting took place. It seems both fitting and tragic that the moment when Martin Ray's passion and vision were actualized was when he left this earth.
That year, American wines truly did compete with the best that Europe offered.  The embrace of American consumers came shortly after.
His life's work. Finally completed.
Rediscovering Martin Ray
Following the Judgement of Paris, the California wine industry entered a boom period of prosperity and acclaim. In the dust, the name of Martin Ray continued to fade into obscurity until 1990 when a young entrepreneur named Courtney Benham stumbled upon a warehouse in San Jose that contained 1500 cases of old Martin Ray wines along with Ray's letters and winemaking notebooks.
That same year Courtney Benham had founded Blackstone Winery with his brother Derek. Intrigued, Benham inquired with the family of Martin Ray about acquiring the rights to Ray's name.
In 2001, the Benham brothers sold Blackstone to Constellation Brands for $140 million and in 2003 acquired the historic Martini & Prati Winery in the Russian River Valley to be the new home of Martin Ray Winery.
Blackstone's winemaker Dennis Hill made the first vintages of the new Martin Ray wines until the 2001 sale. Then Bryan Davison succeeded him. The new winery building in 2003 saw the hiring of Bill Batchelor. The brand expanded to with the introduction of sister labels, Angeline and Courtney Benham Wines.
Batchelor eventually left Martin Ray in 2017 to take over the winemaking operation of Gundlach Bundschu. He was succeeded by his assistant winemaker, Lindsey Haughton who has been with the winery since 2012. Prior to joining Martin Ray, Haughton worked harvest at Heitz Cellars in Napa and studied at Fresno State University. While at school, she worked at Engelmann Cellars.
The Wines
2016 Martin Ray Sauvignon blanc Russian River Valley ($16-20)
100% Sauvignon blanc sourced from vineyards mostly in the Green Valley of the Russian River.
High intensity nose. Very intriguing mix tropical citrus fruit like starfruit and pomelo with richer honeydew melon and subtle grassiness. It's not as green as a New Zealand Sauvignon blanc but the nose is as intense as one.
On the palate, the citrus notes hold court and add a lemony note. Medium-plus acidity is mouthwatering and fresh but doesn't stray into tartness. Good balance with medium bodied fruit. Moderate finish brings back some of the honeydew notes.
2016 Martin Ray Sonoma County Pinot noir ($23-28)
100% Pinot noir sourced from the Ricioli and Foppiano Vineyards in the Russian River Valley and the Sangiacomo Vineyard in Carneros.
WOW! High, high intensity nose. Mix of dark cherries with red raspberries and some subtle dried floral and earthy notes. With air those earthy notes become more defined as forest floor and cola nut.
On the palate the red fruit comes out more than the dark but feels weightier with medium-plus tannins. Noticeable vanilla oak also brings spices like nutmeg and cinnamon to the party. Medium-plus acidity is very lively and balances the weight of the medium body fruit. Long finish lingers on the juicy fruit at this point. It will become even more complex as the baby fat of oak fades and the floral and earthy notes develop.
2016 Martin Ray Sonoma County Cabernet Sauvignon ($18-22)
100% Cabernet Sauvignon sourced from vineyards in the Alexander Valley, Sonoma Mountain and Dry Creek Valley.
Medium-plus intensity nose. Very jammy dark fruits of black currants and blackberries. More noticeable oak on the nose with toasty vanilla and some clove.
On the palate those jammy dark fruits come through with medium-plus body weight. Ripe medium-plus tannins holds up the fruit and contribute to the smooth mouthfeel with the vanilla. Medium acidity gives some balance but has me wishing for more. Reminds me a lot of the Justin Paso Robles Cabernet Sauvignon. Moderate length finish continues with the dark fruit and vanilla oak.
Final Thoughts
It's interesting that the modern incarnation of Martin Ray seems to combine the "Wagnerian" and "Martian" ideals. These wines offer affordable everyday drinking of very good quality.
I know that not every household has $20 wines as their everyday drinkers. But compared to many higher priced $30-40 bottles, these wines certainly make that kind of quality level more attainable.
The Pinot noir, in particular, is outstanding for the price with single vineyard designates from the legendary Sangiacomo vineyard rarely dropping below $35. The Ricioli and Foppiano vineyards in the Russian River Valley also tend to fetch higher prices.
While the Martin Ray lineup certainly does include more expensive wines from the Diamond Mountain District and Stags Leap District of Napa Valley, I don't think the original Martin Ray would balk at these more affordable bottles from Sonoma.
Subscribe to Spitbucket