A few quick thoughts on the 2015 DeLille Rosé from the Yakima Valley.
The Geekery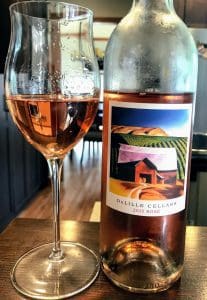 DeLille Cellars was founded in 1992 by Charles and Greg Lill, Jay Soloff and Chris Upchruch. Since 2011, Jason Gorski has worked with Upchurch as winemaker.
The 2015 rosé is a blend of 53% Grenache, 34% Mourvèdre and 13% Cinsault. The Grenache and Cinsault were sourced entirely from Boushey Vineyard in the Yakima Valley while the Mourvèdre came from Ciel du Cheval on Red Mountain and Stone Tree Vineyard on the Wahluke Slope.
The Wine
Medium-minus intensity nose. A mix of dried red fruit like cherries, strawberries and cranberries with a distinct green herbal streak of thyme and lemongrass.
On the palate, the red fruits carry through but become even less defined. The medium-plus acidity is still lively but seems to accentuate more the herbal notes than the fruit. There is some noticeable phenolic bitterness as well that lingers on the short finish.
The Verdict
This was an experiment testing the ageability of rosés. It's very unfair to judge this wine too harshly because it's clearly gone downhill.
In my opinion, DeLille makes one of these best domestic rosés in the United States. Even at $30-35 a bottle, I would rate it higher than many more expensive examples from Provence.
While I don't buy into the idea that all rosés need to be consumed within a year of the vintage date, tasting this DeLille convinces me that going 3 years with even the best rosés is pushing it. If this wine can't last long, why bother aging any of them? Yet, some wine bloggers and professional critics will give 3 or even 5 year "drinking windows" for high-end rosés.
My advice is to ignore them and drink your rosés younger rather than older. The minuscule amount of added complexity an extra year of bottle age might give is not worth the substantially higher risk of opening up a bottle way past its prime.
Subscribe to Spitbucket