A few quick thoughts on the 2013 Sinclair Estate Vixen from Columbia Valley.
The Geekery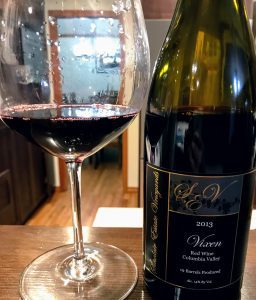 Sinclair Estates was founded in 2010 by Tim and Kathy Sinclair, who also own the Vine & Roses Bed and Breakfast in Walla Walla.
This vintage was made by Amy Alvarez-Wampfler, an alum of Walla Walla Community College, who started at Columbia Crest Winery–eventually becoming responsible for their 10,000 barrel Chardonnay program. At Columbia Crest she was mentored by Ray Einberger, Juan Munóz Oca, Daniel Wampfler and Keith Kenison. In 2010, she was hired by the Sinclairs to be their head winemaker and general manager.
In 2015, Alvarez-Wampfler left Sinclair to join her husband, Daniel, as winemakers of Abeja–following John Abbott who launched the winery in 2002. She was succeed at Sinclair by Billo Naravane, a Master of Wine who also owns Rasa Vineyards in Walla Walla.
The 2013 Vixen is a blend of 63% Mourvedre, 26% Syrah and 11% Petit Verdot. The wine was aged for 36 months in French oak.  Around 475 cases were produced. Across all their wines, Sinclair Estate only produces about 1500 cases.
The Wine
Medium-plus intensity nose. Lots of black pepper and oak spice with blue floral notes. Underneath there is dark fruit–black cherries and plums–as well as a little tamarind for intrigue.
On the palate, the spice notes–particularly nutmeg and clove–carry through but more of the vanilla from the oak emerges. The dark fruits and savory tamarind are still present with the medium acidity balancing them enough to compliment the full-bodied weight and medium-plus tannins. On the long finish the black pepper spice re-emerges.
The Verdict
The 2013 Sinclair Vixen is an intriguing "Rhone blend with a twist" with the Petit Verdot replacing Grenache. Very characterful wine that strikes an interesting balance between the lusciousness of New World dark fruit and oak with the savory spiciness of Old World influences.
At around $40-45, this is a very delicious red blend that is great by itself but worth savoring over a long dinner.
Subscribe to Spitbucket