Note: This wine was a sample at the 2019 Wine Media Conference.
A few quick thoughts on the 2019 Audrey Wilkinson Gewurztraminer from the Hunter Valley.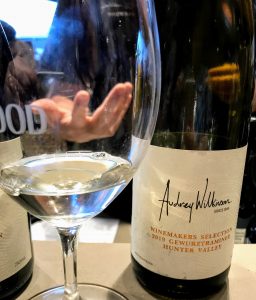 The Geekery
Now owned by the Agnew family of Agnew Wines, Audrey Wilkinson is a historic estate in the Hunter Valley. Founded in 1866 by brothers Frederick and John Wilkinson, it was the first vineyard established in Pokolbin.
When Audrey joined the family estate in 1897, he introduced cement fermenters and new techniques for handling the grapes in the winery. His wines would go on to win numerous awards at some of Australia's most prestigious wine competitions.
Acquired by the Agnews in 2004, the heart of the Audrey Wilkinson vineyard is still one of the oldest in the Hunter Valley. The family maintains a 20 ha estate that includes a small block of Gewurztraminer.
The Wine
High-intensity nose– lots of lychee and rose petal terpenes. This screams Gertie from across the room. However, it also has lime and apricot notes adding complexity.
On the palate, the wine tastes distinctly dry with the lime note emphasizing medium-plus acidity. Very mouthwatering. There is a fair amount of weight and roundness with some phenolic texture. It's not distracting at all with the fruit balancing well with the full-bodied weight of the wine. Long finish lingers on the lychee with a slight ginger note coming out.
The Verdict
This wine is probably not going to make its way to the US, unfortunately. However, at around $18 USD (Wine Searcher estimate), it would be a very solid bottle if it did. Most likely in the US, you'd see it more on restaurant wine lists. No doubt, its dry style, fresh acidity and high quality would pair very well with a variety of cuisines.
I can easily see a savvy somm falling in love with this wine. And if you happen to come across it, I'm sure you will too.
Subscribe to Spitbucket