A few quick thoughts on the 2014 Schramsberg Blanc de Blancs sparkling wine from California.
The Geekery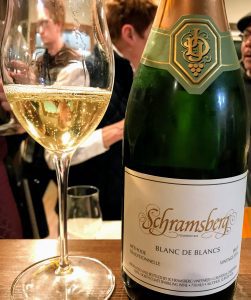 Schramsberg began in 1965 when Jack and Jamie Davies, inspired by a long lunch with legendary vintner Martin Ray, bought the derelict winery, house and caves of 18th century German immigrant Jacob Schram on Diamond Mountain.
The Davies wanted to distinguish themselves from other Napa wineries and focused on sparkling wines. At the time, only Korbel in Sonoma and Kornell in Napa were making sparklers. Instead of using Champagne varieties, these other wineries were using grapes like Thompson Seedless, Colombard and Chenin blanc.
Their first release was a 100% Chardonnay 1965 Blancs de Blanc. James Conway notes in his book Napa: The Story of an American Eden that the Davies got the grapes for their sparkler by purchasing Riesling from Jerome Draper on Spring Mountain and then trading with the Mondavis of Charles Krug for Chardonnay.
In 1972, President Richard Nixon shared the 1969 Blanc de Blancs with Chinese Premier Zhou Enlai for the historic "Toast to Peace" between the two countries during Nixon's famous trip to China.
The Chardonnay for the 2014 vintage was sourced primarily from Napa (66%) with 31% from Sonoma and 3% from vineyards in Marin County. Primary fermentation was done in barrel with full malolactic. The wine was then aged over 2 years on the lees before being bottled with a 9.5 g/l dosage. Around 34,850 cases were made.
The Wine
Medium intensity nose. Reminds me of key lime pie with the mix of citrus, pastry and baking spices.
On the palate, the key limes carry through and are amplified by the medium-plus acidity. Moderate mousse holds the lively acidity and crispness. The pastry and baking notes become more muted and fade quickly with the finish.
The Verdict
At $30-35, this an enjoyable sparkler but admittedly doesn't wow me for the price.
It's well made but there is not much that sets it apart from sparklers under $20.
Subscribe to Spitbucket