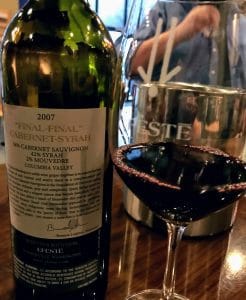 A few quick thoughts on the 2007 Efeste Final-Final red blend from the Columbia Valley.
The Geekery
Efeste was founded in 2005 by Daniel and Helen Ferrelli, Patrick Smith, Kevin and Angela Taylor. The name comes from the phonetic pronunciation of an acronym using the founders' last names, F-S-T.
In 2007, Brennon Leighton was hired as head winemaker on the recommendation of consulting winemaker Chris Upchurch of DeLille.
Leighton would stay on at Efeste for nearly 5 years before leaving in 2012 to join Charles Smith Wines. That same year he harvested the first fruit for his own label, B. Leighton Wines.
He was succeeded by Peter Devison (who also made the Sound Purveyors Cab we've reviewed). Mark Fiore, formerly of Beresan, Balboa Winery and Charles Smith Wines, is now the current winemaker for Efeste.
The 2007 Final-Final is a blend of 56% Cabernet Sauvignon, 42% Syrah and 2% Mourvedre. Around 3000 cases were made.
The Wine
Medium-plus intensity nose. Still a noticeable core of dark fruit–blackberry and currant–for a 10+ year old wine but the bouquet is dominated by spicy and savory tertiary notes.
On the palate those tertiary notes still hold court with a lot of Indian spices like Garam Masala and meatiness that is amplified by the mouthwatering medium-plus acidity. The medium-plus tannins are still present but very velvety and soft as they hold up the medium-plus body fruit. Long finish ends on the savory notes.
The Verdict
While I've certainly enjoyed more recent releases of Efeste's Final-Final, I honestly can't remember the last time I was this blown away by the wine. It could be a combination of the wine aging well, the inclusion of Mourvedre (which hasn't been used in recent vintages) or the differences in winemaking style from changing winemakers.
This wine is an absolute steal for folks who bought it on release at $23-27 and still have bottles. Even as a library wine, it's still a compelling value for $40-45.
Subscribe to Spitbucket