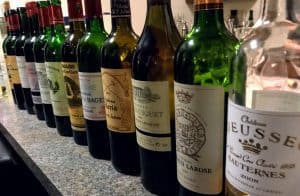 Wine Enthusiast recently published a great article highlighting what wines from the recent 2015, 2016 and 2017 vintages are worth laying down in the cellar for 20+ years. They titled this article "A Guide to Finding Age-worthy Birth Year Wines."
But for the moms and dads, grandparents, aunts and uncles who want to set aside a thoughtful birth year bottle to share with someone on their 21st birthday, you're better off ignoring 97% of the advice Roger Morris gives you in this Wine Enthusiast article.
A well structured Bordeaux from Pauillac or Margaux?
A nutty, toasty vintage Champagne?
A savory, spicy Hermitage or Côtes-Rotie?
A big, robust Napa Cabernet Sauvignon?
A brooding and mouthwatering Barolo?
A complex and nuanced Burgundy?
Those are all great wines, no doubt, and examples from the 2015 & 2016 vintages, in particular, will be giving wine lovers pleasure for the next two plus decades. But before you plunk down some serious cash and invest in the proper storage conditions to take care of these wines, ask yourself one crucial question.
Do you think the person that you are saving this wine for is going to appreciate and enjoy this wine when they turn 21?
Let me re-phrase that question for you from another perspective.
What were you drinking when you turned 21?
Petrus?
Giscours?
Opus One?
Silver Oak?
Jordan?
Quilceda Creek?
Beaucastel?
Domaine du Pégau?
Cristal?
Romanée-Saint-Vivant Grand Cru?
Joly Coulée de Serrant?
If you were then my hat's off to you but I'll be honest and admit that 21 years old me was drinking Boone's Farm, Arbor Mist Blackberry Merlot and St. James Winery's Velvet Red and Pink Catawba. And that was after 16 to 20 year old me had graduated from drinking Bud Light and whatever alcohol made its way to the various jello shots at the parties I attended as a kid. Oh, and I guess growing up in the church I had my fair share of Mogen David and Manischewitz Concord wine as well.
Being a gambling woman (only somewhat reformed), I would wager that the vast majority of you had similar early drinking experiences and palates that I did.
What reason is there for us to think that the next generation of 21-year-olds is going to be any different?
Is it Better for the Giver or the Receiver?
The problem with articles like the Wine Enthusiast guide is that they are almost entirely driven by the perspective and palate of the person giving the wine. Yeah, folks like us are going to adore what a 2016 Lynch Bages, Gaja Sperss, Guigal La Mouline or Chappellet Pritchard Hill Cabernet Sauvignon will taste like in 2037. At that point, these wines are going to have evocative bouquets of savory tobacco spice, dried herbs and other tertiary flavors with long, lingering and mouthwatering finishes.
But you know who is probably not going to like those wines at all?
My niece Elise.
At best, she would smile politely and acknowledge the gift. I'm sure at dinner she would take a sip or two, trying not to gag at the bitterness and acidity. I could see her swirling the wine a little in the glass, trying to imitate what the other adults at the table are doing, hoping that maybe somehow the air would magically transform the wine into a strawberry margarita.
I'm not going to put her through that dog and pony show. But I'm still squirreling away special wines to share with her and my other nieces and nephews when they turn 21.
However, it's not Barolos, Napa Cabs or other age-worthy red wines.
No, I'm squirreling away Sauternes, Tokaji, German Rieslings, Vouvray Demi-Secs, vintage Ports and Madeira.
The Overlooked Majesty of Age-worthy Sweet Wines
To Roger Morris and Wine Enthusiast's credit, they do name drop a couple of these Birth Year worthy sweet wines in the article noting the quality of the 2016 vintage for German Rieslings and quoting Joe Campanale, owner/beverage director at Fausto in New York City on the potential of 2017 for vintage Port and Madeira. But the fact that these great wines got lip service at best (with others like Sauternes not even mentioned) is sadly reflective of the "Rodney Dangerfield-status" of sweet wines in general.
In an age of Moscato Mania, Stella Rosa's rapid ascent and the Capriccio Craze, the idea of enjoying sweet wines often gets a negative reaction from "wine people."
This snobbish aversion to anything sweet persists even with many of the best selling "dry" red wines laden with residual sugar via the additions of Mega Purple or, in the case of wines like Meiomi Pinot noir, sneaking in sweet white grapes like Riesling and Gewürztraminer.
Yet there is a reason why some of the most legendary wines throughout history have been sweet dessert wines.
They're freaking delicious!
Plus, the presence of all that sugar coupled with acidity (Rieslings and Vouvray), fortification (Ports and Madeira) and Noble Rot (Sauternes, Tokaji and some German & Alsatian wines) gives these wines fantastic aging potential. The evolution of Sauternes, in particular, is a remarkable journey to follow as the fresh, youthful exuberance of tropical fruit give way to richer notes of honey, spice, caramel and crème brûlée.
The Beauty Of It All
When you look at the pros and cons of saving sweet dessert wines for future 21-year-olds versus the typical roll call of great red wines and dry Champagnes, there is no contest.
These dessert wines are wines that in 20 + years will not only have the complexity and nuance to appeal to seasoned wine drinkers. But for newly christened 21-year-olds these wines will be sweet and approachable with identifiable flavors of fruit, candy and honey.
Sure, they may not "get" all the concepts of terroir, Botrytis, aging and vintage variation behind these wines. For them, each sip will probably taste the same while you're likely going to see each sip unfurling another layer of flavor that has spent decades developing.
But you're both going to still really enjoy those sips and are far more likely to share a celebratory moment that's worth treasuring for many years to come.
Subscribe to Spitbucket