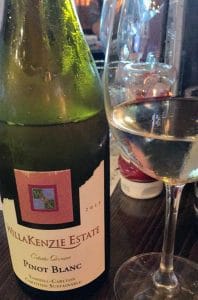 Continuing our Oregon Wine Month celebration, here are a few quick thoughts about the 2013 WillaKenzie Pinot blanc from the Yamhill-Carlton District.
The Geekery
WillaKenzie was founded in 1991 by Bernard and Ronni Lacroute with the winery named after the mustard color series of sedimentary soils prominent in the Yamhill-Carlton District, McMinville and Ribbon Ridge AVAs.
With a slogan "Dirt Matters", author Kenneth Friedenreich notes in Oregon Wine Stories that along with the Campbells of Elk Cove, Kramer Vineyards and the Bergs of Roots Wine Co., WillaKenzie helped raised the profile of the Yamhill-Carlton District as a destination in Oregon wine country.
In 2016, the Lacroutes sold the winery to Jackson Family Estates where it joined a portfolio of brands that now includes Copain, Carmel Road, Cardinale, Freemark Abbey, La Jota, Brewer-Clifton, Byron, Cambria, Kendall-Jackson, La Crema, Matanzas Creek, Gran Moraine, Zena Crown, Penner-Ash among many others.
With the changing ownership came a change in winemakers with Erik Kramer (previously of Domaine Serene) taking over from Thibaud Mandet who was mentored by WillaKenzie's longtime winemaker Laurent Montalieu before he left the winery in 2003 to focus on his Solena, Domaine Loubejac and Kudos labels.
The 2013 Pinot blanc is sourced from the winery's estate vines that were planted in 1992-93 and are sustainably farmed.
The Wine
Medium-minus intensity nose with green apples and faint Meyer lemons.
On the palate the lemon notes become more pronounce and have a slight custardy texture with the medium-plus body weight. Medium acidity gives some balance but could probably use more. There are no overt vanilla oak notes but some subtle baking spice (clove, allspice) notes appear on the moderate finish that suggest maybe a touch was involved.
The Verdict
At around $23-28, this is not a great value but it is a decent white wine for fans who crave something with body but different than a Chardonnay.
At 4+ years of age, it is holding up fairly well but is clearly on its last legs so I would recommend drinking it soon.
Subscribe to Spitbucket