Note: This wine was a sample from the 2019 Wine Media Conference.
A few quick thoughts on the 2018 Hopes End Brandy Barrel-Aged Cabernet Sauvignon from South Australia.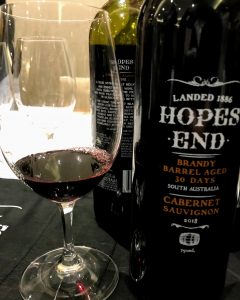 The Geekery
Hopes End is part of the Trinchero Family's extensive portfolio, which includes brands such as Menage à Trois, Charles & Charles, Joel Gott, A3 Wines and Sutter Home.
Slightly unusual for its style & low $10-13 price point, the Cabernet Sauvignon is sourced entirely from the state of South Australia instead of the vast, multi-regional South Eastern Australia designation.
While South Australia is known for the wines of the Barossa Valley, McLaren Vale, Adelaide Hills, Padthaway and Coonawarra, most likely this wine comes from the Riverland region in the Lower Murray. As Australia's largest wine region by volume, the Riverland is responsible for nearly 25% of all Australian wine produced.
As noted on the bottle, the wine spends 30 days aging in brandy barrels. However, I can't find any details of the barrels' origins or if the wine saw any other type of aging.
The Wine
Medium-intensity nose. Very jammy dark fruit–blackberry, black plum. Noticeable woodsy oak and vanilla, but it doesn't smell brandy-like.
On the palate, the 9 g/l residual sugar is very noticeable with the dark fruit having a pie-filling weight and texture. Medium-plus acidity helps balance it somewhat but is curiously citrusy. This could be some of the brandy coming out.
The vanilla is very present with soft medium-plus tannins and a creamy, full-bodied mouthfeel. The moderate finish does introduce black pepper spice which adds some complexity.
The Verdict
As I've done before with previous tastings of bourbon barrel-aged wines, I did my best to keep an open mind. While it wasn't as gawd-awful as Apothic Inferno, this Hopes End was still just okay.
It's an off-dry red blend that doesn't taste like the inside of a barrel. While it's not my personal style, it's certainly in line with many mass-market red blends in the $10-13 range.
Subscribe to Spitbucket