Right now, I am sipping on a glass of French Muscadet that I paid the equivalent of $3.86 a bottle for. With its medium intensity nose of citrus and green apple, crisp acidity and moderate finish, I would peg this wine in a blind tasting as something in the $8-10 range.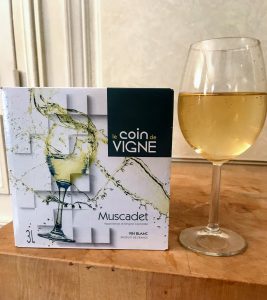 It's simple, refreshing and eminently drinkable. But instead of paying $8-10 for a bottle that I won't finish by myself, I'm savoring this glass over lunch with many more opportunities over the next 3-5 weeks to repeat the experience. All for a grand total of 13.79 euros ($15.44 USD).
Such is the beauty and potential of boxed wines.
Unfortunately, this is an experience that is difficult to repeat in the US. Back home, while the selection is improving, the usual options for many wine drinkers are the mass-produced (and often highly manipulated) supermarket brands of Black Box, Bota Box, House Wine, Bandit or (shudder) Peter Vella, Almaden, Carlo Rossi and Franzia.
While Australia and parts of Europe have enthusiastically embraced the benefits of box wines, there is a chicken and egg conundrum in the US about them. Box wines have a poor reputation among US consumers. Therefore, quality minded producers don't want to bother with them.
But why do US consumers associate box wines with poor quality?
Perhaps, because the quality of box wines that we've been exposed to has been shit?
The French Paradox
How can a country with a reputation for snobbery be so ahead of the US in embracing box wines?
They're everywhere and account for more than a third of retail wine sales in France. At the cafés, American tourists pair their Parisian memories with glasses of vin rouge and vin blanc.  Many go home none the wiser that their 25 and 50 cl carafes were filled via a plastic spigot.
Walk into a French grocer and at least half an aisle is dedicated not to the Franzia and Black Boxes of the world, but rather to things like Macon-Village, Beaujolais, Cotes du Rhone, Provençal rosé, Anjou blanc and Côtes de Bordeaux–in the box! Ranging in price from 12 to 20 euros ($13 to $22), these aren't Franzia-level cheap but on-par with the pricing of "premium" Black and Bota Box offerings.
I have yet to visit a BiBoViNo, a French wine bar that specializes in box wines, but there I will have the option of trying old vine Cinsault, Cru Beaujolais and even Condrieu (!) sold by the box.
That would be akin to having an old vine Dry Creek Zinfandel, a Dundee Hills Pinot noir or a high-end Walla Walla White Rhone available to consumers in a box.
Can you imagine how wonderful that would be?
Why US Producers Should Give Box Wines Another Look
No one is arguing that we need to completely disregard bottles. Nor do we need to turn everything into bag-in-box. There is always going to be a place for fine wine and cellar-worthy treasures.
But the vast, vast majority of wine consumed is not cellar-worthy wine. Most wines that are consumed at lunch, dinner or relaxing on the couch with a book are young wines that do not benefit from the gradual aging of cork in a bottle.
Why have so many other parts of the world caught on to this before the US?
With the changing market dynamics of Millennials and the upcoming Generation Z, the last thing that US producers want to do is rest on their laurels. What worked for selling wine to the Baby Boomers and Generation X is not guaranteed to work on these consumers.
Just as the wine industry has done for millennia, US producers are going to need to adapt or perish.
Not every solution is right for every producer, but it's always wise for a winery to look at how their current production is fulfilling consumers' needs.
1.) Moderation
While I'm skeptical of the scare-mongering reports that Gen Z is going to be the abstinence or teetotaling generation, I do think that moderation is firmly en vogue. Anyone that plans on selling wine over the next 40 years should probably take note.
Millennials and Gen Zers have seen too many of their peers lose jobs and college prospects over unflattering photos, tweets and videos that stem from over-indulgence. While Boomers and Gen Xers had the privilege of their college keggers and booze cruises going undocumented, we now live in an era of social shaming. Undoubtedly, that kind of negative reinforcement is going to influence behaviors.
But instead of the wine industry throwing this consumer base into the arms of "mocktails" and alcohol-removed Franken wines, they should be trumpeting the same mantra that has been preached since the days of the ancient Greeks–moderation.
It is best to rise from life as from a banquet, neither thirsty nor drunken. — Aristotle

Throw moderation to the winds, and the greatest pleasures bring the greatest pains. — Democritus
Think Outside the (750ml) Bottle.
What's one big advantage that beer, cider and hard seltzers have over wine right now? Their go-to packaging is usually single-served options like 12 to 16 oz cans and bottles.
With spirits, they have the benefit of longevity after opening which still allows convenient single-served shots or cocktails without excess waste.
Now, yes, the wine world is playing catch-up with single-serving cans and tetra paks. Also, thankfully, more producers are giving half-bottle (375ml) another go.
But, usually, when you bring up the problem of opening up a full bottle for just a glass or two, you're met with either condescending mocking of "Leftover wine? What's that?" or calls to shell out $200+ for an expensive Coravin preservation system.
Of course, someone may suggest coughing up $10 for a vacuum pump system but, seriously, don't waste your money.
For the $30+ wine, the Coravin is probably the best advice. But the vast majority of wine drinkers aren't regularly consuming $30+ wine. For these consumers, who just want a nice glass after work or something to have with dinner, one of the best solutions for moderation without waste is a 1.5 or 3-liter box wine that can last 3 to 5 weeks.
But the quality (and value) has to be there.
2.) Value
As I've touted many times before, the wine industry can not let the Millennial Math get away from them. The industry has to deal with the lethargy of value options they're peddling because other categories are far out-performing them.
However, box wines can be a great equalizer here.
The "filling" of bag-in-box packaging does require changes from the traditional bottling line. But there can be substantial savings in production costs. This is especially true when you consider freight and shipping costs of glass bottles. The typical 3 L box uses 91% less packaging material than the equivalent four (750ml) bottles of wine and weighs 41% less.
Those savings add up. Hopefully, they're passed on to the consumer.
It would be a Millennial Math game-changer if instead of being relegated to the Barefoots, Yellow Tails, Apothics and Clos du Bois' of the sub $10 world, a consumer could get a Washington red blend in a $40 three-liter box. Or Paso Robles rosé in a 1.5L bag for $20.
Even better, take a page out of the French playbook and give American consumers the chance to enjoy a 6 oz glass of Muscadet for the equivalent of 97 cents a glass. That's cheaper than soda at McDonald's.
That's how you start winning the Millennial Math.
3.) Sustainability
There is no doubt that the upcoming generations of wine consumers has the environment on their minds. Many wineries are responding by becoming more "green friendly" with better farming practices in the vineyard, controlling water waste and building LEED Platinum certified wineries.
All of those are successes that should be touted and emulated. But none of those things are physical, tangible items that a consumer can hold in their hands and feel good about putting in their cart.
It's hard to get much feel-good mojo picking up a weighty glass bottle of wine that has the same carbon footprint as driving 3 miles in a gas-powered car–regardless of how many "green friendly" achievements are touted on the back label.
In contrast, a 3L box wine drastically cuts that footprint. In a New York Times opinion piece, Tyler Coleman (Dr. Vino) notes that "switching to wine in a box for the 97 percent of wines that are made to be consumed within a year would reduce greenhouse gas emissions by about two million tons, or the equivalent of retiring 400,000 cars."
That's a lot of feel-good mojo.
The Chicken Needs to Act
Back to our chicken and egg scenario.
Quality-minded wineries are hesitant to invest in producing good quality box wines because of the lowly reputation they have among consumers. Consumers are reluctant to try box wines because of their lowly status and bad past experiences.
Something's got to give.  That something is US wineries taking the lead by putting better quality box wines out on the market.
Leading instead of reacting.
The wine industry doesn't have the luxury of sitting around waiting for consumers to "demand" better box wines. Other chickens are already busy courting them.
If wineries aren't going to give consumers the eggs they want to make better omelets (moderation, value, sustainability), then craft beer, cannabis, cider, hard seltzers and spirit producers will be all too willing to step into that void.
So it's time for the wine industry to stop running scared and embrace the box.
Subscribe to Spitbucket