A few quick thoughts on the 2012 Clos Pegase Mitsuko's Vineyard Pinot noir from the Carneros AVA.
The Geekery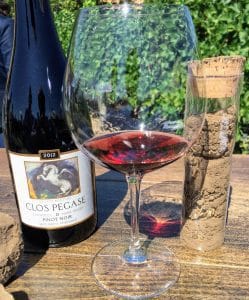 Clos Pegase was founded in 1983 by Jan Shrem, a publisher and art collector, and his wife, Mitsuko, with André Tchelistcheff making the first vintages at Rombaurer.
Charles Sullivan describes in Napa Wine: A History that when word got out of the Shrems' plans for combining a winery with an art museum, many locals initially opposed what they thought was "a Disneyland approach to winemaking". But the winery and grounds designed by architect Michael Graves opened to the public in 1987.
In 2013 Clos Pegase was acquired by Vintage Wine Estates and today is part of a portfolio of wines that includes B.R. Cohn, Buried Cane, Cameron Hughes, Emily, Firesteed, Game of Thrones wines, Girard, Layer Cake, Sculptor and Swanson.
In 2010, Clos Pegase appointed Richard Sowalsky as winemaker. Prior to joining, he previously worked at William Hill and Robert Mondavi Winery. He remained at Clos Pegase for a couple years following the acquisition with Vintage's head winemaker, Marco Di Giulio, consulting. In 2016 Robin Akhurst, a protege of Thomas Rivers Brown at Maybach and Schrader, took over head winemaking duties.
The Mitsuko's Vineyard covers 365 acres on the Napa side of the Carneros AVA. Around 2800 cases were made in 2012.
The Wine
Medium intensity. Lots of overt oak–vanilla, cinnamon and clove–with some subtle red cherry fruit.
On the palate, the faint cherry fruit becomes a little more pronounced but so does the strong oak notes–particularly the spice. Medium-plus acidity and medium tannins have decent balance. Short finish lingers on the oak.
The Verdict
I remembered enjoying this wine much more a couple years ago. It's clear that the fruit has faded quite a bit with the oak running the show.
At $30-35, you are paying a premium for its quality level but if you're really craving oak then it may fit your style. Otherwise seek out newer vintages.
Subscribe to Spitbucket