April 2019 update: A lot of brand movement following the huge deal between Constellation Brands and E & J Gallo.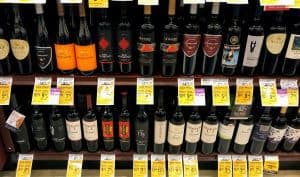 Sept 2018 update: If I come across new connections that haven't been widely publish I will update this page. But I'd like to direct folks interested in this info to Elizabeth Schneider's way more user-friendly and searchable list on her Wine For Normal People blog. It's also regularly updated and is a fantastic resource that is worth bookmarking.
Beverage Dynamics released their report this month of The Fastest Growing Wine Brands and Top Trends of 2017.
One of the most glaring features of the report is how often you see the names Constellation Brands, E & J Gallo, The Wine Group and more appear in the rankings with their multitude of different brands. As I described in my post The Facade of Choice, when you walk the wine department of your typical grocery store the vast majority of the wines you see are going to be made by the same handful of companies.
It's important for consumers to be aware of just how artificially limited their choices really are–especially because consumers should have choices when there are over 4000 wineries in California, over 700 each in Washington and Oregon and tens of thousands more across the globe.
Yet the average wine drinker is only ever going to see a fraction of a percent of these wines–especially those of us in the US. This is not just because our archaic three-tier distribution system severely limits consumers' access to wine but also because of the wave of consolidations among large wine distributors.
Consolidation of Choices
For the sake of efficiency (and profits) these large distributors tend to focus on the big clients in their portfolios–the Constellations and the Gallos. They can back up a trailer to a warehouse and load in pallets of "different wines" with different labels from all across the globe and then take that trailer right to the major grocery chains. With about 42% of the "off premise" wine (as opposed to on-premise restaurant purchases) in the US being bought at supermarkets, every consumer should take a hard look at how limited their options really are.
In some cases, you have more true options in the yogurt section than you do in the wine department.
For a couple years now I've been keeping an Excel spreadsheet of the various brands I've came across and which mega-corporation they're made by. This is FAR from an exhaustive list and has room for a lot of expansion. Plus with the way that winery brands get bought and sold almost like trading cards it will probably be outdated by the time I hit publish. If you know of any additions or errors, please post in the comments.
Note some of the names are linked to the companies by exclusive distribution agreements.
Constellation Brands
7 Moons
Alice White
Charles Smith Wines
Cooper & Thief
Dreaming Tree
Drylands
Inniskillian
Jackson Triggs
Kim Crawford
Meiomi
Robert Mondavi
Monkey Bay
Mount Veeder
Naked Grape
Night Harvest
Nk'Mip
Nobilo
Paso Creek
Red Guitar
Rioja Vega
Ruffino
Schrader
Simi
Thorny Rose
The Prisoner
Woodbridge
E & J Gallo
Alamos
Allegrini
Andre
Apothic
Arbor Mist
Ballatore
Barefoot
Bella Sera
Black Box
Blackstone
Blufield
Bodega Elena de Mendoza
Boone's Farm
Bran Caia
Bridlewood
Carlo Rossi
Carnivor
Chocolate Rouge
Clarendon Hills
Clos du Bois
Columbia Winery
Cooks
Covey Run
Cribari
Dancing Bull
DaVinci
Dark Horse
Diseno
Don Miguel Gascon
Ecco Domani
Edna Valley Vineyard
Estancia
Fairbanks
Franciscan Estate
Frei Brothers
Gallo of Sonoma
Ghost Pines
Hidden Crush
Hogue Cellars
J Vineyards
J. Roget
La Marca
Laguna
Las Rocas
La Terre
Liberty Creek
Livingston Cellars
Locations
Louis Martini
MacMurray Ranch
Madria Sangria
Manischewitz
Mark West
Martin Codax
Maso Canali
McWilliams
Mia Dolcea
Milestone
Mirassou
Orin Swift
Paul Masson
Peter Vella
Pieropan
Polka Dot
Primal Roots
Prophecy
Rancho Zabaco
Ravenswood
Red Bicyclette
Red Rock
Redwood Creek
Rex Goliath
Sheffield Cellars
Simply Naked
Starborough
Souverain
Talbott
Taylor's
The Naked Grape
Tisdale
Toasted Head
Winking Owl
Turning Leaf
Vendange
Vin Vault
Whitehaven
Wild Horse
Wild Vines
William Hill Estate
Brown-Foreman
Sonoma Cutrer
Korbel Sparkling wine
Delicato Family Vineyards
Black Stallion
Bota Box
Brazin
Diora
Domino
Gnarly Head
Irony
Night Owl
Noble Vines
Twisted Wines
Z. Alexander Brown
Terlato Wines
Boutari
Bodega Tamari
Chimney Rock
Domaine Tournon
Ernie Els Wines
Federalist
Hanna
Josmeyer
Klipsun
Il Poggione
Luke Donald
Markham
Mischief & Mayhem
Rochioli
Rutherford Hill
Santa Margherita
Seven Daughters
Sokol Blosser
Tangley Oaks
Precept Brands
Alder Ridge
Browne Family
Canoe Ridge Vineyard
Cavatappi
Chocolate Shop
Gruet
House Wine
Pendulum
Primarius
Red Knot
Ross Andrews
Sagelands
Sawtooth
Shingleback
Ste. Chappelle
Waitsburg Cellars
Washington Hills
Waterbrook
Wild Meadows
Willow Crest
Vintage Wine Estates
B.R. Cohn
Buried Cane
Cameron Hughes
Cartlidge & Browne
Cherry Pie
Clayhouse Wines
Clos Pegase
Cosentino Winery
Cowgirl Sisterhood
Delectus Winery
Firesteed
Game of Thrones
Girard
Girl & Dragon
Gouguenheim
Horseplay
If You See Kay
Layer Cake
Middle Sister
Monogamy
Promisqous
Purple Cowboy
Qupé
Sonoma Coast Vineyards
Swanson
Tamarack Cellars
Viansa Sonoma
Windsor
Wine Sisterhood
Ste Michelle Wine Estates
14 Hands
Chateau Ste Michelle
Col Solare
Columbia Crest
Conn Creek
Erath
Merf
Motto
Northstar
O Wines
Patz & Hall
Red Diamond
Seven Falls
Snoqualmie
Spring Valley Vineyard
Stag's Leap Wine Cellars
Stimson
Tenet/Pundit wines
Vila Mt. Eden
Villa Maria
Crimson Wine Group
Archery Summit
Chamisal
Double Canyon
Forefront
Pine Ridge
Seghesio
Seven Hills Winery
Jackson Family Estates
Arrowood
Arcanum
Byron
Cambria
Cardinale
Carmel Road
Copain
Edmeades
Freemark Abbey
Gran Moraine
Hickinbotham
Kendall Jackson
La Crema
La Jota
Lokoya
Matanzas Creek
Mt. Brave
Murphy-Goode
Penner-Ash
Siduri
Silver Palm
Stonestreet
Tenuta di Arceno
Yangarra Estate
Zena Crown
Wild Ridge
Vina Concha y Toro
Almaviva
Bonterra
Casillero del Diablo
Concha y Toro
Cono Sur
Don Melchior
Fetzer
Five Rivers
Jekel
Little Black Dress
Trivento
The Wine Group
13 Celsius
Almaden
AVA Grace
Benzinger
Big House
Chloe
Concannon
Corbett Canyon
Cupcake
Fish Eye
FlipFlop
Foxhorn
Franzia
Glen Ellen
Herding Cats
Insurrection
Love Noir
Mogen David
Seven Deadly Zins
Slow Press
Pinot Evil
Stave & Steel
Treasury Wine Estates
19 Crimes
Acacia
Beaulieu Vineyards
Beringer
Butterfly Kiss
BV Coastal
Cellar 8
Ch. St Jean
Chalone
Colores del Sol
Crème de Lys
Dynamite Vineyards
Etude
Gabbiano
Greg Norman
Hewitt Vineyard
Lindeman
Matua
Meridian
New Harbor
Once Upon a Vine
Penfolds
Provenance
Rosemount
Rosenblum Cellars
Seaview
Sledgehammer
Snap Dragon
Souverain
St. Clement
Stags' Leap Winery
Stark Raving
Sterling
The Walking Dead
Uppercut
Wolf Blass
Wynns Coonawarra
Bronco Wine Company
Black Opal
Carmenet
Cellar Four 79
Century Cellars
Charles Shaw
Crane Lake
Colores del Sol
Estrella
Forest Glen
Forestville
Gravel Bar
Great American Wine Co.
Hacienda
Little Penguin
Montpellier
Quail Ridge
Rare Earth
Robert Hall
Sea Ridge
Stone Cellars
(LVMH) Louis Vuitton Moet Hennessey
Bodega Numanthia
Cheval Blanc
Cheval de Andes
Cloudy Bay
Dom Perignon
Domaine Chandon
D'yquem
Krug
Mercier
Moet & Chandon
Newton Vineyard
Ruinart
Terrazas de Los Andes
Veuve Clicquot
Trinchero Estates
Bandit
Charles & Charles
Dona Paula
Duck Commander
Fancy Pants
Folie a Deux
Fre
Joel Gott
Los Cardos
Menage a Trois
Montevina
Napa Cellars
Newman's Own
Pomelo
SeaGlass
Sutter Home
Sycamore Lane
The SHOW
Deutsch Family Brands
Cave de Lugny
Clos de los Siete
Enza
Eppa
Fleurs de Praire
Hob Nob
Joseph Carr
Josh Cellars
Kunde Family
Peter Lehmann
Ramon Bilbao
Ruta 22
Skyfall
The Calling
The Crossing
Villa Pozzi
Guarachi Wine Partners
Black Ink
Castillo de Monseran
Guarachi
Kaiken
Nobilissima
Santa Ema
Surf-Swim
Tensley
Tenshen
Foley Family Wines
Acrobat
Awatere Pass
Butterfield Station
Chalk Hill Winery
Chalone Vineyard
Clifford Bay
Dashwood
EOS
Firestone
Foley Johnson
Four Sisters
Goldwater
Guenoc
Lancaster Estate
Lincourt
Lucien Albrecht
Merus
Nieto Senetiner
Pebble Row
Pepperwood Grove
Piccini
Poizin
Roth
Sebastini
Smoking Loon
Tahbilk
The Four Graces
Three Rivers Winery
Wayne Gretzky
Pernod Ricard
Brancott
Campo Viejo
Graffigna
Jacob's Creek
Kenwood
Stoneliegh
George Wyndham
Subscribe to Spitbucket