A few quick thoughts on the 2012 Ergo Sum Shiraz from Victoria, Australia.
The Geekery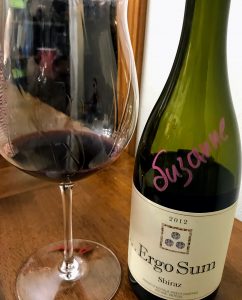 Ergo Sum was a collaboration project between Michel Chapoutier and Rick Kinzbrunner of Giaconda.  The first vintage of this single-vineyard Shiraz from the Victorian Alps was released in 2008.
This was one of several projects that Chapoutier has been involved in. In addition to his own eponymous Rhône wines, Chapoutier collaborates with his longtime assistant Pierre-Henri Morel to make PH Morel.
He also has two projects in Roussillon, Domaine de Bila-Haut and Agly Brothers–the later a collaboration with the Laughton family of Jasper Hill. Chapoutier became acquainted with the Laughtons in the late 1990s when he first visited Australia.
With Ron Laughton, he planted a vineyard near Jasper Hill to produce La Pléiade (Cluster M45). Chapoutier also started Domaine Terlato & Chapoutier in Australia with his longtime importer and founded Domaine Tournon in the Victorian Pyrenees.
2012 was the last vintage of Ergo Sum with Chapoutier and Kinzbrunner. Peter Graham, Kinzbrunner's assistant winemaker, took over the label as part of his Domenica Wines brand.
The wine was aged 18 months in 30% new French oak barrels with around 300 cases produced.
The Wine
Medium-plus intensity nose. Very smokey with herbal rosemary and black pepper. Underneath is dark fruit but it's not very defined.
On the palate, the smoke comes through but has almost a char-y character that is a little distracting. Medium-plus acidity defines the dark fruit as black plum and blackberry with a juicy edge to balance the wine's full-body. Medium-plus tannins are ripe. Moderate finish brings back the pepper but lingers on the smoke.
The Verdict
This wine tastes like it's in an awkward spot at the moment. There are some hints of character and it has a solid structure. But the pieces just aren't coming together.
At $55-65, it has the potential to live up to its price point but right now it is fairly underwhelming.
Subscribe to Spitbucket