A few quick thoughts on the 2012 Silver Oak Alexander Valley Cabernet Sauvignon.
The Geekery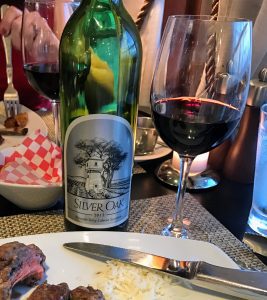 Silver Oak was founded in 1972 by Justin Meyer and Raymond Duncan with Meyer serving as winemaker till 1994 when he was succeeded by Daniel Baron.
Baron would stay for more than 20 years before handing off the reigns in 2016 to Nate Weis. Prior to joining Silver Oak, Weis worked at Etude, Patz & Hall and at the Antinori family's Atlas Peak property, Antica Napa Valley.
In addition to Silver Oak, the Duncan family also produces Twomey Cellars. In 2017, they acquired the Pritchard Hill estate Ovid. Later that year, they expanded into Oregon with the purchase of the Prince Hill Vineyard in the Dundee Hills from Dick Erath.
The fruit for the Alexander Valley Cabernet Sauvignon is sourced from a combination of contract and estate fruit with the 2012 vintage being a blend of 98% Cabernet Sauvignon and 2% Merlot. Around 75,000 cases a year are produced.
The Wine
Medium intensity nose–dark fruit of black cherries and black plum. There is certainly the noticeable vanilla of American oak as well some of coconut tan oil as well. But there is also, paradoxically, a lot of greenness like tomato leaf. This is surprising given how ripe the fruit is. Giving the wine air only makes the green note more evident.
On the palate, those dark fruits carry through with medium-plus weight that is just barely balanced by medium acidity. The medium-plus tannins have a firmness to them that is soften by the vanilla oak. The moderate length finish brings back the greenness from the nose which, again, is surprising given the vintage quality of 2012.
The Verdict
Silver Oak is a legendary name. I'm sure the Justin Meyer years went far in creating the brand's esteemed reputation.
But at around $70-80 for the 2012 Alexander Valley, you're certainly paying a premium for that name and past reputation.
Subscribe to Spitbucket