A few quick thoughts on the 1985 Graham's Vintage Port.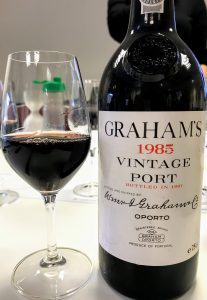 The Geekery
William and John Graham founded their eponymous Port house in 1820. Since 1970, it's been part of the Symington family's extensive portfolio along with Dow's, Warre's, Cockburn's and Quinta do Vesuvio.
Five vineyards provided fruit for this vintage. The most notable is Quinta dos Malvedos, located on the border of the Cima Corgo and Douro Superior regions. Acquired in 1890, this was Graham's first estate vineyard.
Peter Symington, widely considered one of the all-time great master blenders, crafted the 1985 as part of a 45-year career that lasted till his retirement in 2009. Still involved in winemaking, Symington tends to his estate, Quinta da Fonte Branca in the Baixo Corgo.
I couldn't find the exact blend of this wine. Looking at the plantings of the vineyards gives some clue. It's going to be primarily Touriga Nacional, Touriga Franca, Tinta Barroca and Tinta Roriz–as most Ports are. But there are varieties like Sousão and Tinta Amarela (from Malvedos and Quinta do Tua) as well as Alicante Bouschet (Malvedos)–along with assorted "old mixed vines"–that could be in here.
The Wine
High-intensity nose. An intriguing mix of fresh black fruit–plums and cherries–with dried spices like anise and cinnamon.
On the palate, the fresh fruit is still lively with medium-plus acidity. But there are more concentrated fig flavors. The medium tannins are incredibly soft, wrapping around your tongue like velvet. Still quite full-bodied with the concentrated fruit. The spices from the nose carry through but are accompanied by very distinctive black pepper. Long finish lingers on the spice.
The Verdict
Remarkable freshness and life for something approaching its 35th birthday this year. But that's vintage Port for you.
In the US, this is averaging around $108 and is worth every penny.
Subscribe to Spitbucket