First things, if you haven't checked out the first entry in Spitbucket's 3 part series on the 2017 Wine Spectator Grand Tour Las Vegas, head there now. You will find a lot of a great wines that often get passed over as score hounds hunt for the wines with the blockbuster ratings.
While the wines featured in Part I were described as Ted Williams wines, the wines that I'm featuring now are more the Joe Dimaggios. They got the big scores and married Marilyn Monroe (or MaryAnn Worobiec) so of course they garnered the bulk of attendees' attention. Out of the 244 wines, there were 25 wines that received scores 94+ available for tasting, headlined by two Vintage Ports–the 98 point rated Graham's 2000 and 97 pt Croft 2011.
I got a chance to try several of them and while there were many delicious treats that made my Top Ten list, there were also a few that were just "meh". It's good to remember that while Joe did get Marilyn–so did Arthur Miller.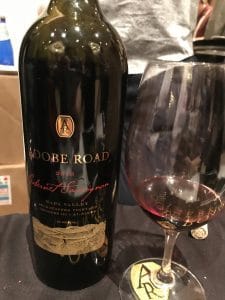 Adobe Road 2013 Beckstoffer Vineyard Georges III A1-Block Cabernet Sauvignon (94 points. Wine Spectator list price $175) Hands down, my wine of the night. Tiny production wine from a single block of Cabernet Sauvignon in the legendary Beckstoffer Georges III vineyard in Rutherford. The highly sought after fruit from this vineyard is prized by a "Who's Who" of high-end California wineries like Caymus, Alpha Omega, Chateau Boswell, Duckhorn, Staglin, Hunnicutt, Myriad, Stag's Leap Wine Cellars, Provenance, Robert Craig, Sojurn and Schrader. This example from Adobe Road delivers in spades.
High intensity aromatics of black currant, blackberry with floral elements and a mixture of baking and Asian spices. I spent several minutes just smelling my glass before taking sip because the bouquet was so intoxicating alluring. The mouthfeel was classic Napa–silky smooth tannins that added weight and depth to the palate but wrapped around your tongue like kiss. But unlike a few of the other high scoring wines, this is not a fruit bomb. The acidity was still medium-plus to keep the fruit lively and fresh with the ability to age in the cellar for several more years. However, it is at such a fantastically delicious spot now, I don't know if anyone lucky enough to get their hands on one of these bottles will want to wait. Just a perfect combination of power, balance and elegance.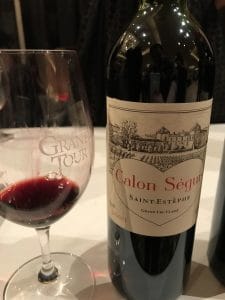 Ch. Calon Segur 2003 Saint Estephe (95 points. Wine Searcher average price $117) Another wine that made my Top 10 list. The 2003 vintage often sends a shudder down the spines of European wine lovers because it was a "heat wave" vintage. Indeed, a staggering number of people died from the heat and, while nowhere near as tragic as the loss of human life, grapevines also suffered. But the axiom that "Good wine is made even in bad vintages" is still aptly true. You just have to be more selective and look for the gems that had the kismet of the right terroir and right winemaking touch for the vintage. The 2003 Calon Segur is a perfect case in point.
Located in St. Estephe, the Third Growth estate of Calon Segur is the most northern of the classified growth in the Medoc. While the soils have the typical Medocian mixture of gravel and sand, you also find a far amount of clay. This coupled with the overall coolness of its northernly location, gives you soils that were more apt to retain the limited, precious amount of water needed to weather the heat. Then you add a winemaking style of Calon Segur that (was then) focused on lower alcohol but brawny wines that prized acidity and structure, and you have a wine with a fighting chance to not only be good but maybe even great.
It was a long term bet but one that paid off exceptionally well for the 2003 Calon Segur. The wine had a floral, spicy nose with a delicate touch of fruit that almost smelled like a great red Burgundy. The palate, though, was very Bordeaux–almost full-bodied with velvety tannins that had no greeness or bite. The spice from the nose carried through as a mixture of tobacco and baking spices that complimented the juicy, ripe dark fruits which still had plenty of acidity and life. This wine easily has several more years that it could go on but it is at a great point right now and an absolute bargain at this price. I would put this toe to toe with Bordeaux from the more heralded 2005 vintage in the $170-200 range.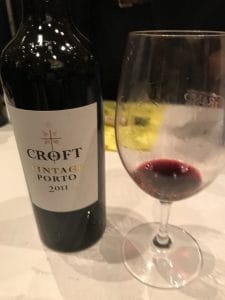 Croft 2011 Vintage Port (97 points. Wine Searcher average price $81) This was the highest rated wine that I got to try that night and it came from the highly acclaimed 2011 vintage. This is a vintage that is often compared to the great vintages of the 1970s as well as 1963 and 1945. However, the thing to keep in mind with vintage Port is that after a few brief years of youthful exuberance following release, these wines tend to "shut down" and enter their quiet phase or "awkward adolescence" that can last for several years or even a decade plus. The trade off is that when these wines re-emerge from that "dumb phase", they are even more outstanding and mind-blowing. You need the patience of a grasshopper to reap the beauty of a butterfly.
I go through that tangent because, sadly, this Croft has entered that awkward adolescence. This is a fate rapidly befalling upon its 2011 peers with the Cockburn and Graham's that I've tried in the last year likewise being a bit underwhelming despite their pedigrees and potential. What does a "quiet vintage Port" taste like? Well in the case of the Croft it was very muted on the nose, red fruit and that was about it. On the palate, instead of being focused or concentrated, it was a rather clumsy hodgepodge of undistinguished fruit flavors and sweetness. I have no doubt that the potential to live up to its lofty score is there but it is clear that this wine was tasting exponentially better 2-3 years ago when it was being reviewed and that its best years is still much further down the road.
Kistler 2013 Hudson Vineyard Carneros Chardonnay (94 points. Wine Spectator list price $80) Combine one of California's top Chardonnay producer with a legendary Chardonnay vineyard and you are sure to have a winning combination. This wine was classic Cali Chard with tropical fruit aromas on the nose–papaya and ripe honeydew melon–followed by a creamy, rich mouthfeel. But what keeps this from being a butter bomb was the elegance with medium-plus acidity that held up the weight of the malo and a minerally streak that you're often hard pressed to find in many California Chardonnays. No one would ever mistake this wine for a white Burgundy, but fans of the more weightier examples from Meursault and Puligny-Montrachet could appreciate this wine for being a well-made example of a California benchmark.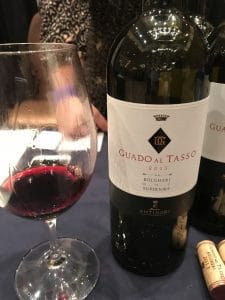 Antinori 2013 Guado Al Tasso (94 points. Wine Searcher average price $86) A Super Tuscan blend of 55% Cabernet Sauvignon, 25% Merlot, 18% Cabernet Franc and 2% Petit Verdot, this wine captures some of the savory herbalness of a nice Pauillac but with a lighter touch and riper tannins. It was a bit tight at this tasting and, like the 2014 Ornellaia noted in the previous blog entry, will need several years to show its stuffing.
Marchesi Fumanelli 2009 Octavius Riserva Amarone (94 points. Wine Searcher average price $173) This was another first-time find and it had me googling where in the US I could buy this wine. That's always a good sign that something is heading towards my Top Ten list. This was a very spicy Amarone with some floral and earthy elements that smelled like you were hiking through a mint and clover field while carrying a bouquet of roses. The palate was very bold, almost decadent, with rich dark fruit flavors that tasted like a savory Christmas fruitcake. Every sip revealed something different with this wine unfurling on the tongue like chapters and verses of an exciting story. The balance between savory and rich was outstanding. Situated among tables next to a stunning list of top Amarone producers like Allegrini, Masi, Zenato and Bertani, Marchesi Fumanelli stood head over shoulders above them all.
Much like the Emilio Moro Ribera del Duero I talked about in Part I, I was left feeling that if this wine was this impressive based on a single taste, how much more pleasure could be discovered over the course of a whole bottle?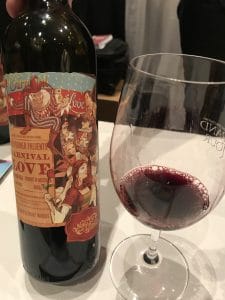 Mollydooker 2014 Carnival of Love McLaren Vale Shiraz (95 points. Wine Searcher average price $72) This winery has its legions of fans but much like smokey, peaty Islay Scotches, its a singular taste that either people love or find that its not really their cup of tea. Being a wine geek, I try to find the nuance of appeal in every wine and while the lush, over the top oak and fruity style of Mollydooker is usually not my cup of tea, I have found examples of their wines that I've been able to enjoy for their simple, hedonistic pleasures. But it is kind of like shooting with a bow and arrow at an apple that a circus clown is juggling. Sometimes you hit the apple and win the prize. Sometimes you miss and sometimes you impale the poor the clown.
This one was just a miss. It wasn't horrible by any stretch of the imagination. It was just really, really, really, really oaky. In fact it was competing with the Orin Swift Abstract and Belle Glos Clarke & Telephone for most oaky wine at the tasting. Lots of sweet vanilla with more overt taste of toast instead of more subtle baking spice. Trying to get past the oak to venture for some fruit, I did feel a sense of richness and intense fruit on the palate but I was hard pressed to really identify what kind of fruit it was or pick up any other layer of complexity. While, in general, Mollydooker wines are often meant to be consumed young as their low acidity usually doesn't bode well for cellaring, I find that giving them 4 to 5 years from vintage date allows the oak to temper itself a bit while letting some character show.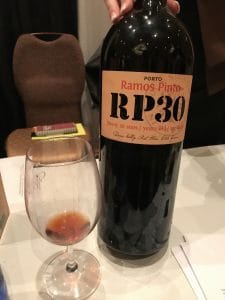 Ramos Pinto 30 year Tawny Port (95 points. Wine Searcher average price $85) Not too long ago, I did a tasting featuring the tawnys of Taylor-Fladgate where I absolutely adored the 30 year tawny. As phenomenal as that Taylor 30 was, I have to say that the Ramos Pinto ran laps around it. Wow, just wow. This may be one of the single best Tawny Ports that I've ever tasted and I would start putting it close to the 1970 Taylor and 1970 Fonseca vintage Ports as one of the best Ports, I've had. Period.
While I was extremely discipline in spitting throughout the evening, I swallowed and savored every drop of this wine. The nose was a beautiful blend of spice and hazelnuts. The palate introduced butterscotch and dried golden raisins. The mouthfeel was the star with a silkiness that seemed almost feather-light around the tip of the tongue but pulled you in with its richness and weight towards the mid-palate. The finish was the longest of the evening. Several minutes. In fact, I ended up savoring it for so long that I missed out on the 98 point rated Graham's 2000 vintage port that was being emptied in glasses as I stood by the table still reveling in the Ramos Pinto 30. While I'm sure the Graham's would have been wonderful, I think the sacrifice of being able to enjoy the Ramos longer was well worth it. Needless to say, this wine was one of my Top 10 of the night.
Rodney Strong 2012 Rockaway Alexander Valley Cabernet Sauvignon (94 points. Wine Searcher average price $74) If you mostly know of Rodney Strong for their low-end, chain-restaurant wines then this wine is an eye-opener. Much like Sbragia's Monte Rosso I reviewed in the last post, it seems sinful to compare this Alexander Valley Cabernet to a Napa wine but I'd be damn if this wouldn't fool me for a Silver Oak Napa (but still priced like their Alexander!). Though while the Silver Oak Napa usually needs 7 to 10 years to get to this level of complexity and drink-ability, this Rodney Strong Rockaway is already roaring on all cylinders.
The nose has a great mix of ripe black currant and plum with tobacco oak spice and cedar cigar box. The palate is powerful and fills up your entire mouth with seductive fruit but also has layers of savory meaty notes underneath. The oak is present but plays a supporting role while letting the fruit and power of the wine take center stage. This wine would be equally at ease paired with a juicy prime rib as it would be with an elegant lamb dish or just being savored by itself.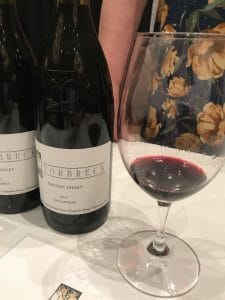 Torbreck 2013 Descendant Shiraz Barossa Valley (96 points. Wine Searcher average price $89) This wine was tussling with the Penfolds 2014 RWT, Two Hands 2014 Bella Garden and the Hickinbotham Clarendon 2013 Brooks Road for best Australian wine of the night. A co-ferment with 8% Viognier, this wine has an absolutely beautiful floral nose paired with vibrant berry fruit. Even though time is precious with just 3 hours to taste upwards of 244 wines, this was a wine that deliberately slows you down, encouraging you to spend several minutes just smelling and enjoying it.
When you finally do get to tasting it, the pay off is well worth it with it full-body but elegant mouthfeel that testifies to but also defies it 15.5% alcohol. Tasting blind, I would've peg it more around 14% because of how graceful it carries it heavy weight across the palate. Medium-plus acidity keeps the fruit fresh and invites your taste buds to water enough to pick up some of the black pepper and baking spices of cinnamon and nutmeg that wraps around the berry fruit. It's a shame that Torbreck gets no where near the amount of attention that Penfolds or Mollydooker gets because this wine is certainly among Australia's best.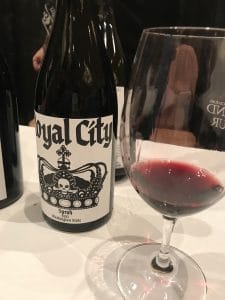 K Vintners 2013 Royal City Syrah (95 points. Wine Searcher average price $129) Like Mollydooker, I find Charles Smith's wines of K Vintners to be "hit or miss" for me with, thankfully, more hits than misses. But these are still wines that I will hardly ever buy "on faith" without tasting first because when they miss, they're "impale the clown" kind of misses. Partly that's because of K Vintner's style which seems to favor high pH, very lush wines that can sometimes veer towards issues with volatile acidity and brettanomyces. I don't mind a little brett because it can add complexity but VA is something that I'm personally hyper-sensitive about.
This 2013 Royal City had a smidgen of brett but was, thankfully, just in the gamey arena instead of the full-blown camping-in-the-horse-barn arena of brett. Also, thankfully, there was no overt signs of VA but the very dense and lush mouthfeel with medium-minus acidity doesn't leave me optimistic that VA won't make an appearance over time as the fruit fades with bottle age. The tannins are smooth, of course, and the fruit sweet and dark. It's definitely a drink-now kind of wine that I'm sure will give many people much pleasure. It's just not a wine that I would, personally, risk the clown for.
El Nido 2013 Jumilla (95 points. Wine Searcher average price $125) Much like Mollydooker and K Vintners, El Nido is about lush, decadence and lip smacking fruit. But while those wines were underwhelming, this wine was absolutely scrumptious. The nose gave off the siren song of rich, intensely concentrated dark fruit signaling a very fruity and full-bodied wine but the palate surprised with high, almost Bordeaux-like, acidity that added a splash of freshness to the fruit. It not only made your lips smack but your mouth water as well. It's a big, big wine (probably the most full-bodied outside of the Amarones and Ports) but it had finesse to it that would open it up to more food-pairing possibilities than it lush co-horts. Of course, it was quite delicious still on its own.
Coming up next: My Top Ten Wines of the 2017 Wine Spectator Grand Tour
Subscribe to Spitbucket