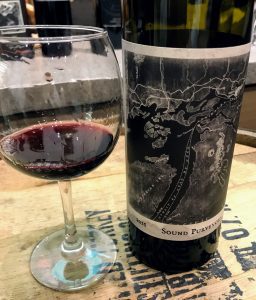 A few quick thoughts on the 2016 Sound Purveyors Cabernet Sauvignon from the Columbia Valley.
The Geekery
Sound Purveyors is a collaboration project between winemakers Morgan Lee of Two Vintners and Peter Devison, formerly of Efeste and now with Cadaretta in Walla Walla.
Lee began his winemaking career as an intern for Columbia Crest before moving to Woodinville in 2007 to take the assistant winemaking position at Covington Cellars. He eventually took over full winemaking duties and partnered with David and Cindy Lawson of Covington to start Two Vintners in 2010. (Check out our review of their 2014 Zinfandel here)
In 2016, Lee was named a "Winemaker to Watch" by Seattle Magazine as part of their 11th Annual Washington Wine Awards.
Devison is a Canadian winemaker who studied viticulture in New Zealand, working harvests both there and in Australia before moving to Washington in 2005 to work at Tsillan Cellars in Lake Chelan. In 2007, he moved to Precept Brands to oversee the winemaking of Alder Ridge and Apex Cellars.
In 2012, he succeeded Brennon Leighton as head winemaker of Efeste where he stayed until leaving in 2017 to join the Middleton family's Cadaretta winery and to oversee production of their second label, Inconceivable.
Sourced from the Columbia Valley, the majority of the fruit (but not over 85%) for the 2016 Sound Purveyor Cabernet Sauvignon comes from Red Mountain.
The Wine
Medium intensity nose. Rich black currants and plums with noticeable oak spice.
On the palate those dark fruits come through but are balanced by medium-plus acidity. The ripe high tannins hold up the full-bodied fruit and are soften by the creamy vanilla from the oak. Moderate length finish ends on the dark fruit and oak spice.
The Verdict
This is a young Cabernet Sauvignon made in a very full-bodied and rich style that will be giving pleasure for several years.
Crafted by two of the best winemakers in Washington, it's a very delicious and well made bottle in the $25-30 range.
Subscribe to Spitbucket