It's too much — the lost habitats and species. The homes and businesses devastated. Now there are reports that some Australian wine producers in the Hunter Valley and Adelaide Hills may lose an entire vintage due to smoke taint.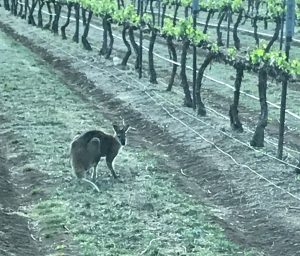 Picture that.
Even if you don't work in the wine industry, imagine an entire year's worth of your work wiped out. Think about all those steps, sweat and hours in the vineyards going up in smoke. Perhaps insurance and safety nets will help offset some of the financial losses. But nothing offsets a punch to the gut.
You still feel it. But you learn to manage it and move forward. This is what Australian winemakers are doing right now. However, they don't have to do it alone.
So in the spirit of Yael Cohen's Fuck Cancer movement, I encourage the wine community to #FuckTheFires and commit to supporting our brothers and sisters in the Australian wine industry.
There are numerous ways that people can help.
Consumers — Drink Australian Wine, especially from small family producers
It begins and ends with you. Consumers who care and want to make an impact need to vote with their wallets. You need to ask for and actively seek out Australian wines at your local wine shops and restaurants.
While some producers may have lost their 2020 vintage, there are plenty of bottles of current 2016-2019 wines out in the market. The cash flow of moving those bottles through the supply chain and emptying backstocks will help cushion the blow of a down vintage in 2020. Find these bottles and drink up. This is the easiest thing that anyone can do to help the Australian wine industry.
I know this is tough in many markets–especially in places like the United States where the Australian "selection" is dominated by a handful of big names and mass-produced brands. While the supermarkets aren't likely to change anytime soon, independent wine shops and restaurants can be more responsive. And, believe me, if customers start asking for more Australian wines, they will rise to meet the demand.
Importers and Distributors — Promote and expand your Australian portfolios
This is more of a personal plea to my American compatriots back home. Because even though we're the largest wine import market by value, the perception of Australian wines for many US consumers is still of low-priced critter wines and fruit bombs. While those wines helped pave the way for Australian wines into the States, they certainly don't reflect the realities of Australian wine today.
American consumers deserve the chance to know about things like cool-climate Pinot noirs from the Mornington Peninsula and Margaret River Chardonnays that are ages away from the tropical, butter bombs of the past.
Then there are the crackling Rieslings of Mudgee or the beauty of aged Hunter Valley Semillon. Not to mention the Hunter's exciting foray into alternative varieties like Verdelho, Fiano and Vermentino as well as intriguing Shiraz-Pinot noir blends.
While I do think that Zinfandel is the "craft beer" of American wine, it's also made its way to Australia as a passion project of more than a few winemakers worth discovering.
In Orange, they're exploring the potential of high elevation vineyards as well as carbonic maceration. All of which are tailor-made to capture the interest of the wanderlust Millennial market eagerly looking for something different.
There's so much more to Australian wines than fruit and furry critters. Please, help give American consumers a chance to discover this.
Wine Shops & Restaurants — add more Aussie options to your selection
I know you guys are caught in the middle between what consumers are buying and what you can actually get from importers and distributors. But being caught in the middle means that you can also push at both ends.
Highlight your Australian wine selection by pointedly putting them in front of consumers. And let them know why you're doing this. Something as simple as a line on a menu saying, "To support the wineries and families dealing with the effects of devastating fires, we proudly offer this selection of Australian wines for you to enjoy" goes a long way towards bringing awareness to consumers.
Of course, we want consumers to lead the way and dictate demand. But dictations often need a prompt to get going. Seize on that and give consumers a prompt to consider Australian wine. In chicken and egg scenarios, successful businesses are rarely the chicken. So take the lead and be proactive in your promotions.
Wine Writers and Influencers — Talk About Australian Wines
Yes, there's so much exciting and interesting stuff out there in the world of wine to write about. But next month, next year and so on, all that exciting and interesting stuff is still going to be there.  So mix things up!
I'm not saying that you need to turn your blog or social media feed completely over Australian topics. However, now is the time for us to turn the spotlight on Australia for something good.
Currently, when Australian topics come across newsfeeds, it's almost always for something heartbreaking. The fires, the floods and drought. We don't need to whitewash or sugarcoat the negatives. But we shouldn't dwell on them either. Australia is so much more than just natural disasters and things that can kill you.
Let's change the narrative by sharing the stories of dynamic Australian winemakers forging ahead. Let's talk about how Australia is a microcosm for wine–combining the history of many of the world's oldest vines and multi-generation family winemaking with innovation that is at the forefront of climate change and the future of the wine industry.
But most importantly, let's make sure that in the minds and hearts of wine consumers that Australia doesn't get left behind once the news cameras leave.
Wineries — Hold solidarity tastings featuring your wines and their Australian peers
The wine industry is unique in that while it's a business and every winery is technically competing against each other; it's also a community. There are too many other threats to our industry–declining interests by younger generations, neo-prohibitionism, government regulations, tariffs, unstable economies, climate change, hard seltzer and other beverages–that merit more concern.
Whether it's across the street, across the country or globe, we're all in this together. The health and success of all our businesses–wineries, shops, restaurants, writers, educators–depends on consumers being engaged and intrigued with wine.
That's why it would be a fabulous idea for wineries in other regions to host "solidarity tastings" featuring their wines alongside their Australian counterparts.
This will not only highlight how interconnected the world of wine is but help deepen the understanding and appreciation of guests who could try Cab, Shiraz, Sauvignon blanc, etc. from a local favorite next to an expression of that grape from somewhere in Australia. But instead of being done as a competition, it's done in the spirit of community–perhaps even to raise funds supporting relief efforts in Australia.
Cathy Huyghe and Rebecca Hopkins have a wonderful list of worthwhile organizations to support on their A Balanced Glass site.
This is a powerful message to send because, while this time it's Australia, who knows which wine community will be next?
California, Washington, Canada and South Africa are certainly not strangers to devastating brush fires. Flooding, drought and mudslides are hitting European and South American wine regions with increasing frequency as well.
Even if you're a skeptic about climate change causing these, there's always the vagarities of devastating earthquakes like those that Chile, New Zealand and Italy have endured. This won't be the first time that the wine community comes together for support and it certainly won't be the last.
Why this matters
The timing and impetus for the industry to respond to the fires by supporting the Australian wine community couldn't be more stark. The industry once again is wringing its hands over how to reach Millennials and Generation Z. But how many times do we need to be beaten over the head with the same messages?
Younger generations want to support businesses that stand for something. That share their values. That basically gives a damn.
So, here you go. Stand up. Give a damn. #FuckTheFires and let's drink some Australian wine.
Subscribe to Spitbucket