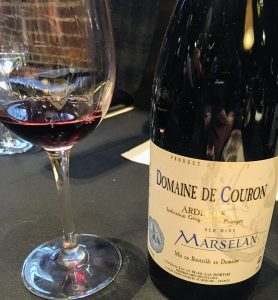 Going to need more than 60 seconds to geek out about the 2014 Domaine de Couron Marselan from the Ardèche region.
The Grape
According to Jancis Robinson's Wine Grapes, Marselan is a crossing of Cabernet Sauvignon and Grenache that was created by Paul Truel in 1961 at the Institut National de la Recherche Agronomique (INRA). The grape was named after the town of Marseillan where cultivars produced by the INRA's breeding estate of Domaine de Vassel are stored.
Marselan wasn't officially added to the register of varieties till 1990 when growers began to plant it in the Languedoc and Southern Rhone. By 2009, there were almost 6000 acres planted with Robinson noting that the most successful producers of the variety have been Domaine de Couron, Chateau Camplazens, Domaine de la Camarette, Paul Mas, Mas de Ray and the Châteauneuf-du-Pape estate of Domaine de la Mordorée which does a Marselan, Merlot and Grenache blend.
In the Côtes du Rhône AOC, Marselan is only permitted up to a maximum of 10% so Rhône producers wishing to make a varietal examples have to produce it as a Vin de France or under one of the regional Indication Géographique Protégée (IGP) like Pays d'Oc, Mediterranee, Bouches-du-Rhone, Aude, Cotes de Thau, Coteaux d'Enserune, Cotes de Gascogne, Comtes Rhodaniens, Cotes Catalanes and, in the case of this bottle of Domaine de Couron, from the Ardeche.
Outside of France, Marselan was first planted in the Penedès region of Spain in the mid-1990s with some growers in the Terra Alta region of Catalunya also experimenting with the variety. In Argentina, around 195 acres of the grape was planted as of 2008 and around 59 acres in Brazil. In Uruguay, Bodega Garzón blends Marselan with Tannat and
makes a varietal example
as well.
In China, the Sino-French Demonstration Vineyard located in Hebei province in the shadow of the Great Wall in Hulai county includes plantings of Marselan that winemaker Li Demei produces a varietal wine from. The 2015 Marselan from Grace Vineyard in the Shanxi province won the top prize at the 2017 Decanter Asia Wine Awards.
The Winery
Located in the village of Saint Marcel d'Ardeche, Jean-Luc and Marie-Lise Dorthe are 9th generation vignerons farming their vineyards in this area of the Rhône valley northwest of Avignon. All their parcels are farmed sustainably and organically.
The area used to be a Roman settlement with many ruins and archaeological sites. The Roman coin featured on the Domaine de Couron label was uncovered in one of their vineyards.
Domaine de Couron farms .72 acres of Marselan planted in granite and limestone soils. The grapes are completely destemed after harvest and fermented in concrete tanks. The wine doesn't see any oak during aging so as to better convey the typicity of the grape and terroir of the vineyard. Around 1000 cases are produced each year.
The Wine
Mid intensity nose. A mix of black fruit like cherries and currants as well as some herbal notes like mint and tomato leaf. With some air, a little Grenache-like smokiness emerges.
On the palate, the black fruit carries through but the medium plus acidity also adds some red fruit like juicy cranberries to the mix. The herbal and smoke notes are still present but much more muted on the palate than on the nose. In their place is an intriguing tobacco note that I usually associate with Cabernet Sauvignon that has seen some time in oak. Medium tannins and medium body give good balance and structure.
The Verdict
What was most charming about this bottle of Domaine du Couron Marselan was that you could pick up some of the Grenache and Cabernet Sauvignon characteristics of its parent varieties in this wine. In a blind tasting, I would probably peg it as a moderate weight Côtes du Rhône or perhaps even an earthier Spanish Garnacha.
For a BBQ wine or if you are just in the mood to try something different, it is well worth the $13-16 for a bottle of this geeky grape.
Subscribe to Spitbucket