Some quick thoughts on the 2014 Lloyd Cellars Carneros Chardonnay.
The Geekery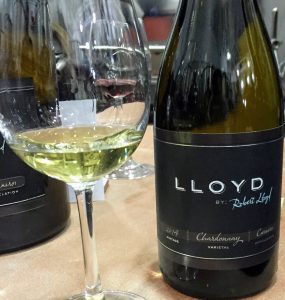 Robert Lloyd is a veteran winemaker with more than two decades of experience working for the top names in California. He started out working in the cellar and tasting room of Cakebread. He then moved to Stag's Leap Wine Cellars before finishing his Masters of Enology at UC-Davis in 1999 while interning at Kent Rasmussen.
After graduation, he worked at La Crema as a winemaker before leaving for Rombauer in 2001. At Rombauer, he worked his way up from Assistant to Head Winemaker before leaving in 2008 to start his own winery.
The 2014 vintage of the Carneros Chardonnay is sourced from Sangiacomo Vineyards (including the Kiser, Home Ranch and Green Acres blocks) and Truchard Vineyards.
Other wineries that work with Sangiacomo fruit includes: La Follette, Sojourn Cellars, Rombauer, Barnett Vineyards, MacRostie, Sonoma-Loeb, B.R. Cohn, Adobe Road, Neyers, Athair and Saintsbury. From Truchard, outside of their own eponymous label, Nickel & Nickel makes a notable Chardonnay.
The Wine
Medium-plus intensity nose that is a mix of ripe tropical fruits like pineapple and citron as well oak baking spice. Not as much sweet vanilla on the nose as I would have expected with his Rombauer pedigree.
On the palate the wine is very full-bodied and creamy–there's the Rombauer! But the wine also has medium-plus acidity that adds much needed balance and freshness that you usually don't see in butter bombs. The ripe tropical notes carry through as well as the baking spices with a little bit of floral-ness on the long finish.
The Verdict
The Lloyd Cellars Chard is hedonism in a bottle and is tailor-made for anyone who likes luscious, buttery Chards. It is a very well-made example of its style with more freshness and balance than its Cali cohorts.
At around $40-45, it is priced in line with its peers though with its balance and depth, it probably could go up to the $55 range and still be a compelling bottle.
Subscribe to Spitbucket