A few quick thoughts on the 2014 Hatzidakis Santorini.
The Geekery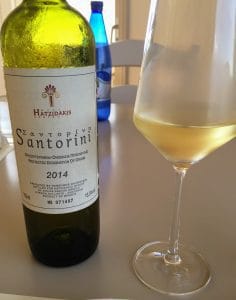 Haridimos Hatzidakis founded Hatzidakis Wines in 1997. A former winemaker at Boutari Winery, he started his winery outside the village of Pyrgos.  Along with taking over 10 acres of 100+ year old vines once owned by a nearby convent, Hatzidakis replanted a second vineyard that was abandoned after an earthquake in 1956.
Hatzidakis' approach was to emphasize the minerality of native Santorini grape varieties that thrive in the volcanic soils of the island. He farmed all his wines organically, using only native wild yeast for fermentation.
While Hatzidakis was the first winery in Santorini to release a vineyard-designated Assyritko, the 2014 Hatzidakis Santorini is 100% Assyritko blended from vineyards in the villages of Akrotiri, Megalochori, Pyrgoas and Vourvoulos.  To enhance the mouthfeel, he kept on the wine on the lees for 40 days before racking.
Jancis Robinson notes in Wine Grapes, that Assyrtiko likely originated on Santorini and today accounts for around 70% of the island's vineyards. Its extensive plantings in Santorini makes the variety the third most widely planted white grape in all of Greece–behind only Savatiano and Roditis.
Unfortunately, Haridimos Hatzidakis recently passed away in August of 2017 with his daughter, Stella, taking over the winery.
The Wine
Medium-plus intensity nose. A mix of citrus and herbal notes like lemon verbena with some hay straw.
On the palate, those citrus notes carry through and add a pithy component that compliments the medium bodied weight. The racy minerality of Assyritko is quite present and mouthwatering with the high acidity. However, the fruit keeps it balanced. It's not creamy like a Chardonnay but the weight is not that dissimilar from a Pinot blanc.
The Verdict
The Hatzidakis Santorini is drinking absolutely scrumptious right now. The savory minerality compliments the layers of citrus fruit and herbal notes which makes it a wonderful accompaniment to food.
The wine probably still has another 2-3 years of life before waning and at $20 is well worth picking up a few bottles.
Subscribe to Spitbucket