Some quick thoughts on the 20 year Pappy Van Winkle Bourbon.
The Geekery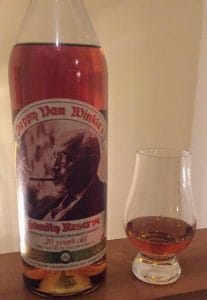 Made in partnership with Buffalo Trace since 2002, Pappy Van Winkle traces its origins to 1874 when Julian Van Winkle moved to Frankfurt, Kentucky. Van Winkle began working as a salesman for W. L. Weller in 1893 before eventually becoming president of the Stitzel-Weller distillery. The Van Winkles continued distilling at Stitzel-Weller for several decades until Julian's son sold it–with the distillery shuttering its door in 1992.
In his book, Bourbon: The Rise, Fall, and Rebirth of an American Whiskey, Fred Minnick notes that the "Pappy Craze" really didn't start until the mid-1990s when Pappy Van Winkle received 99 points from the Beverage Tasting Institute and was named by Food & Wine as "American Whiskey of the Year".
To build demand, Julian Van Winkle III instituted a policy of making fewer bottles than what he knew he could sell. Even today only around 6 to 7 thousand cases across the entire Van Winkle line is released each year.
While the exact mash bill is unknown, it is a wheated bourbon.
The Whiskey
High intensity nose. Huge mix of dried fruit–figs, black cherries, raisins. Then comes the spice and floral notes with a little chocolate malt ball action.
On the palate, the dried fruit carries through and brings a butterscotch richness that adds to a creamy mouthfeel. The whiskey holds its 45.2% ABV very well and doesn't need any water or ice. The one glaring negative is how short the finish is. After around 20 seconds or so it's gone.
The Verdict
Like the Sam Adams' Utopias and the cult wines of Napa Valley, this is one of those trophy bottles that you have to hunt down and pony up for. Was it worth it?
For the most part, yes. But also no. I'm glad I got to try this and the nose is incredible. While the smoothness and mouthfeel is enjoyable, the whiskey does literally leave you hanging with the abysmally short finish.
Subscribe to Spitbucket