Some quick thoughts on a few Scotch whiskeys from independent bottler Alexander Murray.
The Geekery
Founded by Scottish native Steve Lipp in 2004, Alexander Murray is a notable source behind many of the private label Scotches found at Costco (Kirkland Signature) and Total Wine & More (Ainsley Brae).

The Whiskeys
The 20 yr Glentauchers is a really light and elegant, floral "breakfast Scotch". Something between a Glen Moray and Glenfiddich style. Around $150 a bottle which is a bit high for this light style, in my opinion.
The 23 yr Allt-a-Bhaine (used by Chivas in their high end blends) has a good balance of malt with light peat–sort of a more powerful Oban. A lot of layers and complexity with a long smooth finished. Around $150 a bottle which is an outstanding value for a 23 year that easily outclasses many 21 yr whiskeys in the $200+ range.
The 21 year Braes of Glenlivet is a bit shy on the nose but had good weight on the palate. Nothing like regular Glenlivet. Rather more like a Fine Oak Macallan. Around $180 a bottle which is a little too much for my taste.
The 19 year Cask Strength Linkwood is a much spicier and more powerful driven Scotch then typical Linkwood. I strongly suspect Sherry casks. This is like a Macallan 18 yr but with way more depth and power. It holds it proof really well for a smooth finish that doesn't need to be watered down. Around $150 a bottle which is an outstanding value especially considered the Macallan 18 is around $230.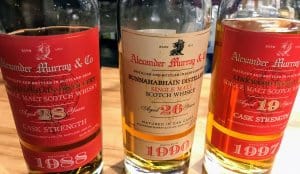 The 26 yr Bunnahabhain is very savory and meaty. More in a Mortlach or Glenfarclas style than anything I tasted from Bunnahabhain. Something to contemplate over while rolling it around your tongue. Around $290 a bottle which is a bit steep but I can't deny the uniqueness of this expression of Bunnahabhain.
The 28 yr Cask Strength Bunnahabhain is classic Old School Bunnahabhain before they started adding more peat. A touch of peat but it's all about the beautiful dried fruit, fresh cereals and long, subtle spice on the finish. Very smooth for a cask strength. Around $320 a bottle which is certainly because of its age. It's a very tasty whiskey that delivers a lot of pleasure but you're going to pay a premium for it.
Subscribe to Spitbucket