A few quick thoughts on the Segura Viudas Brut sparkling Cava.
The Geekery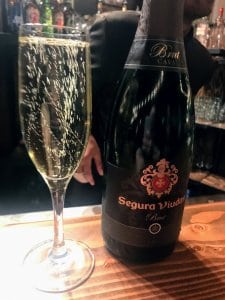 The Segura Viudas website is pretty useless when it comes to finding out information about grape varieties, time spent on the lees or dosage with the page on the Brut Cava dedicated more to "lifestyle" uses instead of actual details about the wine.
From Essi Avellan and Tom Stevenson's Christie's World Encyclopedia of Champagne and Sparkling Wine, I learned that since 1984 Segura Viudas has belonged to the huge mega-corp of Freixenet which controls nearly 50% of all Spanish sparkling wine production, making over 200 million bottles a year.
In addition to Segura Viudas, Freixent makes Castellblanch, Canals & Nubiola and Conde de Caralt.
Production of the Segura Viudas Brut is around 7 million bottles and is usually a blend of 50% Macabeo, 35% Parellada and 15% Xarel-lo.
The Wine
Medium minus intensity on the nose. Citrusy lemon and pommelo with a little apple notes as well.
On the palate, it feels very fresh without any toasty or biscuity notes which hints that the aging is closer to the bare minimum of 9 months required for Cava rather than much beyond it. It has a nice roundness to the mouthfeel with a hint of sweetness which also suggest that it is probably closer to the 10-11 g/l dosage that would put it at the "sweeter end" of Brut.
The Verdict
Very pleasant and easy sipping sparkler. It will hold its own as a brunch time bubble and as a great mixer for mimosas, Bellini or other sparkling cocktails. At around $8 a bottle, it certainly offers more character than your basic Korbel and is leaps and bounds better than other budget sparklers like Cook's and Andre's.
However, there are certainly other Cavas and even Proseccos around the same price point that deliver a bit more value.
Subscribe to Spitbucket