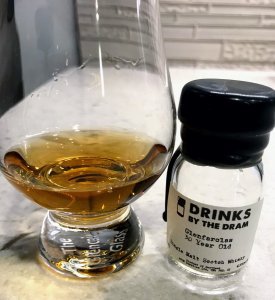 Some quick thoughts on the Glenfarclas 30 year Single Malt.
The Geekery
Owned by J. & G. Grant, this Speyside distillery has a long history dating back to 1787 as illicit still in Ballindalloch. It came into the Grant family's possession in 1865 when John Grant bought it and hired John Smith, formerly of Glenlivet, to manage it. Today it is ran by the sixth generation of the Grant family.
The name "Glenfarclas" means "the valley of the green grass", refering to its location in the valley at the foot of Ben Rinnes with the mountain's snowmelt being the key water source of the distillery.
According to Charles MacLean's Whiskeypedia, the distillery is noted for having the largest stills in Speyside that are fueled by direct fire as opposed to gas. In 1968, it was the first to release a cask strength single malt. It was awarded Distiller of the Year in 2006 by the Icons of Whiskey Awards.
The whiskey is aged in majority ex-Oloroso Sherry casks with about third aged in ex-bourbon cask.
The Whiskey
Beautiful dark color. Hugely aromatic nose with lots of spice and brown sugar. It makes me think of cooking gingerbread cookies at Christmas time. The sherry wine notes are present but they smell richer and deeper than typical sherries–more PX than Oloroso–with dried raisin and Turkish coffee aromas.
The palate is delightfully seductive. Creamy and silky with lots of weight. The spices carry through to the palate but the brown sugar and Turkish coffee aromas seemed to have morphed more into a rich, dark chocolate note that is far less sweet than what the nose suggested. The long finish delivers a load of freshness like freshly brewed herbal tea that was unexpected and entrancing.
The Verdict
A bloody fantastic dram! It's a bit pricey at around $437 on Master of Malt but it is simply exquisite. I would say the cost is justifiable if you think of the years of pleasure you can get nursing it but it is so utterly scrumptious with its combination of power, depth and freshness that I fret the bottle wouldn't last long in anyone's house.
Subscribe to Spitbucket