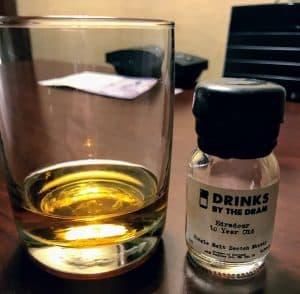 A few quick thoughts on the Edradour 10 year Single Malt Scotch.
The Geekery
Located in Milton of Edradour in the Highlands region of Perthshire, the distillery has a very colorful history according to Charles MacLean's Whiskeypedia, beginning with its founding in 1825 as GlenForres and continuing through its time as part of J.G. Turney & Sons where it was featured in the blends of House of Lords and King's Ransom.
During this time, the whiskey was frequently smuggled into the US during Prohibition by "sales consultant" and known mafioso Frank Costello who is rumored to be one of Mario Puzo's inspirations for Vito Corleone in The Godfather.
It was first release as a single malt in 1986 by Campbell Distillers (owned by Pernord Ricard) and in 2002 was purchased by current owner Andrew Symington of Signatory Vintage Scotch Whiskey.
The whiskey is aged in a blend of Sherry and Bourbon casks before bottling at 40% ABV.
The Whiskey
Medium plus intensity aromatics. Extremely honeyed. You feel like Winnie the Pooh breaking into the honey jar. There are some Sherry wine notes but it is more like honey toasted almonds than the usual "Sherry-bomb" style of Macallan or Glenfarclas.
The palate is smooth and noticeably sweet. More vanilla comes in but the honey is still dominant. This isn't as sweet as something like the
Glenmorangie Nector d'Or
,
Balvenie Caribbean Cask
or the
Ainsley Brae Sauternes Finish
but its not far off. Thankfully some spice comes out on the long finish to add balance to the sweetness. It's a tad light at 40% ABV and I find myself craving a bit more weight.
The Verdict
It's a sweet Scotch, no doubt, but it is very well made. At around $68 for a bottle, it falls inline with the Glenmorangie Nectar d'Or ($70) and Balvenie Caribbean Cask ($75) but is a bit higher than the non-age statement (NAS) Ainsley Brae ($35) made by Alexander Murray. The spice is a bonus in the complexity department but this is definitely a whiskey for when you are craving something smooth, light and sweet.
Subscribe to Spitbucket