A few quick thoughts on the sparkling 2013 Levert Freres Cremant de Bourgogne Brut.
The Geekery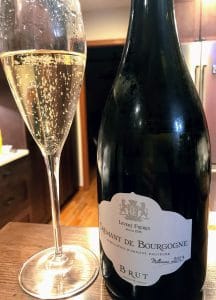 An old estate dating back to 1595 in the commune of Mercurey in the Côte Chalonnaise region of Burgundy. Today it is part of the Compagnie Vinicole de Bourgogne based in Chagny with Gabriel Picard managing and David Fernez making the wine.
Sourced from around 22 acres (9 ha) of vineyards in Mercurey, the 2013 vintage is a blend of 42% Chardonnay, 38% Pinot noir and 20% Gamay. The wine spent 24 months on the lees. This is far beyond the minimum 9 months currently required for Cremant de Bourgogne and is inline with the aging required for the upcoming prestige Cremant ranking of Crémant de Bourgogne Eminent that was announced in 2016.
The Wine
Medium plus intensity aromatics. Lots of fresh citrus with some subtle toastiness underneath. It smells like a freshly baked lemon roll with a glazed puff pastry. Underneath there is a white floral component that adds complexity.
The palate features a smooth mousse but it is quite dry. I couldn't find the exact dosage but I would estimate it in the 7-8 g/l range, making it a legit Brut and a very well balanced one at that. The freshness from the nose carries over and it is quite lively and immensely charming. The floral notes are more pronounce and strike me more as daisy petals versus lillies.
The Verdict
Charming is the reoccurring theme. It's certainly simple but it has enough character to engage the senses and is a bottle that can be happily shared (and emptied!) at any setting. At around $15 dollars, it is an excellent buy but this bottle could easily hold its own against other wines up to the $20 range.
Subscribe to Spitbucket