A few quick thoughts on the De Venoge Princes Blanc de Noirs.
The Geekery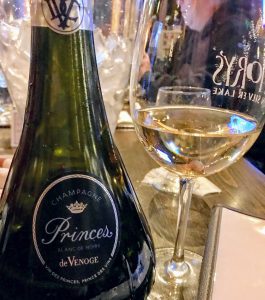 The house of De Venoge was founded in Epernay by Swiss winemaker Henri-Marc de Venoge in 1837. The house is most noted for its Tête de Cuvée Louis XV which was made to commemorate the French king's May 25th, 1728 dictate that finally allowed Champagne to be bottled in Champagne instead of being shipped in barrels and bottled at its designation.
As a top prestige cuvée, the Louis XV is only made in exceptional vintages and released in very limited quantities after at least 10 years aging on the lees. The wine is usually in the $170-260 range.
The fruit from the vintages that are still very good (and, indeed, still being used for vintage releases of Dom Perignon and Cristal) but not quite Louis XV-level, gets declassified down to the houses' other Champagnes such as the Princes line. There are three wines in this tier of non-vintage Champagnes– a Rosé, a Blanc de Blancs and a Blanc de Noirs.
The Princes Blanc de Noirs is made of 100% Pinot noir sourced from Grand Cru and Premier Crus in the Montagne de Reims. It spends at least 3 years aging on the lees before it is bottled with a 6-7 g/l dosage.
The Wine
High aromatics with lots of red fruits on the nose–raspberry, plum and red apple peel. There is also a strong floral note but it is a mix of white and darker flowers. A true bouquet.
On the palate, the mousse is silky but with a lot of power and weight. The acidity is still lively which adds a freshness but power is clearly the dominant profile. The red berry fruits carry through to the palate with a little apple pie pastry.
The Verdict
As a "baby Louis XV", it is an exceptional value at around $80 for a Champagne that delivers top shelf quality that out perform many far more expensive bottles. Indeed, this particular bottle of Princes Blanc de Noirs was easily outdrinking the $130-150 bottle of 2006 Dom Perignon.
Subscribe to Spitbucket