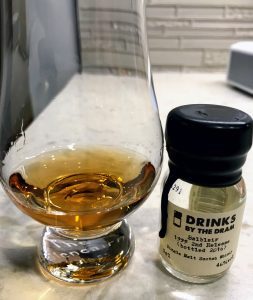 A few quick thoughts on the 2nd release of the Balblair 1999 that was bottled in 2016.
The Geekery
According to Charles MacLean's Whiskeypedia, Balblair is one of Scotland's oldest distilleries with a history dating back to 1790. Originally owned and managed for over a century by the Ross family (who also leased Brora in the 1830s), the distillery went through a succession of owners including Robert Cumming (of Old Pulteney fame), Hiram Walker and Allied Domecq.
Since 1996, Balblair has been a part of the Inver House Distillers portfolio which includes Old Pulteney, AnCnoc, Balmenach, Knockdhu and Speyburn.
Located in the Highlands in the village of Edderton, water is sourced 5 miles away from the Struie Hills. The distillery uses unpeated malt from Portgordon Maltings and ages its whiskey in mostly ex-bourbon casks with the 1999 seeing some time in ex-Sherry casks as well.
The Whiskey
A very spicy nose with the Sherry notes quite evident. There is some meatiness but nothing like a Mortlach or Glenfarclas. I also found a little cereal note which makes me think of savory crepes.
On the palate is a very intriguing note of celery salt that contributes to the spicy and savory profile. Mouthwatering with a silky oilness. Very nice balance with the Scotch holding it's 46% ABV well. This is a whiskey to enjoy neat.
The Verdict
A very impressive dram that is almost a meal in itself. Lots of layers that you want to spend time savoring and unfurling around your tongue.
At around $70, it is a fantastic value for essentially a 17 year single malt and would still be well worth the price up to the $100 range.
Subscribe to Spitbucket