A few quick thoughts on the 2013 Stags' Leap Winery Merlot from Napa Valley.
The Geekery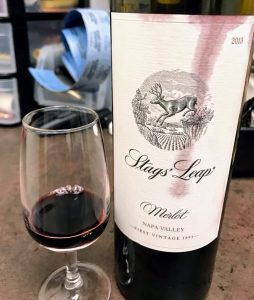 Often known as The Other Stags Leap, Stags' Leap Winery has a long history dating back to 1872 when grapes were first planted on the property by T.L. Grigsby (who also founded Occidental Winery that is now part of Regusci Winery).
The first wine was released in 1893 by then owner Horace Chase with wine production continuing to 1908. After more than six decades of stagnation the estate was purchased by Carl Doumani with 1972 marking the first modern-era release of Stags' Leap Winery. In 1997, the estate was sold to what is now Treasury Wine Estates.
Among the many other brands in Treasury's portfolio with Stags' Leap include 19 Crimes, Acacia, Beaulieu Vineyards (BV), Beringer, Chateau St. Jean, Gabbiano, Lindeman's, Matua, Penfolds, Sterling Vineyards and Wolf Blass.
While the winery does have around 6.5 acres of Merlot planted on their estate vineyard in the Stags Leap District (which goes into their $60+ bottle), most of the fruit for this wine comes from purchased grapes sourced throughout Napa Valley.
The Wine
Medium-minus intensity nose. Very light red fruit notes like cherry and raspberry. There is a slight herbal note that is not very defined.
On the palate the wine has medium acidity and medium tannins that contributes to a round mouthfeel but one that is a bit flabby. A little more acidity would have helped to liven it up. The fruit is still very light but seems more of a mix of dark fruit than the red fruit on the nose. The herbal note becomes a bit greener and makes me think of capers.
The Verdict
At around $30 this would be a pass for me. It's easy drinking and fruity but so are many red blends in the $10-20 range.
Maybe it would work as a $7-9 glass pour at a restaurant paired with a burger, but there is really nothing of interest here that is worth splurging for a whole bottle.
Subscribe to Spitbucket