Getting ready to start Day 2 of the 2018 Wine Bloggers Conference and my nervousness has subsided considerably.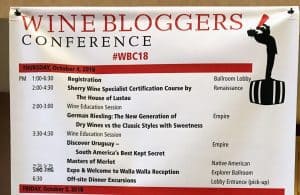 It was really great meeting several bloggers who I've only known before as names on a screen. I'd love to give a particular shout out to Lisa Stephenson (Worldly Wino), Noelle Harman (Outwines), Anne Keery (Aspiring Winos), Maureen Blum (Mo Wino), Dwight Furrow (Edible Arts), Reggie Solomon (Wine Casual) and Margot Savell (Write For Wine) for being great geeking and drinking companions yesterday.
I also want to thank Nancy Croisier (Vino Social) who I've known outside of blogland but has done a lot to help me feel welcomed here at WBC.
Lustau's Sherry Wine Specialist Certification Course
I will definitely be doing a full write-up in the next few weeks on this event. A big light bulb moment for me was realizing the similarities and overlap between Sherries and Scotches.
Both drinks mostly start out with a single main ingredient (Palomino grape and Malted Barley). Yes, there are some other minor grapes like Moscatel and Pedro Ximenez and Blended Scotches can have various grains like corn and rye but, for the most part, the reputation of both are built on these primary ingredients.
The diversity of styles that arise from those single ingredients begin early in the production process with pressing decisions with Sherries that dramatically impact mouthfeel while the shape of the still and angle of the lyne arm with Scotch will similarly have a pronounce influence on the resulting mouthfeel and body of the Scotch.
Then comes the ever important aging period with the environment, barrels and time leaving their indelible print. While the use of yeast seems to be more important to Bourbon producers than necessarily Scotch, you can still see an overlap with the presence or absence of Sherry's famous Flor yeast. Though a better comparison on degree of influence may be more with water source.
You can also draw a parallel between the art and skill of blending for whiskies with the simplicity yet complex results of the solera system.
Welcome Reception Wine Tasting
Two big wine discoveries jumped out at the reception tasting–the wines of Mt. Beautiful in the Canterbury region of New Zealand and the Lugana DOC located at the south end of Lake Garda in Italy.
The 2016 Mt. Beautiful Pinot noir, in particular, was excellent and ended up being the best wine of the entire day (with the 2013 Mullan Road a close second). It reminded me of an excellent Oregon Pinot noir from the Eola-Amity Hills with its combination of freshness, dark fruit and a mix of floral and spice notes. I would have pegged it for a $35-40 bottle but the Wine Searcher Average for it is $26!
After tasting the Lugana wines, I want to explore more about its primarily grape Trebbiano di Soave–locally known as Turbiana. As I've discovered reading the work of my Vino-Crush Ian D'Agata, the Trebbiano group of grapes is a mix bag with a reputation that is often overshadowed by the blandness of Trebbiano Toscano (the Ugni blanc of Cognac) yet can produce some stellar wines such as Trebbiano d'Abruzzo made by its namesake variety.
That "mixed bag" feel also characterized my tasting of the Lugana wines with some of them being fresh and vibrant like a racy Verdicchio or complex and layered like a Vermentino while others were decidedly "meh". That could be producer variation but I'd like to learn more about Turbiana and which side of the Trebbiano family tree this variety may fall on.
Mullan Road Winemaker's Dinner
It was very fun to meet Dennis Cakebread and learn about his plans for Mullan Road.  He doesn't necessarily want it to go down the Cakebread path in Napa with a large portfolio of wines (including apparently a Syrah from the Suscol Springs Ranch Vineyard in Jamieson Canyon that I now eagerly want). Instead, he wants to keep this 3000 case label focused on being a Bordeaux-style blend.
I also found it interesting that instead of going the Duckhorn/Canvasback route of purchasing land in a notable AVA like Red Mountain, Cakebread is embracing the blending mentality with sourcing fruit from great vineyards like Seven Hills in Walla Walla, Stillwater Creek and the Lawrence Family's Corfu Vineyard in the upcoming Royal Slope AVA.
They poured both the 2013 and 2015 vintages of Mullan Road (as well as a one-off bottling of extra Merlot from the 2013 vintage) and it is clear that Mullan Road is a wine that rewards patience. While I suspect the 2015 will eventually be the better bottle, it was still at least 2 to 3 years away from starting to hit it stride while the 2013 was just now entering a good place with a solid core of dark fruit, juicy medium-plus acidity but added spice and floral aromatics for complexity. I can see this 2013 continuing to deliver pleasure easily for another 7 to 10 years that more than merits its $40-45 price point.
The evening also featured an unexpected history lesson with a character actor re-enacting the story of Captain John Mullan and the military road he constructed to connect Fort Walla Walla to Fort Benton in Montana on the banks of the Missouri River.
All in all, a great day. Here's to Day 2 following suit!
Subscribe to Spitbucket