While wine is my primary focus, as the weather turns colder I do enjoy a wee dram of whiskey every now and then. So with that, here are a few quick thoughts on the Laphroaig An Cuan Mòr Scotch.
The Geekery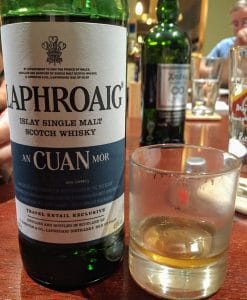 Gaelic for "big ocean", An Cuan Mòr is a travel retail exclusive that was first released in 2013.
A non-age statement malt, there were initial rumors that a base component was Laphroaig 18 but given the usual $200+ price point for the 18, that seems very unlikely.
The Scotch is first aged in ex-bourbon American oak barrels before being transferred to European oak casks for finishing.
The Whiskey
High intensity nose. Lots of peat but not the usual medicinal iodine note I associate with Laphroaig. Instead it is a more woodsy campfire smoke, that reminds me of Scotches like Bruichladdich Port Charlotte or Coal Ila. There is also an earthy, almost Bretty, bacon fat smell that is not too far off from a smokey South African Pinotage.
On the palate, the smoke notes obviously dominant but there is a little fruity sweetness that reminds me of an apricot tart with a honey drizzle. Whirling it around the tongue, some pepper spice also comes out which accentuates the bacon fat notes from the nose. Despite the reference to "ocean" in the name, there isn't much salinity here. Very well balance, it holds its 48% ABV well with a creamy mouthfeel. Long finish ends on the campfire smoke but is a much cleaner finish than normal without any of the chalky char residue that a lot of peaty Scotches can leave.
The Verdict
As I've confessed before in reviews like that of the Ardbeg Perpetuum, smokey peaty Scotches aren't my thing.
Still I keep trying them and approaching them with an open mind. Like with the Ardbeg, I can appreciate how well made this Laphroaig An Cuan Mòr is even if I would never dream of spending $90-110 for a bottle of it.
Subscribe to Spitbucket