A few quick thoughts on the Yamazaki 18 Japanese Whisky.
The Geekery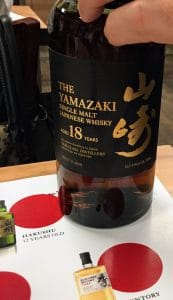 If you want to understand Japanese whisky, I can't recommend enough Dave Broom's The World Atlas of Whisky. While it's tempting to make comparisons to Scotch, Japanese whiskies are so fundamentally different that it's like comparing oil paintings to digital art.
One huge difference is how frequently Japanese producers are willing to completely refit and renovate their distilleries with new stills and modern technology–something that ultra-traditional Scotch producers are often loathed to do. Broom notes that since its 1923 founding that Yamazaki has been completely renovated 3 times with the last renovation coming in 2005.
With 2 mashtuns, wooden and steel washbacks, multiple yeast strains, 6 pairs of stills of various sizes/shapes and aging in 5 different types of barrels, Suntory's Yamakazi produces multiple expressions of new make whisky even within the same line-up. This makes the difference between their 18 vs their 10 or 12 year not just extended aging–they're all 3 completely different whiskies to begin with.
The Whiskey
High intensity nose–a mix of orange citrus peel and cedar cigar box.
On the palate the mouthfeel is very oily and gives deceptive weight to the relatively light flavors. The citrus notes come through but are not as intense as the nose. The sweet cedar gives way to more earthier tobacco and wood spice with some subtle peat smoke. The moderate length finish bring back the citrus and adds a slightly sweet vanilla note.
The Verdict
Overall this is an enjoyable and easy drinking whiskey but it's not "knock-your-socks-off" crazy good to merit the $250-300 premium–especially when I can get something like the NAS Nikka Taketsuru Pure Malt for around $90 or even the Hakushu 12 from Suntory at $80.
It's worth trying if a bar has it by the shot to see what the hype is about. But if you spring for a whole bottle, you should know that it is the hype you're paying for.
Subscribe to Spitbucket