I am going to need more than 60 Seconds to geek out about Zweifel's 2014 Zürcher Stadtwein Räuschling from the Chillesteig vineyard in Höngg-Zurich.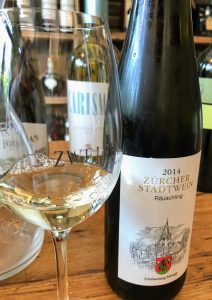 The Background
The Zweifel family founded their eponymous company in Höngg in 1898. Previously, the family were viticulturists who were growing vines since at least 1440. But hard economic times, as well as the devastation of phylloxera, encouraged Emil and Paul Zweifel to move into the wine and fruit juice trade.
In the 1960s, the family returned to viticulture with the planting of several vineyards. Today, in addition to selling wine from across the globe at their various wine shops, Zweifel makes private-label Swiss wine. The fruit for these wines is sourced from vineyards throughout northeast Switzerland–including several urban sites in Zurich.
In one such vineyard, Lattenberg along Lake Zurich, Zweifel help pioneer the plantings of Syrah and Sauvignon blanc in Switzerland.
Other varieties of Swiss wine that Zweifel produces include Pinot noir, Regent, Maréchal Foch, Léon Millot, Johanniter, Malbec, Cabernet Cubin, Scheurebe, Chardonnay, Garanoir and Riesling.
An Urban Vineyard in Zurich
The Höngg quarter in the 10th district of Zurich has had a long history of viticulture with vines planted during the time of the Reformation. The most renown vineyard was Chillesteig planted on a sloping hillside along the Limmat river.
In the 1880s, problems took their toll on viticulture in the area with downy mildew and phylloxera devasting the vines. Aided by the industrialization and urban growth of Zurich, the last vines were grubbed up in 1942.
In 1968, Heinrich Zweifel, whose family has been in Höngg since the 14th century, started replanting the Chillesteig vineyard. His goal was to produce wine for his family's wine shop. Today the 3.2 ha (8 acres) vineyard is planted to several varieties including Pinot noir/Clevner, Pinot gris, Cabernet Dorsa (a Cabernet Sauvignon x Dornfelder crossing), Prior, Riesling x Silvaner (Müller-Thurgau) and Räuschling.
Zweifel farms the vineyard sustainably under Suisse-Garantie ecological performance certification (ÖLN). Nando Oberli tends to the vines while Paul Gasser makes the wines at Zweifel's Ellikon an der Thur winery in the Winterthur District.
The Grape
Jancis Robinson, Julia Harding and José Vouillamoz note in Wine Grapes that the origins of Räuschling date back to at least the Middle Ages.
Likely originating in the Rhine Valley, the first mention of the grape (under the synonym Drutsch) was in Hieronymus Bock's 1546 edition of Kreutterbuch ("plant book"). Here Bock describes it growing in the town of Landau in Rhineland-Palatinate.
By 1614, it was in the Franken region under the name of Reuschling. Local records in the area showed that producers were pulling up vines of Gouais blanc (Weißer Heunisch) in favor of Reuschling and another variety, Elbling.
The modern spelling of Räuschling emerges in the mid-18th century along with the synonym Zürirebe, meaning "grape of Zurich." Over the next couple of centuries, plantings of Räuschling would gradually become more centralized around Zurich as vines disappeared from Germany and Alsace. Even in its stronghold of Northern Switzerland, the grape fell out of favor in the 20th century as more productive varieties like Müller-Thurgau took over.
By 2009, there was only 23 ha (57 acres) of Räuschling growing in Switzerland.  Most of these plantings are in the canton of Zurich.
Parentage and relationship to other grapes
DNA analysis has suggested that Räuschling is a natural cross of Gouais blanc and Savagnin (Traminer). This would make it a full sibling of Aubin blanc and Petit Meslier as well as a half-sibling to Chardonnay, Gamay, Auxerrois, Sauvignon blanc, Riesling, Elbling, Aligoté, Chenin blanc, Colombard, Grüner Veltliner, Blaufränkisch, Melon de Bourgogne, Knipperlé and Sacy.
Two of these half-siblings, Riesling and Knipperlé, are vines that plantings of Räuschling is sometimes confused for in old vineyards in Germany and Alsace.
The Wine
Note: This tasting note is from my June 2017 visit to Zurich.
Medium intensity nose. Meyer lemons with some white floral notes that aren't very defined.
On the palate, those citrus lemon notes come through and are amplified by the high acidity. The medium body of the fruit helps balance the acid, keeping the wine tasting dry and crisp. There is a phenolic texture to the mouthfeel that reminds me a bit of a Muscadet from Melon de Bourgogne. However, there are no aromatic signs of lees contact. Nor is there any trace of oak. Moderate finish continues with the mouthwatering lemony notes.
The Verdict
This wine tasted like what you would get if a Muscadet and lighter French Sauvignon blanc (like a Saint-Bris) had a baby. The texture and mouthfeel make me think of Muscadet but the citrus and high acidity remind me of Sauvignon blanc.
However, it doesn't have the minerality of a good Muscadet-Sèvre et Maine or a Loire Sauvignon blanc. But I can see this pairing with a lot of the same dishes (particularly shellfish). I can also see it being a nice change of pace from New Zealand Sauvignon blanc. It would especially appeal to folks who want less green notes or pungent tropical fruit.
For around $18-23 USD, I would still be quite interested in trying a new vintage of the Zweifel Räuschling. You are paying a bit of a premium for the novelty of the grape variety and small urban production. But you are paying a premium on virtually every wine in Zurich.
Still, if you happen to be in the area and want a taste of local flavor, it's well worth exploring.
Subscribe to Spitbucket