Going to need more than 60 Seconds to geek out about this 2011 Rabbit Ridge Petit Verdot from Paso Robles.
The Background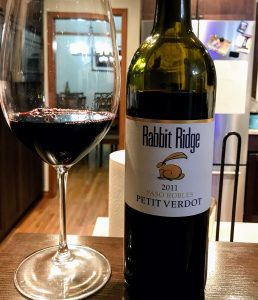 Erich Russell founded Rabbit Ridge winery in 1981 in Healdsburg, Sonoma. Originally a home winemaker in San Diego, Russell's wines caught the attention of the winemaking team at Chateau St. Jean who offered him a position. From there he spent time at Simi and Belvedere Winery before starting out on his own.
Over the years, Rabbit Ridge has earned numerous accolades and acclaim. They've had 3 wines featured on Wine Spectator's Top 100 list. Connoisseur's Guide named Russell it's "Winemaker of the Year" in 1998. Wine writer Jay McInerney noted in his 2002 work Bacchus and Me: Adventures in the Wine Cellar that if you wanted to guarantee yourself a good bottle of Zinfandel, seek out the "R wineries" of Rafanelli, Ravenswood, Ridge, Rosenbloom, Renwood and Rabbit Ridge.
In 2001, the winery moved to the central coast of California. Here, the Russell family planted 200 acres on the west side of Paso Robles. Today the winery produces around 10,000 cases from their sustainably farmed fruit.
Rabbit Ridge is a family operation from top to bottom with Erich and Joanne Russell running the estate with their daughter, Sarah Fleming Garrett, and her husband Brice. In addition to working at Rabbit Ridge, the Garretts also have their own label, Serrano Wine, that was launched in 2018 in the Willow Creek District of Paso Robles. According to Barnivore, all the Rabbit Ridge wines are "vegan friendly" with only bentonite and yeast fining used.
The 2011 Petit Verdot is sourced from estate fruit with a little bit of Cabernet Sauvignon blended in.
The Grape
Jancis Robinson, Julia Harding and José Vouillamoz note in Wine Grapes that the first mention of Petit Verdot was in Bordeaux in 1736. However, the grape may not have originated there. Ampelograhical evidence of similar varieties suggest that Petit Verdot may have been a domesticated wild vine that originated somewhere in the Pyrénées-Atlantiques department south of Bordeaux on the border with Spain.
The name Petit Verdot references the small berries with thick skins that produce green (French vert) and acidic flavors if the grape doesn't ripen fully. A very late-ripening variety, Petit Verdot is often harvested several days or even a couple weeks after Cabernet Sauvignon.
Despite contributing deep color and spiciness to blends, the risk of not fully ripening caused Petit Verdot's plantings in Bordeaux to sharply decline in the 20th century to around 338 ha (835 acres) in 1988. However, global warming has sparked renewed interest with a jump to 526 ha (1300 acres) by 2009. Mostly grown on the Left Bank, classified estates that have notable plantings of Petit Verdot include Ch. Margaux and Palmer in Margaux, Pichon Lalande in Pauillac, Léoville Poyferré in St. Julien and La Lagune in the Haut-Medoc.
Petit Verdot in the US
Varietal versions of Petit Verdot have always commanded a premium in the United States. The reason has been because of limited supply and planting compared to other varieties. Matt Kramer notes in his 2004 book New California Wine that while a ton of Napa Cabernet Sauvignon would average around $3,921 and Pinot noir $2,191, Petit Verdot usually cost around $4,915 a ton to harvest.
Today, there are 2,897 acres of Petit Verdot planted throughout California with Napa, Sonoma and Paso Robles being the home for a majority of those plantings.
Outside of California, the grape can be found in Virginia, Arizona, Colorado, Idaho, Maryland, New York, North Carolina, Texas, Pennsylvania and Washington State. In Canada, it is also grown in the Okanagan Valley of British Columbia and the Niagara Peninsula of Ontario.
Red Willow Vineyard pioneered Petit Verdot in Washington State in the mid-1980s. Here Master of Wine David Lake encouraged Mike Sauer to plant UCD clone-1 Petit Verdot in his Yakima Valley vineyard. However, as Paul Gregutt notes in Washington Wines, those early plantings failed and the blocks had to replanted with new clones in 1991.
In Walla Walla, the Figgins family of Leonetti planted Petit Verdot at the Spring Valley Vineyard.  Today Petit Verdot is still a significant component of their Reserve Cabernet Sauvignon. Other early plantings of Petit Verdot in the 1990s took place at the Mill Creek Upland vineyard in Walla Walla, Destiny Ridge in Horse Heaven Hills and Ciel du Cheval on Red Mountain. As of 2017, there were 254 acres of Petit Verdot in Washington State.
The Wine
Medium-plus intensity nose. Brambly fruit like elderberry and boysenberry with some blue floral notes and forest floor earthiness. With a little air some tobacco spice and a distinct streak of graphite pencil lead emerges. The nose reminds me a bit of Cabernet Franc.
On the palate those dark brambly fruits carry through. The wine has full-bodied weight but I wouldn't have guessed a 14.8% alcohol. There is no back-end heat or jammy fruit. Moderate oak contributes some baking spice but doesn't play much of a role. Medium-plus acidity gives the fruit freshness and balances well with the ripe, high tannins. This wine is mouth-filling and mouthwatering. Moderate length finish brings back the spice and minerally graphite notes.
Some Personal Thoughts
I have to confess a bias of sorts. Stories like that of the Russells and Rabbit Ridge fuel and sustain my love for the world of wine. It's so easy to get lost in the doldrums of supermarket shelves dominated by portfolio of brands owned by a handful of mega-corps that you lose sight of what wine is really supposed to be about. Wines like this remind me of why I geek out about wine.
I've been following Rabbit Ridge Winery on Twitter and highlighted them in my article The Winery Twitter Dance as one the best winery Twitter account worth following. While I don't know the Russells personally, it's hard not to feel like I do because of all the great behind the scene tidbits that they share about the hard work and joys that comes with managing a small family winery. Likewise with the Serrano Wine Twitter, you feel like you are with the Garretts on their journey in launching a new winery from the ground up.
For folks like the Russells, the wine that you open up to share on your table with family and friends isn't just a brand. It's their life work and the result of hours upon hours of toil, and gallons upon gallons of sweat, spent over every step of the process. From first putting the vines into the ground to finally the cork in the bottle, they're putting a part of themselves into each wine.
When you share their wines, you're not sharing something thought up during a marketing department's brainstorming session and tested on focus groups. Instead, you're sharing something that was dreamed up by person who looked out at a vineyard or into a great glass of wine and thought "I could do this. I should do this." and tested that dream over and over again on their own table–with their own family and friends.
The Verdict
I opened this bottle of 2011 Rabbit Ridge Petit Verdot with higher expectations than I do for a commodity brand.  And I certainly savored that it lived up to those expectations. At $20 (yes, $20 for a varietal Petit Verdot!), this wine has character and complexity that opens up even more in a decanter over the course of dinner.
No, it's not a jammy, hedonistic red like many Paso wines can be. Its best role is definitely on the table where its acidity and structure can shine with food. But it is a bottle way over delivers for the price and worth trying.
Subscribe to Spitbucket