With the holiday season upon us, lots of folks will be hitting their local grocery stores and wine shops looking for wines to serve and give as gifts. That makes this a great time to review the Decanted podcast episode featuring Lenny Redé and their tips for shopping for wine (47:41).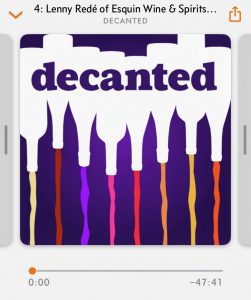 Full disclosure: Lenny was one of my mentors at the Northwest Wine Academy and is a long time friend. Though I'm obviously biased, I sincerely feel he is one of the most brilliant and personable folks in the wine industry. He was also a participant at my recent Joe Wagner vs The Oregon Volcano tasting whose insights were extremely valuable. At the time of this interview he was with Esquin Wine and Spirits, but he's now at New Seasons Market on Mercer Island.
While I try not to be promotional with this blog, I have no qualms saying that if you want to discover more about wine and your own personal tastes, go visit Lenny and chat him up. It will be well worth the trip.
The Background
I first became aware of the Decanted podcast at this year's Wine Bloggers Conference (now Wine Media Conference). While I didn't get a chance to personally meet the duo behind the podcast, Dave Adams and Sandi Everingham, I heard from several of my fellow attendees that I needed to check them out (as well as the Weekly Wine Show which I reviewed last month).
A relatively new podcast, Decanted started earlier this year in February. Episodes are posted monthly with occasional shorter bonus shows in between. Most of the episodes tend to fall into the 30-60 minute range with the bonus shows usually being 10-15 minutes.
While the podcast has featured wines from the El Dorado AVA in California, Fraser Valley in British Columbia and most recently the Douro Valley of Portugal, the primary focus is on the hosts' hometown Washington wine industry.
Local Washington Focus
Several of the episodes are inspired by local wine events that the hosts have attended such as the POUR Event of Urban Seattle Wineries (episode 1 with Bart Fawbush of Bartholomew Wines), Northwest Women Stars of Food & Wine (episode 5 with Lisa Packer of Warr-King Wines), Taste Washington (episode 8 with Chris Upchurch of DeLille and Upchurch Wines), The Sisters of the Vinifera Revolution (episode 11), Auction of Washington Wines (episode 15) and the Wine Bloggers Conference (episode 17 with Seth and Audrey Kitzke of Upsidedown Wines).
In addition to highlighting their favorite wines, Dave and Sandi of Decanted share their personal experiences and observations from attending these events. They also offer fantastic advice and practical pro-tips that wine lovers can use when attending events themselves.
A bit unusual for wine podcasts, the interviews are presented in a story-telling style with voice-over narration and background given by the hosts spliced in-between the answers of the guests. While I'm sure this adds quite a bit of work and editing, it enhances the value and professionalism of the podcast. Listening to the interviews feels like you're watching a story feature on Dateline or 60 Minutes–with less murder and scandal, of course.
Fun Things I Learned and Enjoyed From This Podcast
(4:57) Great tip from Sandi about the value of being adventurous when shopping for wine instead of just getting the same ole, same ole. Dave follows this up with a tip about the importance of paying attention to vintages (especially for white wine) at grocery stores.
As a former wine steward for a major grocery chain (Safeway), I can attest to the truth of this. Often there are white wines that don't sell very quickly. These wines would get old sitting on the shelf, losing freshness and flavor. While they might not be bad (and still considered "saleable"), they can definitely be past their peak. As a general rule of thumb, especially in grocery stores with white wines under $20, look for the youngest vintage to get the most for your money.
Tricks of the Trade
(7:50) One tip that I'm going to slightly disagree with is the advice to look for values on the endcaps. That's not quite true. Again going back to my wine steward days, often these endcaps were paid displays bought by distributors or wineries with contracts negotiated at the corporate level. The grocery stores gets a sweet deal to promote these high volume wines in a high traffic location at the end of the aisle. While sometimes, they will pass the savings they're getting onto the consumers, mostly these are high margin wines that just pad the store's bottom line.
(8:32) Another tip that I'm going to disagree with is the advocacy for Vivino. This is just a personal misgiving but I'm highly suspicious of many of these crowd source review apps. They are extremely ripe for gaming–especially by large corporations with big marketing departments that want to promote positive rankings.
Just like with Yelp, companies are going to use these apps to influence consumers. But, unlike Yelp, many of these wine apps haven't invested millions of dollars into dedicated fraud-detection teams and software algorithms to try to weed out the gaming. Also, these apps tend to revert back to the lowest common denominator with mass-produced and highly marketed wines rising to the top of the ratings while smaller family wineries often get overlooked.
But the idea of keeping your smartphone handy is not bad advice and I'm not completely against review sites.
Personally, I think the most valuable app to have on your phone is Wine-Searcher. Not only do they tell you the average price of a wine (so you know if you're getting a good deal or not) but they link to professional critic scores (which has their own pratfalls, I know) as well as the crowd sourced CellarTracker site.
While Cellar Tracker is also potentially game-able, the average user on that site tends not to be the typical buyers of mass-produced supermarket wines. This seems to make it less of a marketing target for corporations compared to Vivino. Also, you are more likely to have actual written reviews of the wines being rated (instead of vague and useless notes of "Yummy!"). These reviews tend to be much more helpful in figuring out if a wine matches your style.
(9:30) Dave and Sandi conduct a fun exercise of checking out the wine selection at places that don't really have a wine focus. Well worth listening to see what they found at a Shell gas station, Walmart, Grocery Outlet and others.
Interview with Lenny Redé
(19:30) The first part of the interview goes into Lenny's background–including his work in the restaurant industry and time teaching at Le Cordon Bleu and the Northwest Wine Academy.
(24:30) One key distinction of local wine shops that Lenny highlights is that often the folks working at these small shops are the same people buying the wine. This is a big difference compared to grocery stores and large chains like Costco where the buying decisions are made by corporate buyers.
Essentially this means that when you walk into a small local shop, virtually every wine on the shelf is something that has been personally vetted. Someone tasted that wine and said, "Yes, this is a good wine that I want to bring into my store. This is a wine that I want to share with my customers." That is a powerful endorsement and is world's apart from the endcap displays at grocery stores that are there because a corporate buyer got cut a deal to feature them.
Don't Be Afraid To Be Honest
(27:01) Another great piece of advice from Lenny is to never be afraid to tell the steward (or restaurant sommelier) your budget. The steward/somm's goal is always to get you the best wine they can for that price point. This is advice that I regularly use myself when I play the Somm Game.
(31:06) Sandi asks Lenny what happens when he makes a recommendation that backfires and what wine drinkers should do. Lenny notes all the different variables involved that can impact people's tastes and how they experience a wine. All great points but one thing I wished he touched on was the need of consumers to be honest about recommendations they didn't like.
A steward's goal is to build a relationship with their guests. In many ways they are detectives trying to figure out your tastes. Every clue you can give them from what you absolutely loved and, especially, what wines didn't appeal to you is immensely valuable. They're human and taste is personal. A steward may misinterpret some of your clues and recommend a bottle that just doesn't work. That is perfectly okay and most good wine shops will gladly accept that return. But they're going to want to get their next recommendation right on the money so let them know what didn't work.
Where To Find Value and Quality
(35:55) Lenny is asked about some fun alternatives to common wines like buttery Chards. He makes several great recommendations here including checking out the fantastic Pinot blancs coming out of Oregon.
(41:30) Dave asks Lenny his thoughts on the best budget wines out there, especially under $20. He gives some great background on how the Washington wine industry is different from California and where people can find great value here. Lenny also highlights some of the deals with private labels and second labels from established producers–or "happy hour wines" as he calls them.
(44:40) Lenny is very excited at the quality of white wines coming out of Washington and encourages people to look at the Ancient Lakes area. Among reds, Malbec and Cabernet Franc are high on his list. Yes! Another person on the Washington Cab Franc train.
Final Thoughts
My favorite thing about the Decanted podcast is the "real world" perspective of Dave & Sandi. They approach the tasting events they attend and their interviews in much the same way that most regular, normal wine lovers would. When you get knee deep in the wine world, it is so easy to get caught up in a "bubble" that skews your perceptions. It's particularly easy to get a bit jaded while looking at the world through the lens of wine being a business.
But at its heart, wine is fun. Wine is inspiring and discovering it is an adventure. The folks at Decanted get that and allow their listeners to get caught up in their own fun and adventure of discovering wine.
However, Decanted is still rooted in the realism of what every day wine drinkers experience hunting for good bottles at reasonable prices–as well as dealing with some of the more frustrating aspects of attending wine events (crowds, palate fatigue, etc). The pro-tips they give on how to maximize your enjoyment at these events and when visiting tasting rooms is solid advice that comes from their own personal experience.
Going Forward
As a young podcast, I hope they continue with their narrative story telling and sharing their experiences at wine events. They seem to have a good pulse on what's happening and which events are worth attending so, selfishly, I would love to hear in their podcasts about future plans and upcoming events they are planning to attend. That would be a great heads up for tastings that I'd want to check out myself.
One constructive suggestion I have is regarding the audio music that plays during their narrative voice overs. Admittedly I don't know if it is because of my podcast player (Overcast) but sometimes the music is a bit too loud and competes for attention with their narration.
But that is a small thing and overall I enthusiastically recommend folks check out the Decanted podcast!
Subscribe to Spitbucket