I'm in Napa and Sonoma for the next few days–away from the comforts of my books and desktop that usually fuel my posts.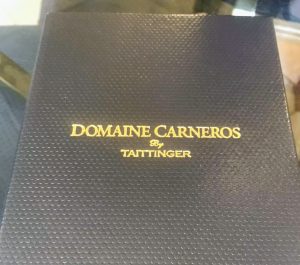 But a visit to Domaine Carneros and dinner with a bottle of Joel Peterson's Once and Future Mataro gave a great contrast in two wineries' marketing approach that I want to chime in on.
Blah, Blah, Blah, Blah
At Domaine Carneros, I greatly appreciated that they were able to squeeze us in without an appointment. They sat us in a dining area with a menu of tasting option, glass pours and small bites.
My wife went for the bubbles flight (of course) while I had a glass pour of their prestige cuvee, the 2013 Le Rêve. The attendant was helpful enough, explaining briefly the grape varieties in each cuvee and the aging. He did stumble a bit in the sweetness scale–describing demi-sec as "half-sweet" and telling us that if we ever see a bottle labeled as sec that it would be "twice as sweet" as a demi-sec. (Yeah, no.)
But I wasn't in the mood to be that person so I let him finish his spiel before going off to tend to other guests.
It was then that we noticed how utterly useless the tasting mat that came with my wife's flight was.
Blah, Blah, Blah, Blah
What use is this? I guess I should have had a pen and paper ready to take notes when the attendant was dropping off the wine.
There is not one shred of useful information on this tasting mat. Just marketing blurbs telling me what they think I'm drinking instead of details about what I'm actually drinking.
It would have been extremely helpful to have some worthwhile information about the wines as we compared and contrast. Grape varieties? Vineyard source? Blend percentages? Dosage? Farming style? Bueller?
It really felt more like pandering than anything else. And it was world's apart to the back label of the 2016 Once and Future Mataro from the Oakley Road Vineyard in Contra Costa.
Can this be the "Once and Future" for all wine labels, pretty please?
The only thing missing is farming practices. But I absolutely love this approach. Here is a back label that doesn't take the intelligence or curiosity of its customers for granted.
Yeah, there is a lot of info here that many folks won't care about. It takes a certain type of geek to get excited about 8×8 head pruning. But it is all hidden away on the back of the bottle to where it is there if you want it and out of the way if you don't.
And it is far and away better than pandering, marketing gobbly gook telling you to taste "refreshing aromas of lemon zest, grapefruit, golden hay and a floral note reminiscent of the delicate grape flower."
Oh please.
Subscribe to Spitbucket