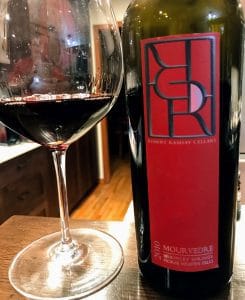 We're back after a vacation to take the nieces and nephew to the happiest place on Earth. Unfortunately, we didn't get a chance to play the Somm Game in between rounds of chocolate milk, lemonade and Sprit soda. Though absence does make the heart grow founder. And boy, am I ready to get back into the world of grown-up beverages!
So let's continue our celebration of Washington Wine Month by taking more than 60 Seconds to geek out about the 2010 Robert Ramsay Mourvèdre from McKinley Springs Vineyard in the Horse Heaven Hills.
Full disclosure: During the 2012 vintage, when this 2010 Mourvèdre was just released, I did an internship at Robert Ramsay Cellars. Here I worked under the mentorship of Kristin Scheelar who was head winemaker at the time.
The Background
Robert Ramsay Cellars was founded in 2005 as a specialist in Rhone-style wines by winemaker Bob Harris. The winery's name is a combination of Harris' full name "Robert" with the last name of his great-uncle Mason Ramsay who helped raised Harris' father when his grandfather was working overseas.
Before starting his winery, Harris served as winemaker for Coeur d'Alene Cellars and was mentored by Kristina Mielke-van Löben Sels of Arbor Crest, Nicolas Quille of Pacific Rim, Chuck Reininger of Reininger Winery and Ron Coleman of Tamarack Cellars.
Inspired by the great wines of Côte Rôtie, Harris' first vintage was 125 cases of Syrah. A tasting room in Woodinville was opened in 2009. By 2014 the winery was making over 3000 cases. Among the notable vineyards that the winery was sourcing from include Red Heaven on Red Mountain, Phinny Hill and Mckinley Springs in Horse Heaven Hills, Dineen Vineyard in Yakima Valley and Upland Vineyard on Snipes Mountain.
Kristin Scheelar
In 2010, Harris hired Kristin Scheelar, a 2009 graduate of the Wine Production program of the Northwest Wine Academy (NWA) at South Seattle College. Prior to joining Robert Ramsay, Scheelar served as a harvest intern for Patterson Cellars under the tutelage of John Patterson.
Scheelar would stay at Robert Ramsay for four years, leaving just before the 2014 harvest to join Goose Ridge winery as an assistant winemaker. During her time at Robert Ramsay, she was an influential mentor to many female winemakers in the Woodinville wine scene including Lisa Packer of Warr-King Wines and her successor at Robert Ramsay, Casey Cobble–another NWA graduate.
Along with Packer, Cobble and Hillary Sjolund of Sonoris Cellars, Scheelar is a founding member of the Sisters of the Vinifera Revolution which aims to promote women in the wine industry. Through the years the organization has grown to include several wineries owned and headed by women winemakers including Lisa Swei of Three of Cups Winery, Pam Adkins of Adrice Wines, Lisa Callan of Callan Cellars, Mari Womack of Damsel Cellars, Toby Turlay of Ducleaux Cellars, Jody Elsom of Elsom Cellars and Kasia Kim of Kasia Winery.
Today Kristin Scheelar is currently an assistant winemaker with Gallo at Columbia Winery.
The Vineyard
McKinley Springs Vineyard was first planted in 1980 by Robert Andrews in the Horse Heaven Hills AVA. Located at an elevation of around 1000 feet, the sandy loam soils over broken basalt of the vineyard are noted for producing early ripening fruit that create well-structured wines with intense aromatics.
Today the vineyard covers more than 2800 acres with over 20 different varieties of grapes planted including Cabernet Sauvignon, Merlot, Cabernet Franc, Chenin blanc, Viognier, Malbec, Syrah, Petit Verdot, Cinsault, Roussanne, Counoise and Mourvèdre. Along with their Mourvèdre bottling, Robert Ramsay produces a varietal Cinsault and Syrah from McKinley Springs and uses some of the vineyard's fruit for their Châteauneuf-du-Pape style blend Le Mien and Bandol-style Par La Mer wine.
In addition to Robert Ramsay, several wineries source fruit from McKinley Springs including Thurston Wolfe, Domaine Pouillon, Forsyth Brio, Maryhill Winery, Cor Cellars, Coeur d'Alene Cellars, Mercer Estates, Hestia, Robert Karl, Bunnell Family Cellars and Syncline.
In 2002, the Andrews and Roswell families of McKinley Springs established a winery that focuses on their estate fruit.
The Grape
In their book Wine Grapes, Jancis Robinson, Julia Harding and José Vouillamoz note that Mourvèdre origins are likely Spanish with the first written account of the grape variety being under the synonym Monastrell in a 14th century document by Catalan writer Francesc Eiximenis.
The name Monastrell is derived from the Latin monasteriellu, meaning monastery. It is likely that the grape was first propagated by the Church.
By 1460, the Valèncian doctor Jaume Roig noted that Monastrell was the most widely planted grape in València–particularly in the region of Camp de Morvedre where the synonym Mourvèdre emerged from. Another common synonym, Mataro, likely comes from town of Mataró in the province of Barcelona. Located north of València, it would have been along the grape's likely route out of Spain into Southern France.
Today, Mourvèdre/Monastrell is the 5th most widely planted grape in Spain with over 150,000 acres. It's only behind Airén, Tempranillo, Bobal and Garnacha in acreage. Most of these plantings can be found in the València, Murcia and Castilla-La Mancha regions. It is the primary red wine grape in the DOs of Jumilla, Alicante, Almansa, Valencia and Yecla.
In France, plantings of Mourvèdre rose sharply in the late 20th century. It went from around 517 ha (1,278 acres) in the 1950s to 9,363 ha (23,136 acres) by 2009. It is most commonly found in the Languedoc-Roussillon, Provence and Southern Rhone regions. In Provence, it is the primary grape of Bandol. Here it must make up 50-95% of the blend along with Grenache, Carignan, Cinsault and Syrah.
Mourvèdre in Châteauneuf-du-Pape
Harry Karis notes in The Châteauneuf-du-Pape Wine Book that today Mourvèdre accounts for around 6.6% of all grape plantings in Châteauneuf-du-Pape. Historically, the grape was known as Estrangle-Chien ("dog strangler") due to its harsh tannins and high acidity. This thick-skinned grape thrives on warm, south-facing slopes that receive plenty of heat. This allows the vine to fully ripen the tannins and metabolize some of the hard malic acid.
However, Mourvèdre is also very susceptible to drought conditions.  Karis notes that water-retaining clay soils and drought-resistance rootstock like 41B and 110R are ideal for the variety.
In the traditional Châteauneuf-du-Pape blend, Mourvèdre contributes structure via its high acid and tannins. It also provides ample alcohol and color. In the winery, winemakers have to balance the reductive nature of Mourvèdre with the very oxidation-prone Grenache.  To do this you need to ensure that Mourvèdre has plenty of oxygen during fermentation and élevage. Meanwhille, Grenache needs to be kept more anaerobically protected.
Varietal Mourvèdre wines are known for having meaty and spicy (particularly tobacco spice and clove) characters. They often have ample dark fruit flavors that can age into tertiary aromas of game and leather.
Mourvèdre in Washington State
In Washington Wines and Wineries: The Essential Guide, Paul Gregutt notes that the first plantings of Mourvèdre in Washington was by Mike Sauer in 1993 at Red Willow Vineyard in the Yakima Valley.
By 2017 there were 126 acres of the grape planted in the state where it is used as a component in both Rhone-style blends and as a varietal wine.
Vineyards with notable plantings of Mourvèdre beyond McKinley Springs and Red Willow include Ciel du Cheval on Red Mountain, Alder Ridge, Coyote Canyon and Destiny Ridge in the Horse Heaven Hills, Elephant Mountain in the Yakima Valley and Northridge Vineyard in the Wahluke Slope.
Gregutt describes the style of Washington Mourvèdre as "…medium-bodied, lightly spicy with pretty cherry-flavored fruit and occasionally a distinctive, gravelly minerality."
The Wine
The 2010 Robert Ramsay Mourvèdre from McKinley Springs has medium-plus intensity aromatics. Very much in the spicy and earthy category. There are some slight red fruit notes in the red currant and raspberry range. But they are very much overshadowed by the black pepper spice and forest-floor earthiness.
On the palate, the pepper spice is still the dominant note. The medium-plus acidity gives juiciness to the red fruit flavors and keeps them hanging around. The medium-plus tannins are very present. However, they have a soft, velvety-ness to them now that holds up the full-bodied weight of the wine. The finish unfortunately fades fairly quickly. It does bring back, albeit for a short moment, some of those savory earthy notes from the nose.
The Verdict
At nearly 8 years of age, this 2010 Mourvèdre is still delivering ample pleasure in the $30-35 range. But I suspect its peak may have been 2 to 3 years earlier.
There is definitely a good amount of complexity and balance. However, there is also the sense that the wine is on the wane with the short finish and fading flavors. Still this wine is in a good spot for those who crave more savory and tertiary-driven flavors in their wines. The wine will shine with a food pairings that compliments its spicy and earthy notes.  I can see it going particularly well with roasted lamb or a savory mushroom dish.
Subscribe to Spitbucket