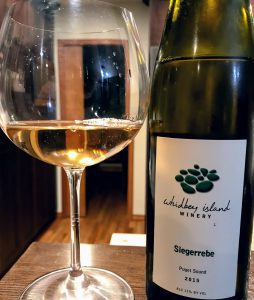 Going to need more than 60 Seconds to geek out about the 2015 Whidbey Island Winery Siegerrebe from the Puget Sound AVA.
The Background
I gave some of the backstory of Whidbey Island Winery in my 60 Second Review of their Pinot noir from Cultus Bay Vineyard. A pioneer on the Puget Sound island, today Whidbey Island Winery is known as the "grande dame" of Whidbey Island vineyards.
In addition to sourcing fruit from Whidbey Island, the winery also works with several vineyards in Eastern Washington including Crawford Vineyards in the Yakima Valley, Upland Vineyard on Snipes Mountain, Coyote Canyon Vineyard in the Horse Heaven Hills and Elephant Mountain Vineyard in the Rattlesnake Hills AVA.
The Whidbey Island Siegerrebe comes from the Osenbach's estate vineyard that was first planted in 1986 along with Madeleine Angevine and Madeleine Sylvaner. The first vintage release of Siegerrebe was in 1991.
The Grape
Heinz Scheu, son of the famous German grape breeder Georg Scheu, claimed that his father discovered Siegerrebe in 1929 from a spontaneous self-pollination of Madeleine Angevine. However, Jancis Robinson notes in Wine Grapes that DNA analysis has definitively shown that the grape is a crossing of Madeleine Angevine and Savagnin rose.
Siegerrebe (whose name roughly translates to "champion vine") is one of several new grape varieties–along with with Scheurebe, Huxelrebe and Chancellor–that Scheu bred in his nearly 40 year career at the State Institute of Vine Breeding in Alzey, Rheinhessen.
In 1948, German breeder Hans Breider used Siegerrebe to cross with Müller-Thurgau to create Ortega–named after the Spanish philosopher
José Ortega y Gasset
. In 1960, another German breeder, Johannes Zimmermann, used Siegerrebe in a crossing with Villard blanc to create the table grape Rosetta that is also used to produce wine in Iowa.
Today there is only around 255 acres of Siegerrebe in its homeland of Germany–mostly in the Rheinhessen and Palatinate (Pfalz). Outside of Germany, some plantings can be found in Denmark, Switzerland and in the Gloucestershire region of England.
Siegerrebe was brought to the US in the 1980s when Gerard Bentryn of Bainbridge Island Winery became the first American winegrower to plant the variety. It was from these Bainbridge Island cuttings that the Osenbachs of Whidbey Island Winery planted their estate Siegerrebe.
Another Whidbey winery, Comforts of Whidbey, also produce Siegerrebe from cuttings they procured from Whidbey Island Winery. The grape can be found on other islands in the Puget Sound AVA as well–most notably Lopez Island Vineyards and San Juan Vineyards.
The Wine
Medium-plus intensity nose. A mix of orange blossoms and pear drop candy.
On the palate that pear drop candy note comes through and brings noticeable sweetness. The orange blossoms also carry over but, surprisingly, the flavors get even more floral in the mouth with rose petals and undefined white flowers joining in. This wine feels like you are drinking a glassful of petals.
Medium acidity gives some lift but I find myself wishing that it had just a bit more to help balance the sweetness. Moderate length finish ends with the pear candied note.
The Verdict
While I absolutely adored Whidbey Island's Pinot noir, this Siegerrebe is a bit too sweet for my personal style. However, it is very character-driven with lovely floral elements that I can see fans of Moscato enjoying as an opportunity to trade out some of their same ole, same ole.
But at around $17-20, I do think wine drinkers are paying a little bit for the novelty of the grape. In the realm of off-dry whites, there are certainly more compelling values out there among Riesling and Gewürztraminer from Washington State and elsewhere.
Subscribe to Spitbucket